A new
rent report
just released by Rent.com indicates that 95 percent of U.S. states faced significant rent increases over 2021.  The cost for one-bedroom units increased by an average of 22.6 percent, while two-bedroom units experienced hikes of around 20.4 percent.
Rent.com, an apartment search engine and online marketplace catering to Millennials, is owned by RentPath a Redfin company.
In some locations, rental increases for one-bedroom apartments were staggering.  Gilbert, Arizona saw a 108.5 percent surge, while Long Beach, California rents are up by 55.7 percent, and Huntington Beach, California, 49.2 percent.  Jersey City, New Jersey and Austin, Texas also had rental increases of over 45 percent.
For two-bedroom apartments, New York City rents climbed almost 50 percent, followed by Fresno, California, Aurora, Illinois, and Salt Lake City, Utah, all with rents over 40 percent higher.
In New York City, which stomached the highest rent increase over the past year, the average two-bedroom apartment is now demanding a whopping $7,384 a month. Jersey City comes in second with an average of $5,055 a month rent, and Boston third, with an average monthly rental of $4,704.
For one-bedroom rentals, Jersey City leads the pack with an average $3,766 monthly rate, followed by Boston at $3,687 a month, and San Francisco at $3,515 a month.
"I think there are two major factors driving rent prices: migration and a hot home-buying market," Jon Leckie, Rent.com data journalist told The Epoch Times. Leckie explains that when the pandemic hit, a lot of people left major cities, resulting in increased prices in the suburbs.  However, as the rents in major metropolitan areas fell, some people began to move back. "This, in turn, increased demand and put prices back to levels at or beyond what we saw before the pandemic."
Leckie also noted that many Millennials are entering a period in life where they now have a family and want to buy a house in the suburbs.  The pandemic's halt on new construction coupled with institutional investors and an already hot buying market put a further squeeze on the supply of single-family homes. "All of these factors have increased the cost of buying a home, which has priced many first-time buyers out of the market, he said.  "And those priced out of home buying are the remaining renters, which further increases the demand for rentals."
Newer buildings are often able to garner higher rents because of the amenities offered, such as newer appliances, gourmet kitchens, rooftop decks, pools, and gyms. Leckie added that developers are also seeking the biggest return on their investments.
In New York City, where the average two-bedroom apartment can fetch over $7,000 a month in rent, the demand remains high. "The rental market is on fire," Michael Shapot, a real estate broker with Keller Williams' Park Avenue Manhattan office told The Epoch Times. "People are getting priced out of the market for purchasing properties and now there's very little inventory left.  Plus, new apartment construction has stalled due to supply chain issues."
According to Shapot, Manhattan's rental prices have risen way beyond pre-pandemic levels in areas like midtown, Greenwich Village, Soho, and Tribeca. The en masse return of Millennials and Generation Y to the city is being blamed for rental shortages and the resulting price hikes. "During the pandemic, there was a glut of apartments when younger people returned home to live with their parents or friends, but we started to see an influx back to the city in the Fall of 2021," he said.
Shapot isn't surprised by the average rents indicated in the Rent.com report. "We've seen some rents go for as high as $25,000 a month in great areas with three bedrooms and lots of amenities," he added.  "That's over a quarter million dollars a year in rent, and it's amazing to see who plays in these sandboxes!"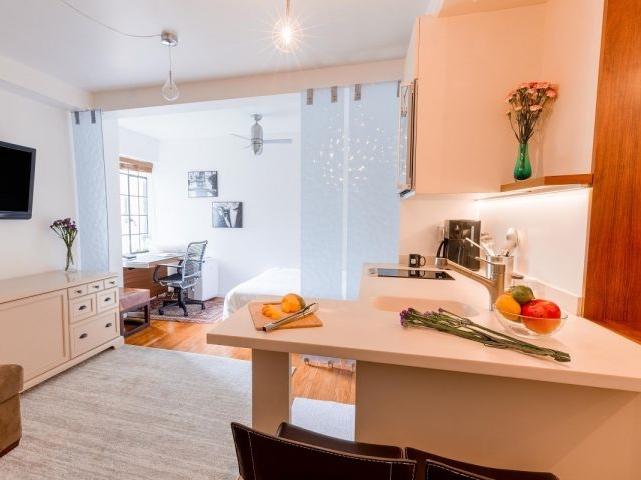 Rental high rollers are often people who have large stock portfolios, have acquired a huge amount of wealth, and want the flexibility of a rental, notes Shapot. As a result, qualifying for an apartment has become more difficult for the average person. "Landlords are often skittish about renting, since they can collect only one month security deposit now," he added.  "Having good credit is more important than ever."
New York City dwellers looking for more affordable options may have better luck in the outlying areas like northern Manhattan, the Bronx, or Queens.
In Chicago, the average one-bedroom apartment rents for $2,239, and two bedrooms for $3,294. Yolanda Jeffries of Coldwell Banker in Chicago notes that many of her clients are single, younger people who are now back working in the city, following the pandemic.
"They don't seem to mind spending more on rent because they're paying the price of convenience for being in the downtown areas," she told The Epoch Times.  "They thrive on that and they like that lifestyle with building amenities like gyms, pools, and rooftop lounges."
To offset the costs, some renters take roommates, while others actually rent out their apartments for a few weekends a year using Airbnb. "A lot of these renters don't have cars, so they don't have to worry about the extra expense of gas, parking, and insurance," Jeffries added.
Those who can't afford or are unwilling to spend upwards of $2,000 a month for rent will turn to the city's outskirts, where just $1,500 a month can get them a two-bedroom apartment.  In the suburban areas, renters can lease an entire house for about $2,000 a month.  "The only problem is there are not enough of these rentals to go around," admitted Jeffries, who recently had over 40 applications for one available apartment.
Many of her potential single-family home buyers have become burned out of the bidding war process and have decided to rent for now. "The current multiple-offer situation takes a lot out of them and after a while they ask me to just find them something to rent," said Jeffries.
"People do tend to spend money when they have money," added Leckie. "But it's also true that not everyone has enough cash to keep up with the rising cost of living."
Leckie admits the current market is not very favorable toward renters. "They may need to look for cheaper neighborhoods or downsize within their own neighborhood. Many people have also been forced to leave their city or state."
For those who are willing to relocate, the prospects of finding an affordable rental may be a bit brighter. The Rent.com report showed significant decreases in rent in select communities throughout the Midwest and South.  One-bedroom apartments in Toledo, Ohio had a 27.6 percent decrease in rents, followed by Kansas City at 21.6 percent and Atlanta, Georgia at 9.6 percent.  For two-bedroom units, Shreveport, Louisiana experienced the highest rent decrease at 28.6 percent, while Lincoln, Nebraska, and Wichita, Kansas rents declined by over 18 percent.
The lowest average one-bedroom rents recorded by the Rent.com report include Montgomery, Alabama at $668 per month, Tulsa, Oklahoma at $754, and Columbus, Georgia at $837.  Wichita, Kansas came in with the lowest average two-bedroom monthly rentals at $625, with Sioux Falls, South Dakota at $851, and Greensboro, North Carolina at $1,010.
In addition, the Rent.com report indicates that while occupancy rates across the U.S. hit the highest percentage on record in December 2021 – 97.5 percent – some 60 percent of renters indicate they are planning to look for a different apartment or home within the next six months.
"We believe that rents will continue to rise through 2022, but the percentage rates will be lower," said Leckie.  "Vacancy rates are at nearly 40-year lows and the home buying market is showing no signs of slowing down."