A rare tiger, part of an endangered subspecies, died at a safari park in England this week after a fight with two other tigers.
Shouri, a female Amur tiger, was able to enter a paddock next to her own after a door was opened where two other tigers were waiting to be let into the main enclosure, the Longleat safari park said. The trio got into a fight.
By the time the brawl ended, Shouri was dead.
"It is with deep sadness that we announce the death of one of our female Amur tigers, Shouri, who has passed away following a fight with two of our other tigers here at the park," the park stated. "A full investigation is ongoing to determine the exact circumstances surrounding this terribly sad event."
Shouri was 13 and arrived at the park in 2006.
The park wasn't open at the time. The other two tigers weren't injured.
The park said that tigers there play a role in the conservation of the species, helping preserve it for the future.
"Although Shouri was not part of a breeding programme, she was still an incredibly important ambassador for her species and part of the global mission to raise awareness for this amazing animal. Her loss is very hard to take and she will be missed by all the staff here as well as our visitors," it added.
In a description of Amur tigers on the Longleat website, the park says its female Amur tigers are "fearsome predators" with "sharp canines and claws." Visitors might see them stalking each other but should expect to see them relaxing by their pools.
Today our beloved Sumatran tigress Melati died while being introduced to new male Asim for the first time. Everyone at ZSL London Zoo is heartbroken by this turn of events. Tiger Territory will remain closed while our team focus on caring for Asim: https://t.co/KAoW0rziPN pic.twitter.com/CHcVKKMdz4

— ZSL London Zoo (@zsllondonzoo) February 8, 2019
Death in London
The Amur tiger death came just days after another tiger was killed in the United Kingdom, at the London Zoo.
In a statement, Kathryn England, zoo CEO, said in a blog post that a female Sumatran tiger, Melati, was killed by her prospective mate, a male Sumatran tiger.
The tigers had been living side by side for 10 days, separated by mesh, and had been frequently calling and making friendly noises to each other.
"After careful observation, we all felt confident that the timing was right to introduce Asim to Melati. With more than 120 years of collective experience managing tigers between us, even with the benefit of hindsight I am confident we'd all make the same decision again based on the behavior observed," England said.
"Many of us at the zoo had seen them greeting, chuffing and sniffing each other, with no behavior that caused concern. Several people from outside the zoo have remarked that 10 days seems fast to introduce tigers to each other. It's not–it's wildly variable and depends entirely on careful observation of their behavior. Conversely, it can be risky to leave tigers showing an interest in each other out of contact for too long, leading to a build-up of tension and frustration."
The zoo employees watched as the tigers fought, noting that it's normal for males to posture. But after an initial skirmish, Melati lashed out at Asim, and he reacted, overpowering and fatally injuring her.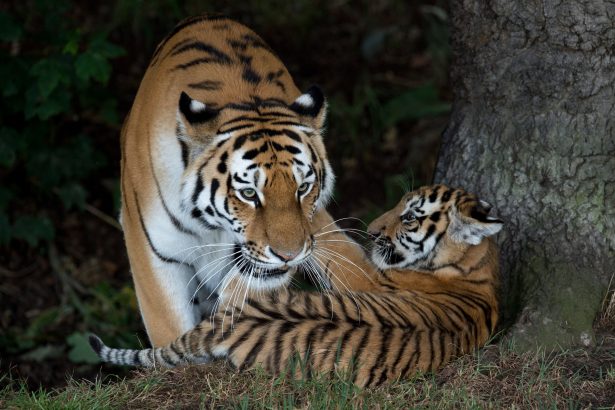 Amur Tigers
Amur tigers are the largest of all tigers and the largest of all cats, according to the World Wildlife Fund (WWF).
The tigers can weigh up to 661 pounds and grow up to 10.8 feet.
"To survive winter the tiger has fine but long fur and a layer of fat that allows it to stand the bitter cold. It has large paws which act rather like snowshoes," the foundation stated.
Amur tigers are mostly found in Russia, where the population fell to just 40 in the 1940s amid rampant hunting. In 1947, Russia became the first country in the world to ban tiger hunting and granted tigers full protection, leading to a comeback for the subspecies.
For years now the worldwide population of Amur tigers has hovered around 500, with about 540 believed to be alive today.
"The Amur tiger's habitat is now restricted to the Sikhote-Alin range in the Primorski and Khabarovsk provinces of the Russian Far East, small pockets in the border areas of China and possibly in North Korea. The high latitude means long winters and that the sun does not rise far above the horizon," the WWF stated.
"Amur tigers have the largest home range of any tiger subspecies because they have to search over large areas to find food due to low prey densities. They represent the largest unfragmented tiger population in the world."
From NTD News