Rapid Antigen Tests (RATs) will be free for over six million people in Australia, Prime Minister Scott Morrison announced after a national cabinet meeting on Wednesday.
Morrison confirmed that the tests will not be free for everyone in Australia. But the prime minister said the concession cardholders can take up to 10 free tests over a three-month period through pharmacies (five at most in a month).
This comes after the country sees soaring COVID-19 cases amid the Omicron outbreak which has seen PCR testing centres forced to close due to overwhelming demand as people require a PCR test for interstate travel.
The new policy applies to people who hold a pension concession card, a Commonwealth seniors health care card, a Department of Veterans' Affairs old, White or Orange Card, a healthcare card, and a low-income health card, covering over 6.6 million people across the country.
People who have symptoms and those designated as close contacts can also get free testing at state clinics rather than going to a pharmacy.
"Universal free access was not considered the right policy response by all of the states and territories in attendance today, and the Commonwealth," Morrison said. "If you are not a close contact, if you are not symptomatic, you do not need to get a test—that is the advice."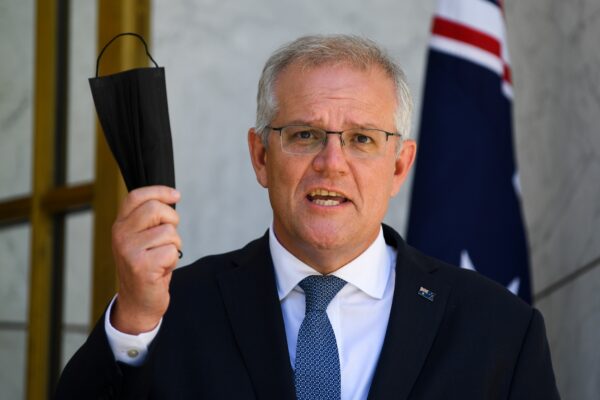 "We need to ensure that we are focusing those testing resources on the essential tests that are required, not casual tests."
The free tests will be available in the next two weeks. Costs for providing the tests will be shared half and half between the Commonwealth and the States and Territories.
A series of changes to COVID-19 testing requirements have also been announced:
People who test positive from RATs will no longer need to confirm the result with a PCR test.
Testing requirements will be scrapped for truck drivers and hospital attendees.
Testing before interstate travel will be scrapped except for Queensland, Tasmania, and Western Australia. Queensland and Tasmania will review the requirements in the coming weeks.
A second post-arrival test for international travellers will be scrapped except for Queensland, which will review the requirement after reaching the 90 percent double vaccination rate.
RATs have been put under price gouging laws, meaning that retailers raising prices by over 20 percent face penalties up to five years imprisonment or AU$66,000.
Purchasing limits on the tests will also be placed to prevent hoarding and panic buying, with customers limited to one pack of either two or five at one time (the AAP said so but didn't find this in the press release).
National Cabinet will meet again on Jan. 13.