This was the first meeting, at SoFi Stadium in Inglewood, between the L.A. Rams and the Detroit Lions, since the two teams had traded their quarterbacks in the postseason. The result was a comeback victory by the Rams, 28–19, who withstood an onside kick and fake punts by the winless Lions.
This is a tale of two cities, or teams in this case. The Rams have a record of 6–1, while the Lions are winless.
The Lions started hot with a good read from Lions quarterback Jared Goff, who saw a blitz and dumped a short pass to D'Andre Swift, who ran it for a 63-yard touchdown.
Desperate for their first win, the Lions' strategy early was to surprise the Rams. So after the touchdown, they gambled and succeeded with an onside kick on their 47-yard line.
They then only gained three yards on the following three plays. Instead of the conventional punt, they rolled the dice again with a fake punt that succeeded. Jack Fox made a short pass to Bobby Price who ran for a 17-yard gain. The drive was stopped at the 18-yard line, and Lions' kicker added a 37-yard field goal for a 10–0 lead.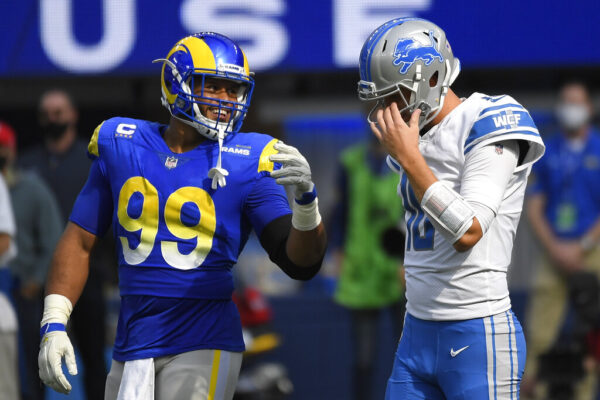 The teams traded field goals until Rams quarterback Matthew Stanford led the Rams to their first touchdown drive of 84 yards, 11 plays, taking up 5:04 minutes. The Rams drove for another touchdown of 11 plays that covered 74 yards. The Lions responded with a field goal to end the half with a score of 17–16 in favor of the Rams.
The Lions came out in the third quarter with a 61-yard, 11-play drive that resulted in no score. They had reached the Rams' 18-yard line before being stopped for a fourth down, but lost possession by going for it on a fourth-and-1.
The Lions could have taken a two-point lead with a short field goal at the 6:14 mark in the third quarter. They would settle for a field goal on their next possession late in the third quarter, giving them their last lead of 19–17.
On the Rams' next possession, Stafford threw a 59-yard bomb to his favorite receiver, Cooper Kupp, and the ensuing touchdown would come from a five-yard pass to Kupp. The Rams then converted the two-point conversion for a 25–19 lead.
The Lions had one last long drive of 15 plays for 63 yards, which consumed 9:06 minutes. However, it resulted in Goff throwing an interception in the end zone, while under pressure, to Rams' Jalen Ramsey.
This Lions' failed drive is reminiscent of some of Goff's failed drives when he was with the Rams. This seems to be the primary reason that the Rams sought to trade for veteran quarterback Matt Stafford with the Lions.
The game statistics confirm that Stafford is an integral part of the Rams' current success. Stafford completed 28/41 for 334 yards and three touchdowns, and threw no interceptions. In contrast, Goff was 22/36 for 268 yards for one touchdown. The biggest difference is Goff threw two interceptions.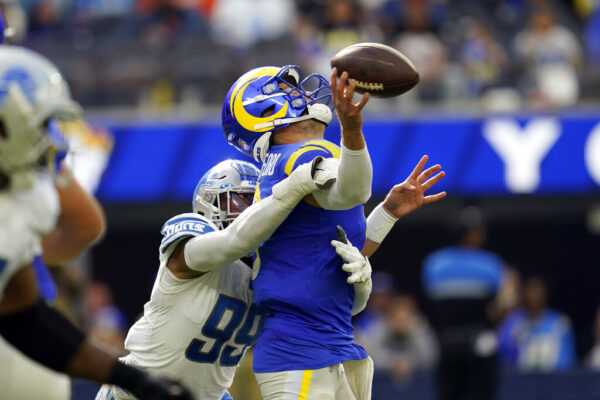 Stafford passed to a total of six receivers. Kupp led with an astounding 10 receptions for 156 yards and two touchdowns. Robert Woods also contributed with six catches for 70 yards. Stafford also broke the record for throwing 300 career passing touchdowns, being the seventh fastest to do that.
Rams Coach Sean McVay complimented his new quarterback Stafford, saying: "He was great in the clutch. And really, even when things weren't going well, he just stays nice and even-keeled, and that's what a great quarterback does. He's our leader."
Stafford complimented his old team saying: "Detroit's a tough out. Always have been, probably always will be. Just happy to get one."
He added: "I've said it a bunch of times and I truly mean it. I love my time there [in Detroit]. I love all the people there that treated me, my family, my wife, with a ton of respect and grace, you know, for a long time. So you know it was cool to see that; once the ball snapped it was football time, I was ready to go play."
Up next, the Lions host the Eagles on Sunday, while the Rams are at the Texans.