On Sunday, the Los Angeles Rams (14–5) dominated the home team, the Tampa Bay Buccaneers (14–5), for nearly three quarters in the NFC Divisional Playoff game, but gave up four turnovers to allow the Bucs to tie the game. The Rams would come back on two passes from Matt Stafford to Cooper Kupp on the final drive, to set up Matt Gay, former Buccaneer, for a walk-off game-winning field goal, 30–27.
The Rams looked to be cruising to a dominant win with the defense giving up just two field goals to the greatest quarterback of all time, Tom Brady, until the end of the third quarter.
The Rams offense scored with relative ease leading 27–6 until this point. The Rams are the first team to win with four turnovers in playoff history.
Stafford had a spectacular game, passing for 366 yards on 28 of 38 attempts, two touchdowns, and no interceptions. He had been prone to throwing interceptions in the last half of the regular season. His final drive rally broke the record for the most game-winning final drives in NFL history with 43.
"Finding a way to win a football game is what it's all about," said Stafford. "We got a group of guys in that locker room that all believe in each other, and I believe in those guys, so it was it was a whole lot of fun."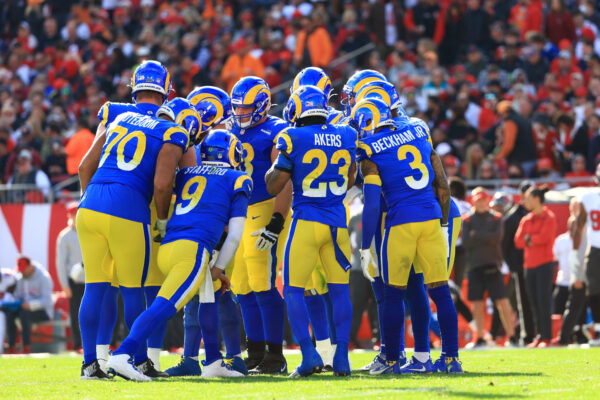 Kupp led seven receivers with an incredible 183 yards on nine catches and one touchdown. Odell Beckham added 69 yards on six receptions, while Tyler Higbee caught four for 51 yards.
The Rams did not have the same success on the ground, as the Buccaneers' defense held them to 73 yards total. Cam Akers led with 24 carries for 48 yards. It was the first game for Tampa's starting defense to play together this season.
Brady started 0 for 4 on the way to completing 30 for 54 attempts for 329 yards, with one touchdown and one interception, but sacked three times losing 21 yards.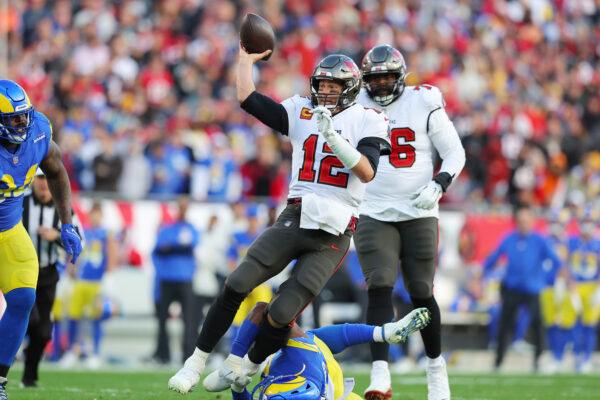 Rams Aaron Donald, Von Miller, and Leonard Floyd sacked Brady while putting pressure on the QB 30 percent of his pass attempts.
The Bucs only had 51 rushing yards, all by Leonard Fournette, but were able to score two touchdowns rushing.
Mike Evans led Tampa's eight receivers with 119 yards, on eight catches, for one touchdown. Tight End Rob Gronkowski added 85 yards on four receptions, and Fournette caught nine for 56 yards.
The Rams began the day scoring on their first three drives; the opening drive score came from a 26-yard field goal by Gay, who was successful on three of four attempts.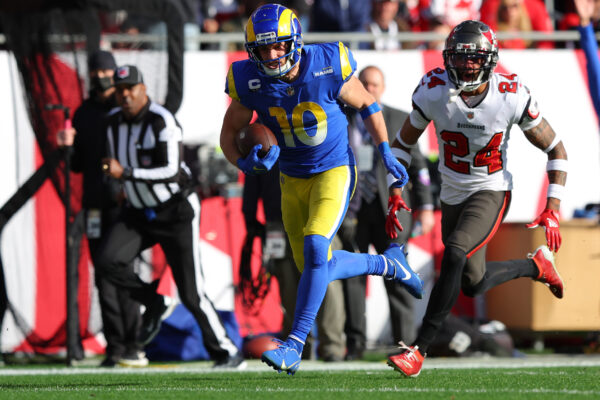 Los Angeles would score two touchdowns on drives of 71 yards and 60 yards. The second TD would culminate on a 3rd down and 20, a 70-yard catch and run touchdown pass to Cooper Kupp along the right sideline, with Kupp running it to the center of the end-zone for a 17–3 lead to begin the second quarter.
Another field goal was added by the Rams before scoring their third touchdown on a short field of 28 yards, following a 33-yard punt return by Brandon Powell. The drive was capped off by a Stafford quarterback keeper on 3rd and goal from the one-yard line for a 27–3 lead.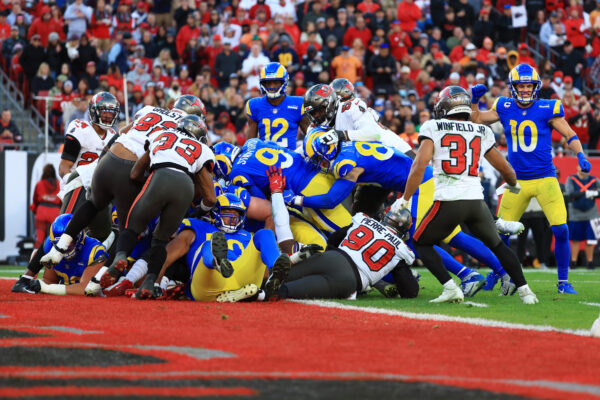 After a second field goal by Ryan Succop, the Bucs hopes were kept alive following turnovers by the Rams' offense.
The first fumble was recovered by Sean Murphy-Bunting after Kupp was stripped of the ball following a short reception. It resulted in a short field of 30 yards and Tampa's first touchdown, capped off by Fournette's one-yard run to get within two touchdowns, 27–13.
The Bucs gained momentum to force a three-and-out and score their second touchdown on a 77-yard drive on three plays to come within a touchdown, 27–20—culminating in a Brady 55-yard bomb to Mike Evans, beating the Rams' best cornerback, Jalen Ramsey, one-on-one with 3:20 remaining in the game. Ramsey had been very dominant until that play.
Again the Rams would fumble, as Akers was stripped by Ndamukong Suh on a short run, recovered by Lavonte David at the Rams' 30-yard line.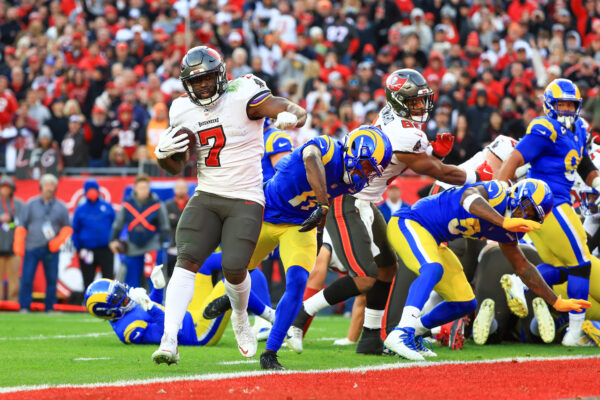 It would take 1:43 seconds for Tampa to tie the game at 27, following another Fournette touchdown rush of nine yards, on a 4th and 1, after breaking a tackle in the backfield.
With 0:42 remaining, the Rams didn't wait until overtime as their conservative play-calling was unsuccessful in maintaining the big lead. Two long pass completions, from Stafford to Kupp of 20 and 44 yards, would set up Gay to kick his third field goal for the game-winner of 30-yards on the final play for a 30–27 victory.
"Heart was racing," Stafford said. "But at the same time, was just going out there to execute and have fun, and enjoy the moment." Having never won a playoff game with the Detroit Lions 2009–2020, Stafford has now won two straight with the Rams.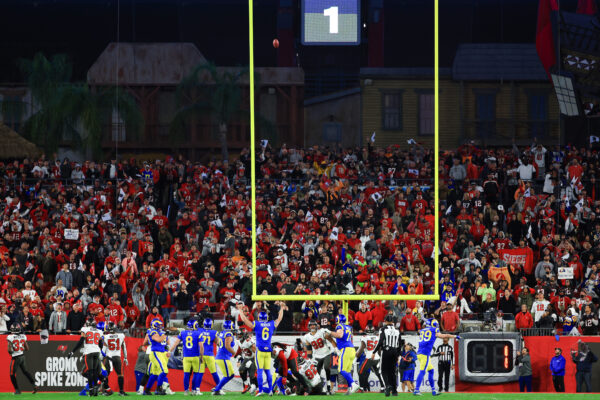 The Rams return home to host the NFC Championship Game against the San Francisco 49ers next Sunday. If victorious, the Rams would play the Super Bowl on their home field Sofi Stadium, against the winner of the AFC Championship between the Kansas City Chiefs and the Cincinnati Bengals.