Despite Matt Stafford's three interceptions, the Los Angeles Rams, defensively, overwhelmed the Minnesota Vikings for a 30–23 victory on Sunday at Minneapolis.
The win clinches a playoff berth for the Rams with an 11–4 record, and first place in the NFC West Division over the Arizona Cardinals, who have also locked down a playoff berth with a 10–5 record with two weeks remaining in the regular season.
"To be able to get into the playoffs, it's something that you never take for granted," said Rams coach Sean McVay. "It's such a challenging league. It's so competitive. I can't say enough about the resiliency of this group–the mental toughness. But now we want to be able to stay on top of this division. We got a great opportunity and a great challenge against an excellent Baltimore Ravens football team next week. It'll be good hopefully get some guys back, and then be able to have somewhat of a normal week of preparation. These last three weeks have been a true whirlwind, but for our guys to be able to go undefeated in the month of December, after the month of November that we had [three losses], it says as much about this group as you need to know."
Rams Sony Michele rushed for 131 yards on 27 carries and scored a touchdown, while Stafford completed 21 of 37 attempts for 197 yards and one touchdown; his QB rating was 46.8. Odell Beckham Jr. caught the Rams' sole touchdown pass; he finished with four catches for 37 yards. Receiver Tyler Higbee also contributed with five catches for 41 yards.
Cooper Kupp continues a record-setting season with another 10 catch performance for 109 yards. He is the first player with at least 90 receiving yards in 14 games of a single season. Antonio Brown (2014) and Michael Irvin (1995) achieved it in 13 games.
Kupp's season total is 132 catches for 1734 yards, and 14 touchdowns. With two games remaining, he is on pace to pass the record of 149 by Michael Thomas in 2019 and potentially surpass Chad Johnson's 1,964 yards in 2012, but will unlikely match Randy Moss's 23 touchdowns of 2007.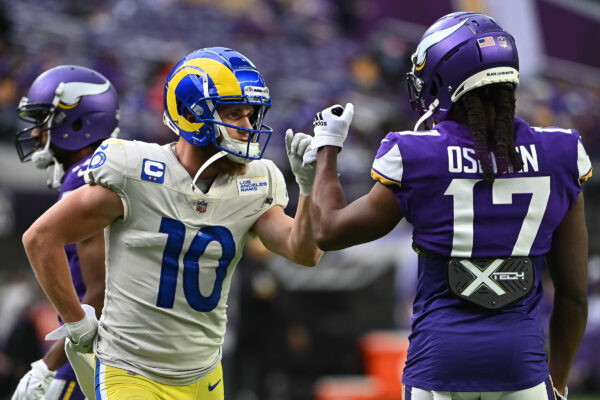 Regarding the team's protocol issues in the past two weeks, "You just gotta deal with adversity, move forward," said Kupp. "Take things one day at a time, and guys just do a great job being present, handling the problems that each day presents. So just like football, you handle each play as its own, then move on to the next one, be able to execute; guys are doing a good job of that right now."
On the opening drive, the Rams defense forced the Vikings to punt on a prompt three-and-out. Stafford then led the offense on a 12 play drive of 70 yards to score on a one-yard TD run by Michel; they never relinquished the lead.
The Vikings finally scored their first touchdown following one of Stafford's interceptions on a 2-yard run by Alexander Mattison to come within three points, 10–13, with 11:01 remaining in the third quarter.
Following the Vikings' next drive Rams Brandon Powell, a recent addition to the team, returned a punt of 61 yards for a touchdown to maintain a 10-point cushion with 7:06 remaining in the third quarter. "I thank coach McVay, the Rams, for bringing me here," said Powell. "I thank my teammates for believing in me, and blocking for me. I want to score for them. That was for my team."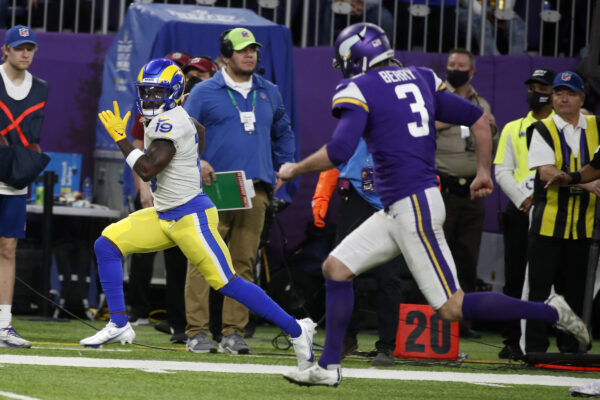 "I'm happy for his success. It was a huge play in the game," said Stafford. "That seven points was the difference in the game."
Los Angeles put away the game with a 13-play drive that resulted in Matt Gay's 24-yard field goal with 2:05 remaining for a 30–20 lead; he was a perfect 3–3 field goals on the day.
"I've really liked the way we're picking one another up," added McVay. "For the special teams to make that play when we had to have it, it was a great team win. There are some things that we can certainly learn from [the game], but I was pleased with these guys and love this defense." Aaron Donald led the defense with five tackles and had one of the three sacks. Jalen Ramsey and Troy Reeder both finished with six solo tackles.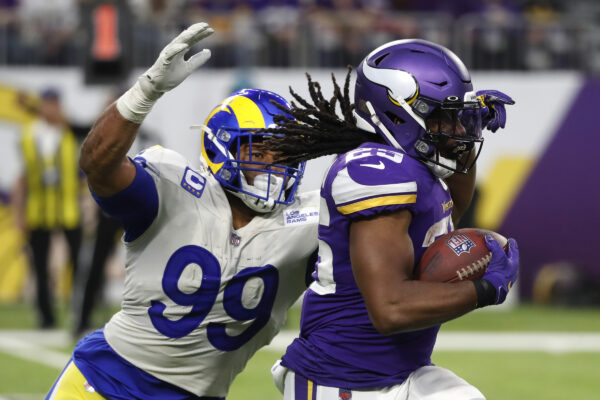 The Vikings were unwavering to the end as they continued throughout, attempting to make a come-back to keep their playoff hopes alive until an unsuccessful on-sides kick that sealed the game with 32 seconds left.
Quarterback Kirk Cousins completed 27 of 38 attempts for 315 yards. He orchestrated a 75-yard drive that culminated in his sole touchdown pass to K.J. Osborn with 8:21 remaining in the fourth quarter.
Justin Jefferson was impressive catching eight passes for 116 yards for the Vikings, but was only able to rush for a total of 66 yards as it was contained by the Rams defense. Alexander Mattison led the Vikings with 41 yards on 13 carries.
The loss drops the Vikings to 7–8, with very little chance of a playoff berth. They travel to meet the only 12 win team, the Green Bay Packers, next Sunday.
When Kupp was asked how he will celebrate the victory, Kupp responded, "Get ready for next week." The Rams travel to Baltimore (8–7) next Sunday with much at stake for both teams.