INGLEWOOD, Calif.—The Chargers NFL team celebrated its move to Los Angeles from San Diego with a slightly awkward first rally at the Forum on Wednesday, Jan. 18. It's the same venue where the Rams announced their return to Los Angeles a year ago.
Hundreds of fans as well as a few hecklers came to watch as Chargers owner Dean Spanos, new head coach Anthony Lynn, and quarterback Philip Rivers promised to work hard to make Los Angeles their new hometown.
"We know we must earn the respect and support of this community," said Spanos. "And most importantly, we know we must win."
The group was also joined by Rams COO Kevin Demoff, who sparked something of a friendly sibling rivalry by hinting that two home teams could face off at the Superbowl for the first time in history.
"It is our pledge that it will not only be the first Superbowl in which one home team plays in this stadium, but I hope that we can have two home teams play in 2021," said Demoff.
"Kevin, I do hope we see you in the Superbowl," said Spanos.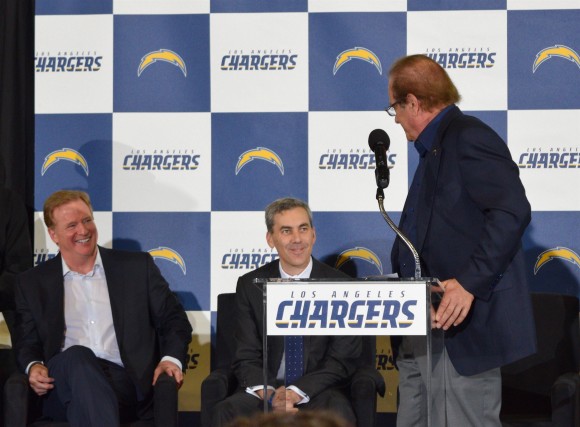 The 2021 Superbowl will be played at Rams owner Stan Kroenke's brand-new $2.6 billion stadium at Hollywood Park, next door to the Forum. The stadium will be completed in 2019 and shared by both teams.
In the meantime, the Chargers will play at the StubHub Center in Carson, while the Rams will continue to play at the Los Angeles Memorial Coliseum.
The Chargers played their very first season in Los Angeles in 1960 before moving to San Diego, and Spanos said there is still a little bit of LA in the team's DNA.
"We've had fans here ever since," he said.
Head coach Lynn agreed.
"I did not expect the love, enthusiasm, and the excitement that I've experienced in the last couple of days," he said.
Related Coverage
Local resident Eddie Montas said he's been a Chargers fan since he was very young, and it helped that he has family in the San Diego area.
"I'm happy that they're home. They're back in LA, and I'm here to support them," he said.
Montas said Chargers fans in Los Angeles have been hoping for this move for years.
Although Los Angeles has become a very competitive sports market, NFL Commissioner Roger Goodell said he still believes moving two teams to Los Angeles was the right decision.
"In just a short amount of time, you've got two NFL franchises, you've got a Superbowl, and hopefully an Olympics on the way," he said. "It demonstrates the strength, the commitment that we have, and the belief that we have in the fans of this community that you can do this, and you can do it successfully with two teams here."