Just hours before the Monday Night Football matchup between the L.A. Rams (9–4) at the Arizona Cardinals (10–3), the Rams received the horrific news that four players would be ineligible due to the COVID-19 protocol. However, L.A. likely played their best game of the season on both sides of the ball, to take down the Cardinals; who had held the league's best record.
The Rams won back-to-back games for the first time since October; placing them one game behind NFC West-leading Arizona. While the Cardinals now have a three-game losing streak at home which is the longest under Coach Kliff Kingsbury.
Rams quarterback Matthew Stafford threw three touchdowns to different receivers for the second week, including Cooper Kupp, Odell Beckham Jr., and Van Jefferson. While also having no interceptions for the sixth time this season; that is the most by any quarterback in the league. No other quarterback has done that more than four times this year. Statistically, Stafford threw for 287 yards, on 23–30 attempts.
Stafford was with the Lions for most of his career. Now with the Rams, he finally won for the first time in 18 total attempts against a team that had five wins over a .500 season record.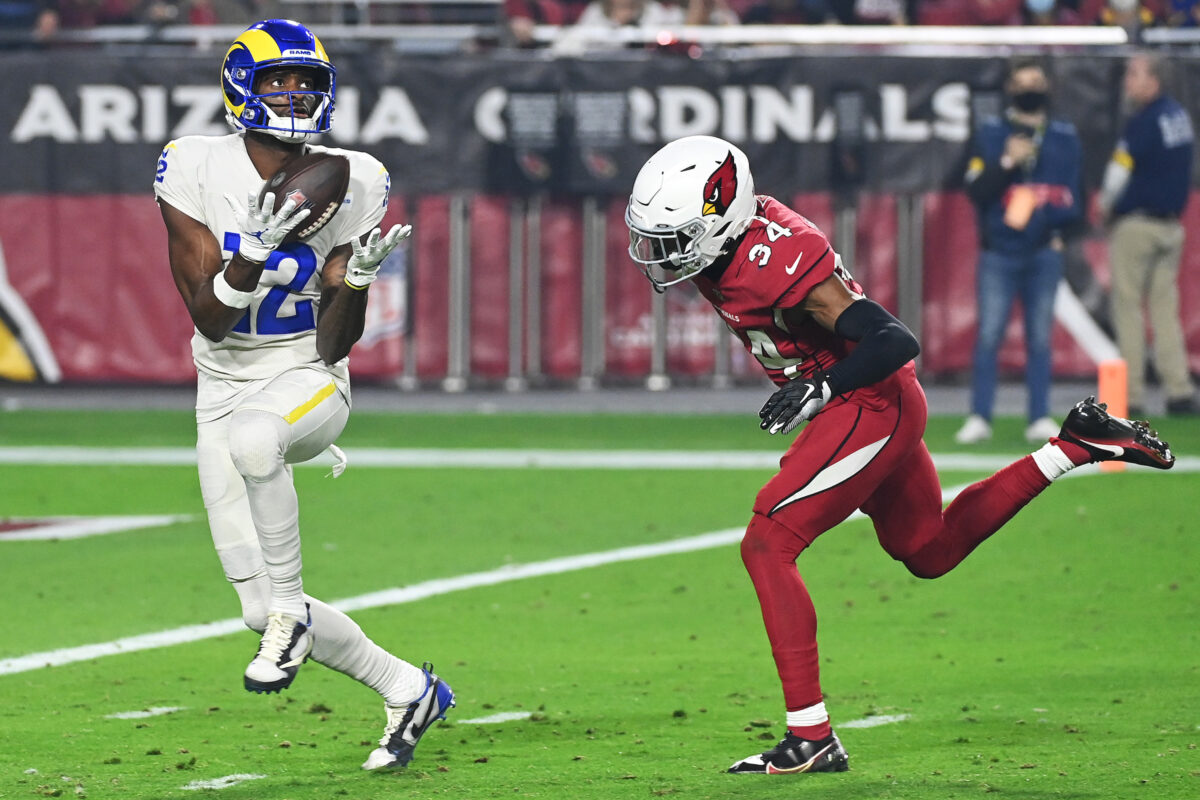 During their three-game losing streak last month, Stafford threw a pick-six in each of the losses.
The Rams won the past two games by incorporating the running game again as Sony Michel rushed for 79 yards on 20 carries.
The Rams return to a more balanced attack proved successful even with four players missing from COVID-19 just hours before the game; to include top defensive back Jalen Ramsey, running back Darrell Henderson, right tackle Rob Havenstein, and tight end Tyler Higbee.
Regarding losing teammates to COVID-19 protocols, Kupp stated, "At the end of the day, you deal with all that stuff. You just got to control what you can control. By the time the game starts, you have to move forward, next man up, do your job play-in and play-out. Just execute the best you can, and we did well enough just to squeak out a W here."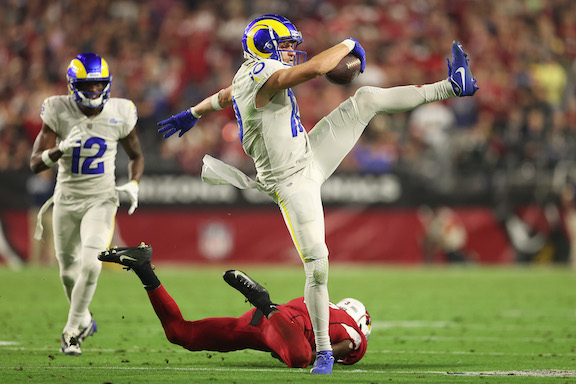 For the Cardinals, QB Kyler Murray completed 32–49 for 383 yards, but no touchdowns. James Conner rushed for 31 yards including two touchdowns while also catching nine passes for 94 yards.
Arizona wide receiver A.J. Green made seven catches for 102 yards on the night, surpassing 10,000 career receiving yards.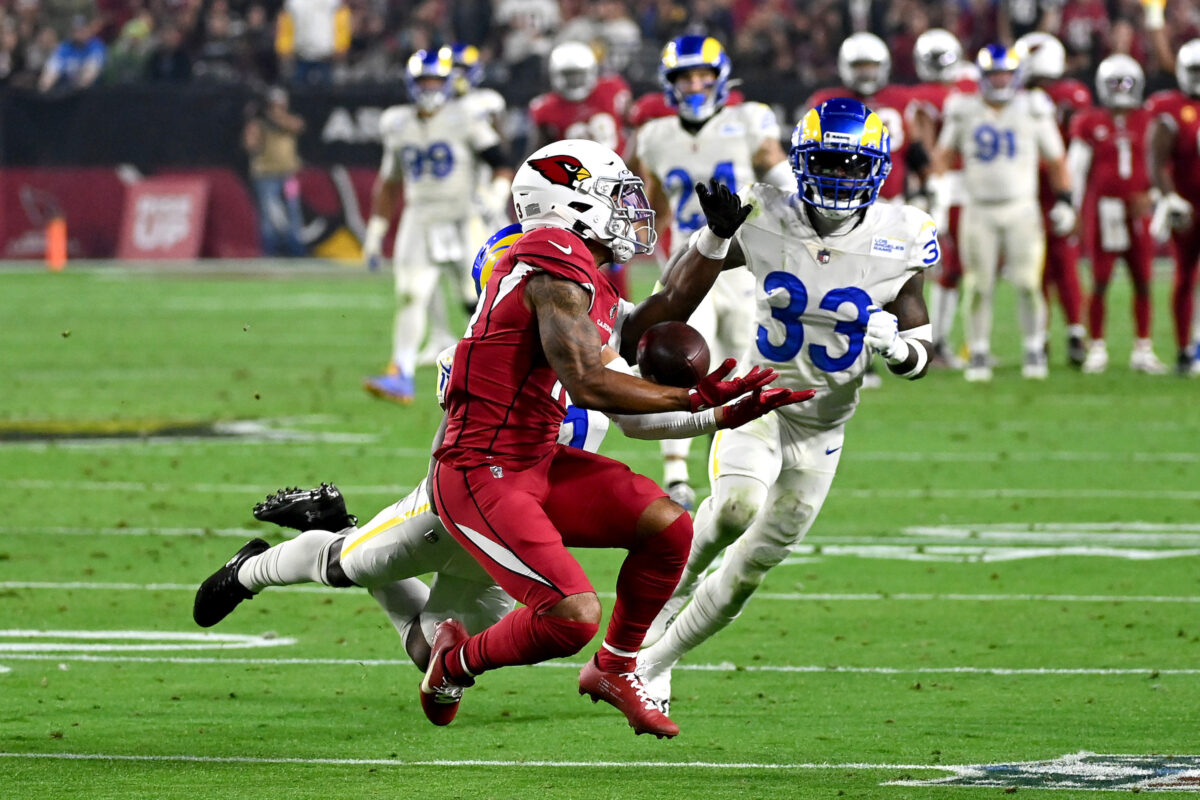 Murray, usually very effective throwing touchdowns, and rushing, had two interceptions in the red zone.
The Cardinals kicked a field goal on their opening drive and marched 63 yards on their second possession to the Rams four yard-line. On 2nd & Goal, Murray would throw his first interception to Ernest Jones which kept the Cardinals from a potential 10 point lead.
Instead, the Rams would take the momentum as Stafford marched the offense 68 yards on 10 plays, culminating in a one-yard TD pass to Kupp over the front edge of the end zone, to take a 7–3 lead. The first half remained very competitive and ended tied 13–13.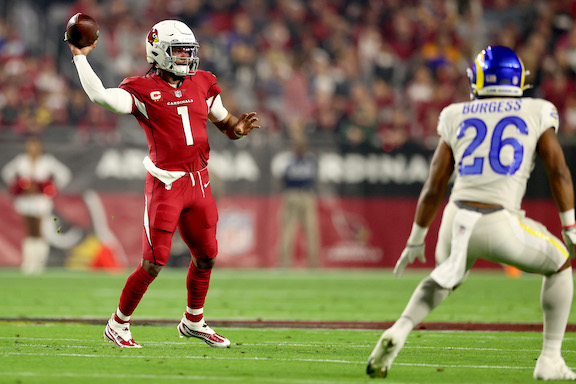 Kingsbury remained supportive of his quarterback. "It's the most proud of him since I've been here as far as his effort, I thought he battled," said Kingsbury. "He played his (expletive) off the entire game. Couple of those throws he was going to the right spot. "One got tipped down to the goal line and then #54 made a tremendous play, but I thought he fought and created, and did everything he could to keep us in that game. "It was adverse conditions; that (Rams) defensive line is tremendous."
After being down 27–13 after three-quarters of play, the Cardinals managed to mount a comeback by scoring a touchdown at the beginning of the fourth quarter to get within seven points. Both teams added a field goal each; the Cardinals field goal with 37 seconds remaining got them within a touchdown, 30–23.
The Cardinals succeeded in their on-sides kick to retake possession and have one last opportunity. Their drive that started at their 48 yard-line was thwarted by extreme defensive pressure; resulting in two penalties that pushed them backward before Murray completed a nine-yard pass to James Conner.
Mass confusion took place on the final play as Murray rushed to attempt a hail-Mary, but his linemen thought he was going to spike the ball first to allow for a play to be called from the sideline. It resulted in a third sack by Rams star DT, Aaron Donald, to end the game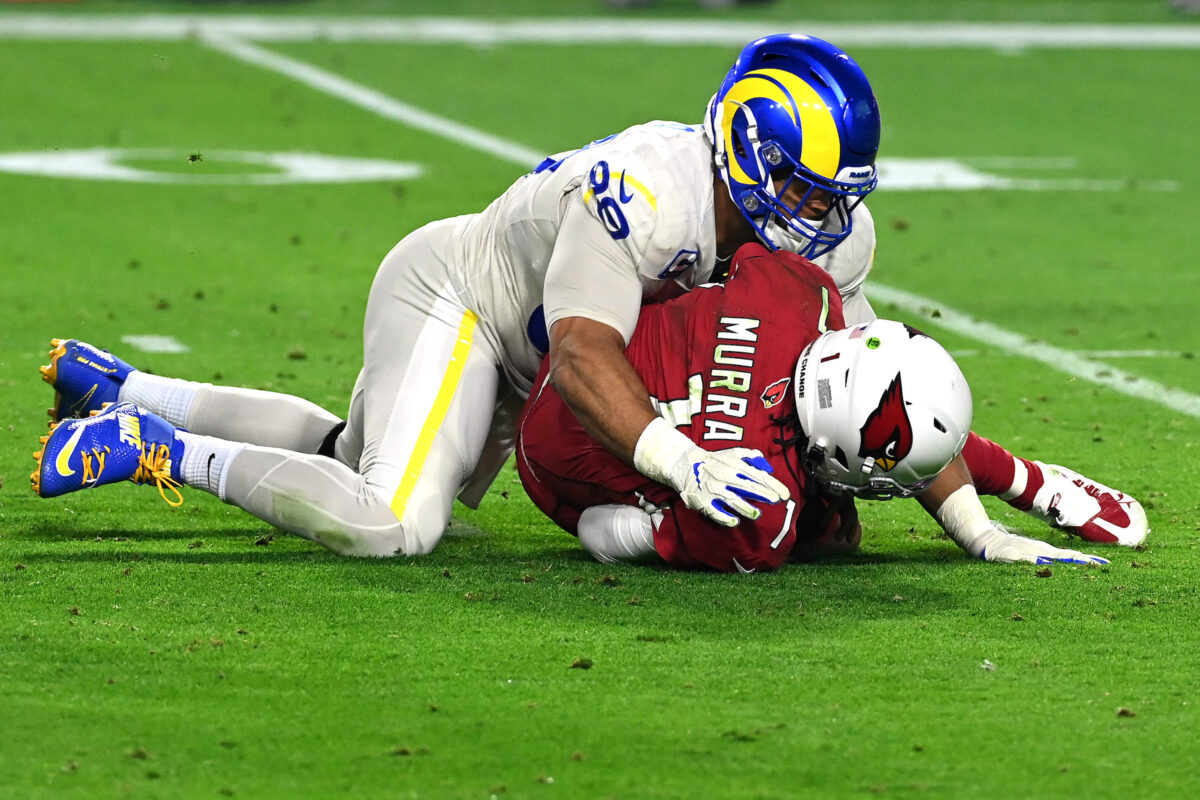 "Obviously it's a great win for us but at the same time we got to go make it worth something," said Stafford.  "We win this one and don't take care of business in other weeks, it doesn't really mean much. So we're on to the next one. This is a nice win for us; a division opponent in a tough place to play without some big time key players. "It's a good one to get. We got to go to continue to get some more."
Rams Coach Sean McVay shared those same sentiments. "This is one night we're going to enjoy this, but we got a short week," said McVay. "Let's keep building on it. That's what the good teams do, they get better in the month of December. That's really our goal, to continue to be relevant; but also make sure that you're improving so that you give yourself an opportunity to play after the 17 game regular season; you're playing your best ball."
The Rams shall host Seattle on Sunday. While the Cardinals are at Detroit on Sunday; they hope to clinch the Division and host play-off games with the best record. However, they are undefeated away, and all three of their losses have come at home.