Having led for the majority of the game, the Las Vegas Raiders had to come from behind on the last play of the game as Daniel Carlson was perfect on a 48-yard field goal to beat the protocol plagued Cleveland Browns 16–14.
The game was scheduled for Saturday but pushed back to Monday night as the NFL deemed that the Browns, having 22 positive tests for COVID-19, needed an extra two days to provide negative test results. The Browns were without "asymptomatic" quarterback Baker Mayfield, coach Kevin Stefanski, top receiver Jarvis Landry, and defensive star Jadeveon Clowney.
The Raiders' owner, Mark Davis, countered stating that the delay was a "competitive disadvantage" for his team; they had followed the league's guidelines and thought that the decision was unfair to postpone their trip.
"I understand what they're saying, and I agree with my teammates," said Raiders quarterback Derek Carr. "I always support my teammates, but I also try and see the other side of it. "What if it was us? We were under the impression that we were going, so we were packed with our bags about to get on the bus. "I can understand the other side too, but I'm just glad we got to play. Just let everybody play. Let's just show up, and let everybody play."
Carr's game-winning drive was the 28th in his career, tying Matthew Stafford for the most by any quarterback since 2014. Carr completed 25 of 38 for 236 yards, with a touchdown and an interception. The win gives the Raiders a record of 7–7, keeping their playoff hopes alive.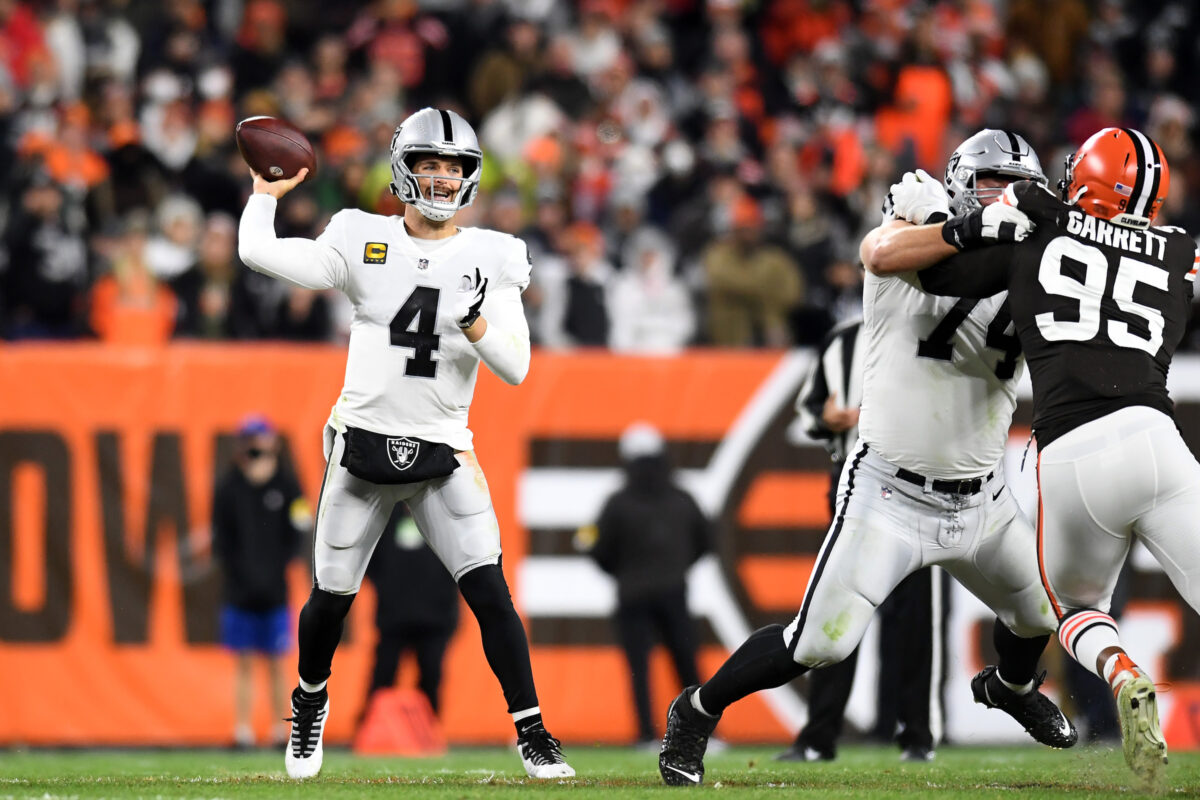 The loss for the Browns dropped them, to 7–7, into last place within one game of the AFC North leading Cincinnati Bengals, with three games remaining in the regular season; while a win would have put them into first place having defeated the Bengals in November.
"The locker room right now is hurting, and that's the most I've seen it in that kind of pain," said Browns acting coach Mike Priefer. "You know you're upset when you lose. Obviously, you're joyous when you win; but you lose that type of game, that was tough. It really hurts."
Both teams would likely have to win their final three games to have a chance for a wild-card berth.
The Raiders scored on their opening drive of 58 yards in 11 plays, in 7:12 minutes. Carr completed a five-yard touchdown pass to Bryan Edwards with 3:41 left in the first quarter.

On the other hand, Cleveland's offense didn't even cross midfield until 21 seconds remained in the half.
The Browns were aided by a pass interference to get in position for a 47-yard field-goal attempt that Chase McLaughlin missed on the last play before halftime.
Cleveland was led in rushing by Nick Chubb with 23 carries for 91 yards and a four-yard touchdown rush with 4:33 remaining in the third quarter to make it 10–7.
But the Browns took their first lead of the game when quarterback Nick Mullens threw a 6-yard touchdown pass to Harrison Bryant with 3:45 left. Mullens threw for 147 yards on 20 of 30 attempts.
"It was so cool, the stadium was rocking," said Mullens. "I really believed in the fourth quarter this night was destined for Cleveland. But sometimes it doesn't work out like that."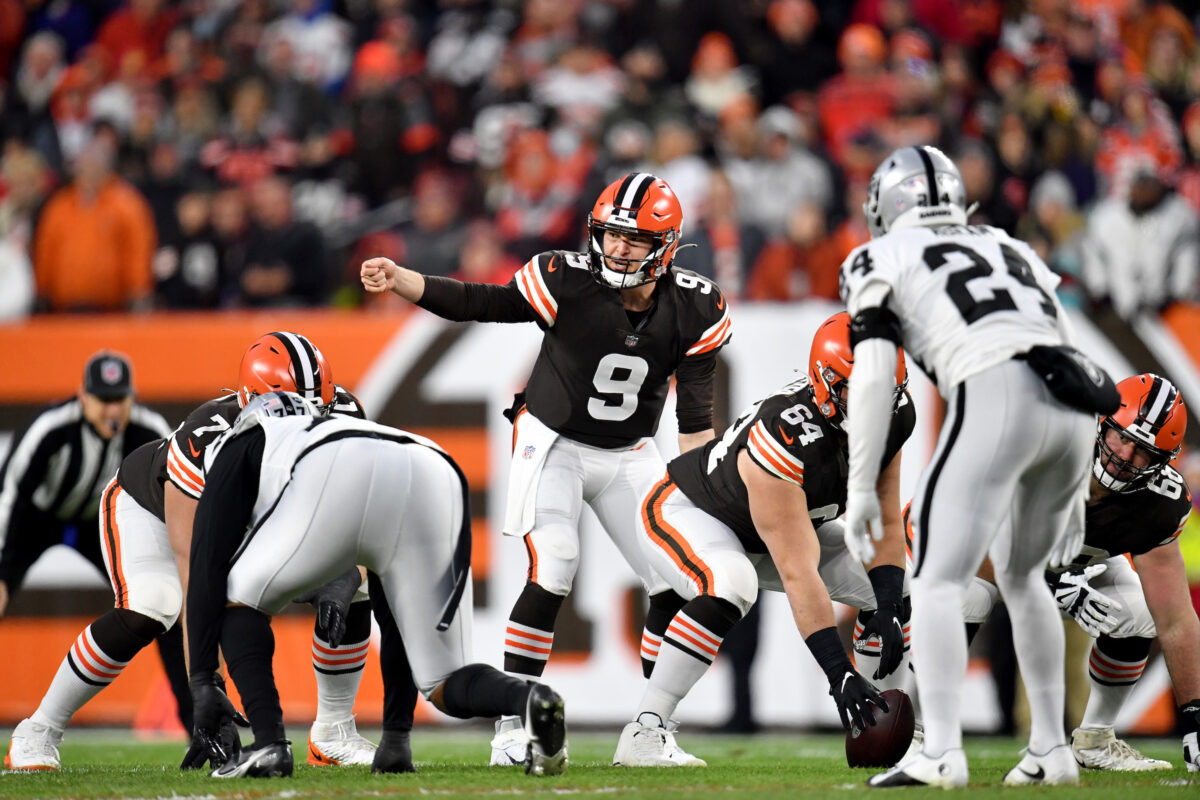 Cleveland had a chance to lock up the win after Greedy Williams intercepted Carr with 2:47 remaining, but couldn't gain a first down and had to punt.
"After that interception, I told the guys 'Please, I promise we'll win it, just get the ball back,'" said Carr."This team is defined off adversity. I think we've been through a lot, so nothing really fazes us; which is a good thing."
Raiders kicker Carlson was perfect on the night on 3 for 3 field goals. Besides the game winner, he made a 24-yarder near the end of the half to increase the Raiders lead to 10–0. He also hit a 40-yard field goal at the beginning of the fourth quarter for a 13–7 lead.
Carr would lead a 41-yard drive with 1:50 left in the game; completing a 15-yard pass to Zay Jones which set up Carlson to make his 31st field goal in 34 tries for the year.
Carlson, "he's proven over and over again that he's a super confident player; a good friend too," added Carr. "So that makes it cool. I don't really watch the ball. I watch his reaction."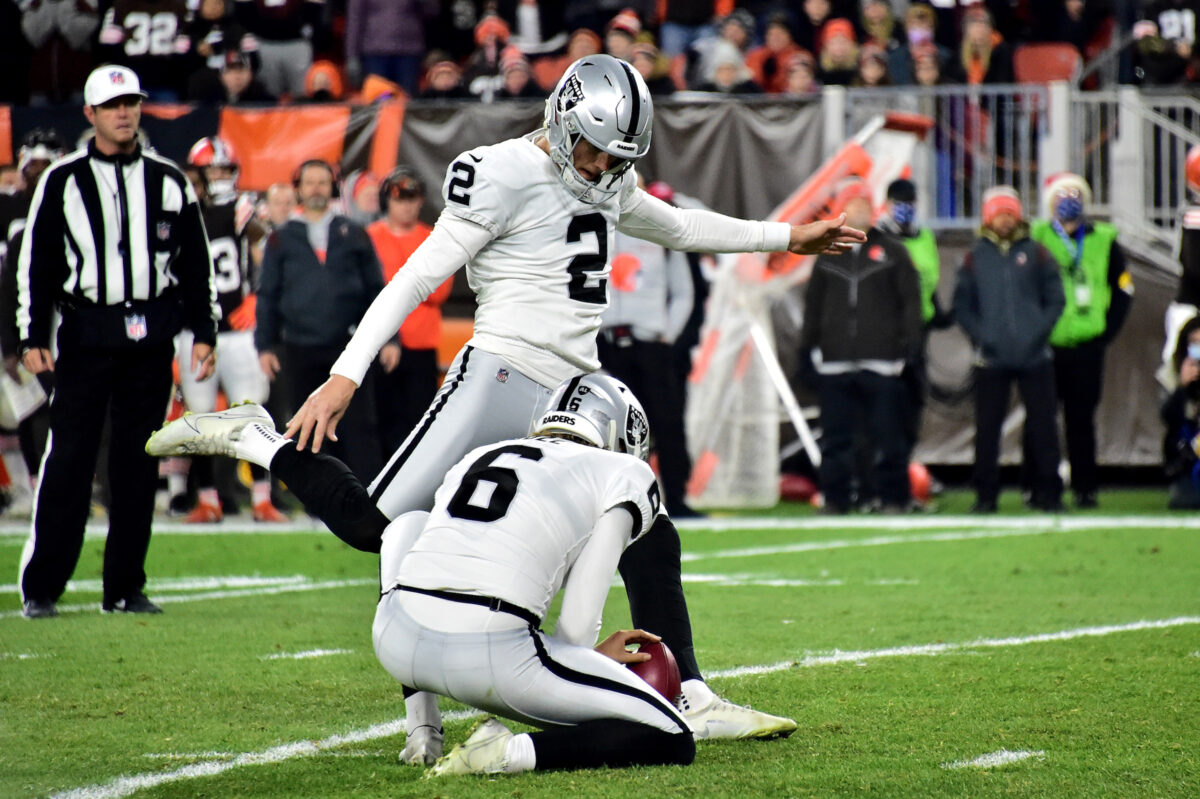 "It's been a long time coming to win a game like that in the end," said Raiders interim coach Rich Bisaccia; who took over after coach John Gruden resigned amidst an email scandal in October.
The Raiders have had excellent starts the past two years, but faltered late-season losing five out of their last six in 2019, and five out of last seven in 2020.
"Pregame shows and all those kind of things (are) planning my future and playing everybody's future already," stated Carr. "I don't think that we're done yet. We have a long way to go. We haven't been perfect, but we're still in it. As long as we have a chance to still put the ball down and play, I'm just thankful for that opportunity that we're in December and we're still playing meaningful games."
The Raiders are at home next against the Denver Broncos on Dec. 26; while the Browns visit the Green Bay Packers on Christmas.