TIFF Review: 'Rush' — Race Saga Fuelled by Gripping Real Life Story
September 11, 2013 9:24 pm Last Updated: September 26, 2014 1:13 pm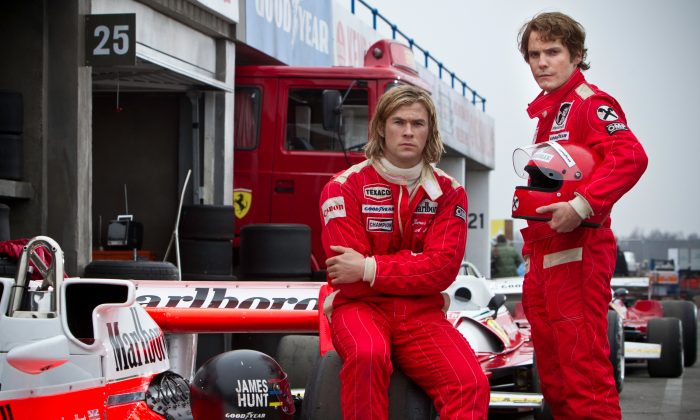 TORONTO—The immediate similarities between "Rush" and "Days of Thunder "mean any future story about professional racing will need a significantly different plot.
In both, two racers have a fierce competition, one of them crashes, and the tragedy brings them together, somewhat.
But where the Tom Cruise racing flick seemed to invoke its tone from "Top Gun," "Rush" draws heavily on the real-life 1970s rivalry between British racer James Hunt (Chris Hemsworth) and Austrian racer Niki Lauda (Daniel Brühl).
Ron Howard premiered his latest movie at the Toronto International Film Festival last week, using the historical events to punch out a compelling story.
The two racers could hardly be more different. Hunt is a handsome and charismatic lady's man with an impetuous driving style that makes him both dangerous and successful.
Lauda is rat-mouthed and socially awkward, arrogant to the point of casually offending those around him. He also happens to know more about what it takes to build a top race car than his team mechanics, at least in director Ron Howard's version of the story.
Where Hunt blasts through, Lauda calculates. Where Lauda eschews his fellow racers and chases a good night's sleep, Hunt drinks till dawn and lives the life of a playboy.
The power and violence of Formula One comes through Howard's biopic with suitable intensity, and he makes it clear in an early narration that this is a death sport.
While writer Peter Morgan took necessary liberties with the actual history to condense reality into a gripping two-hour race story, there is nothing exaggerated about Formula One's deadly past.
Through the 1970s, of the small group of racers—around 25—that began each year, it was very likely some would die. The Grand Prix in 1958 claimed four lives, while those in 1955, 1960, 1961, and 1970 claimed three, with most years claiming one or two.
Howard uses that tension to make his story more than a European set version of "Days of Thunder." His characters are deeper, and he explores themes like the value of competition and the balance between work and play. While Howard and Morgan do a decent job fleshing out these ideas, an expository conversation between the two leads at the end of the film feels tacked on and unnecessarily explicit.
All told, "Rush" races through a turbulent time in racing history with a dynamic story put together like a well-oiled machine.
Rush will be released in theatres September 12.