Queen of Spain Graces NYC School (+Photos)
September 22, 2014 9:04 pm Last Updated: September 22, 2014 9:05 pm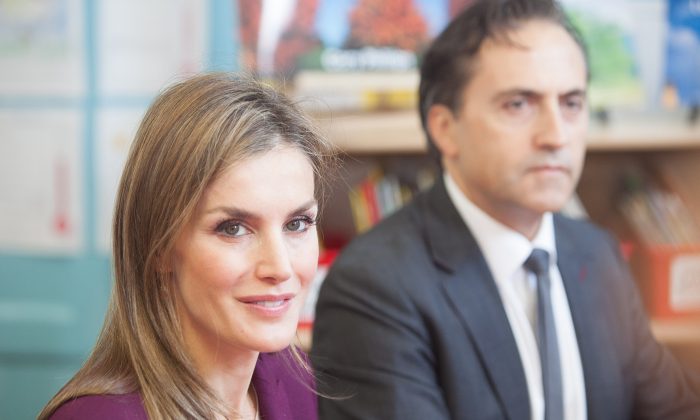 NEW YORK—It was a moment of awe for Vimarsha Sital. "I kept thinking in my mind: 'Should I ask her? Should I not ask her?'" And then the moment came and she did and succeeded— Vimarsha took a selfie with the Queen of Spain.
Her Majesty Queen Letizia of Spain visited P.S. 103 Dos Puentes Elementary School in Washington Heights on Monday to observe acceptance of four New York schools into the network of International Spanish Academies. Member schools offer bilingual education with support from the Spanish Ministry of Education.
"I got so excited," said Vimarsha, a seventh-grader at Southampton Intermediate, one of the accepted schools. "I was so scared she's going to reject me."
But it wasn't just the excitement of taking a picture with royalty. "She's a very good role model to kids," Vimarsha said. 
Vimarsha is of Surinam descent, but attends the English-Spanish bilingual program, so meeting the queen was an inspiration for her to further improve her Spanish.

Schools Chancellor Carmen Fariña, while keeping her decorum, shone with excitement after taking the stage at Dos Puentes to address an audience with the queen sitting in the first row. 
"I wish my parents were here to see how far I've come. I don't think being chancellor would have impressed them, but this would definitely have impressed them," she said jokingly, prompting a laugh in the balloon-decorated auditorium.
Fariña was surprised how well versed Queen Letizia was on the situation of education in the city. "It's great to know how much she's actually following what's happening in New York," Fariña said. 
During their private meeting they talked about how to engage parents in their children's education. Having the aristocrat over may be an option, as the two agreed to "stay in touch."
Spanish in the House
Last year city public schools had almost 150,000 students in the category of English language learners. That's every fifth pupil. Almost half of them are foreign-born and two out of three speak Spanish.
Most English learners receive specialized instruction in English. The Education Department also lists 90 dual-language programs across the city, most Spanish and English.
At least 40 new dual-language programs should pop up across the city, Fariña said. Not only Spanish though. French, Arabic, and Mandarin programs are the next most popular. Also in the past two years, ever more English-speaking parents asked for dual-language education, the chancellor said.
"I think that dual-language gives us an opportunity to take kids who speak only English and give them another language," she said.