The Australian state of New South Wales (NSW) has announced that a protective mask mandate and density limits at hospitality venues will be reintroduced over the Christmas period from midnight Dec. 24, despite previously scrapping the requirement due to high vaccination rates.
This comes as the number of daily COVID-19 cases in the state climbs to more than 5,000, which had already prompted the state to bring back QR check-in requirements.
"As of midnight tonight, we will be requiring that masks are worn in indoor settings," NSW Premier Dominic Perrottet said, adding that the face mask requirement will be in place until Jan. 27.
"We are encouraging people, particularly over the holiday period, if you can work from home, please work from home," he said.
Indoor hospitality venues will again have a density limit of one person per two square metres from Dec. 27 to Jan. 27.
The premier also asked people not to mingle over the Christmas holidays.
"That's just to ensure, as we move through this period of time, we do have that support for our health officers over this summer and holiday period … When you're out, out at a restaurant, out at a cafe, out at a pub or a club, please, where possible, don't mingle.
"We know that from a case we've seen in Newcastle, that singing and dancing and the like has been part of that increase in spread, so we just ask everybody use personal responsibilities, please be cautious as we move through this phase," he said.
NSW Ambulance Acting Commissioner David Dutton asked residents to refrain from calling 000 for issues such as checking the opening hours of a testing clinic or following up on a COVID-19 vaccination.
"Yesterday, we answered an emergency 000 call every 24 seconds. We are asking to save 000 for saving lives," he said. "Those calls that I just referenced potentially delay NSW ambulance mounting an emergency response to a member of the community that really needs us."
Residents are swarming to testing sites, with over 160,000 tests conducted on Wednesday, as close contact numbers grow and others rush to get tested for holiday traveling.
Minister for Customer Service, Victor Dominello, announced on Twitter that the state would revert back to its pre-Dec. 15 digital check-in settings given the increasing Omicron numbers.
Perrottet said check-ins would assist with contact tracing. He also suggested that rapid antigen testing kits would be used to take pressure off testing clinics.
"People have come forward to get tested in record numbers, which is important to help keep people and the community safe, but we need to make sure our testing clinics are there for people who really need it," he said.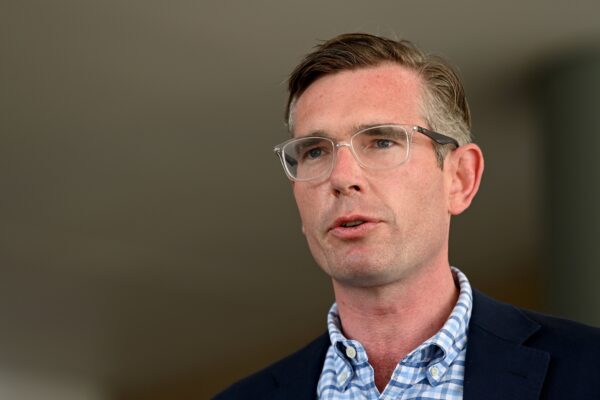 After the national cabinet meeting on Wednesday, Prime Minister Scott Morrison called for "common sense" measures against COVID-19.
"Going forward with Omicron, there will need to be more of a role for individuals in self-managing and self-regulating their responses," he told reporters.
Morrison strongly encouraged Australians to wear masks in consideration for others, particularly in indoor settings.
"Wear a mask in an indoor setting, you don't need to be forced to do it," he said. "This one just requires some common sense, and Australians have great common sense."
The national cabinet also discussed the issue of the large numbers of people in NSW and Victoria who are testing for the purposes of traveling to other states, particularly Queensland, which is heavily straining the system.
"We've all seen the terrible queues and the long waits people have had. Some 20 to 25 percent—one in five, one in four—people waiting in those queues are not symptomatic, they're not a close contact, they're not even a casual contact. They just want to travel to another state," Morrison said.
Chief Medical Officer Paul Kelly will be consulting with the Australian Health Protection Principal Committee (AHPPC), the key decision-making committee for health emergencies, on removing requirements for test for travel.