Qatar plans to boost LNG output to 110.2 tons (100 million tonnes) a year.
Qatar's state-owned petroleum company is planning a significant increase in natural gas production, its chief executive said on Tuesday, July 4.
Qatar Petroleum (QP) plans to boost gas production at its giant North Field, which it shares with Iran, by 20 percent after new gas development, said Saad Sherida al-Kaabi, president and CEO of Qatar Petroleum.
The increase comes as Qatar faces a diplomatic crisis with its Gulf Arab state neighbors that has seen several countries put sanctions on Qatar for alleged links to terrorist organizations.
The countries, which include Egypt, Saudi Arabia, United Arab Emirates, and Bahrain, had given Qatar a list of demands, including shutting down Al Jazeera and paying an unspecified amount in reparations for "loss of life and other financial losses caused by Qatar's policies in recent years.
Qatar rejected the demands, including closing down a military base it allows Turkey to operate in the country.  
In April, two months before the row erupted, Qatar lifted a self-imposed ban on development of the North Field, the world's biggest natural gas field. Qatar shares that field with Iran, which owns the northern half. Developing the project requires some coordination between the two countries.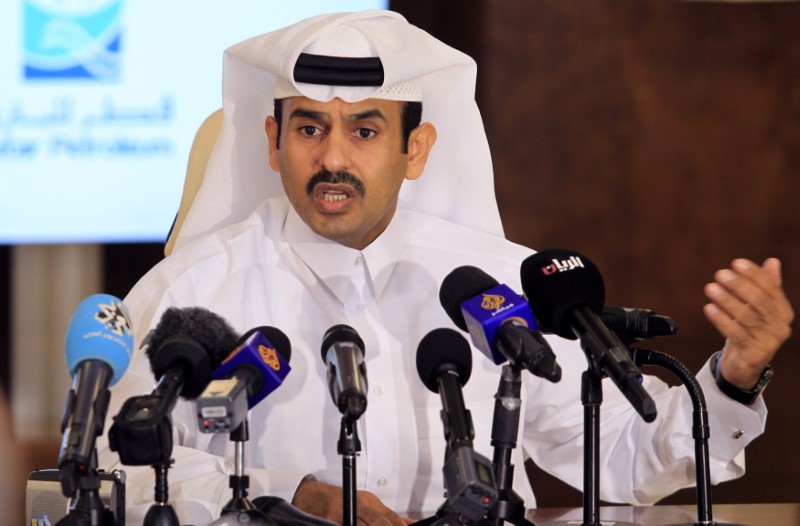 Qatar maintains good relations with Iran and was also the only country to block a U.N. Security Council resolution against Iran in 2006, calling on the country to halt its nuclear enrichment program.
The new project will raise Qatar's total liquefied natural gas (LNG) production capacity by 30 percent—from 77 million tons per year to 100 million tons.
According to Royal Dutch Shell's annual LNG outlook, total global LNG demand was 292 million tons in 2016.  
"We have decided that the best way to develop this huge project is to export it as liquified natural gas," said Kaabi.
The expansion will require new LNG trains to transport the gas, Kaabi said.
The announcement comes a day after Iran signed a deal with France's Total to develop the northern part of that gas field, which Tehran calls South Pars.
The project is the first major Western energy investment in Iran since the lifting of sanctions.
Iran suffers severe domestic gas shortages.