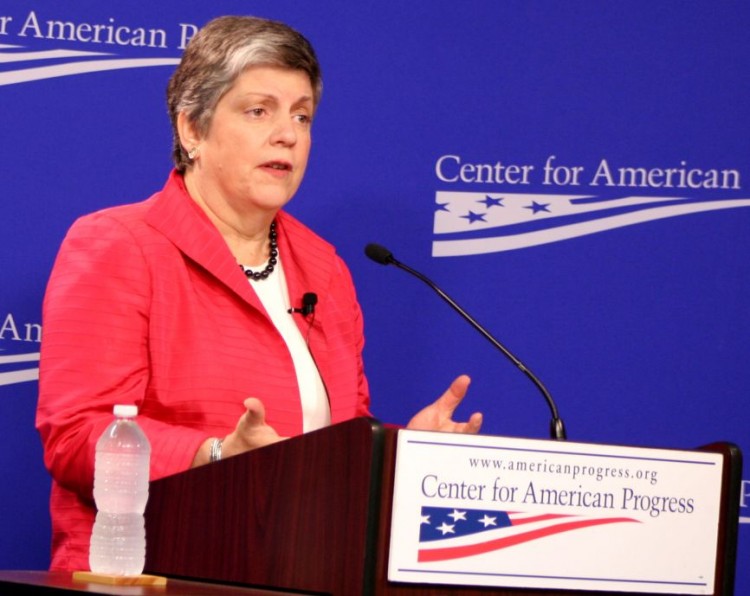 WASHINGTON— Homeland Security Secretary Janet Napolitano likes to tell the story of the time just after she announced her candidacy for Arizona attorney general. A reporter called her and asked, "Are you going to run as a woman?" An absurd question, but Napolitano knew what he really meant: he was asking if her agenda would be any different than a man's.
Napolitano, 54, says that anyone in public service will be "guided by one's life experience," and set priorities accordingly. She said being a woman was probably a factor in making 6,000 pending child protection cases a top priority. When she became attorney general, these cases had been languishing for 3 to 4 years—a long in a child's life, according to her. She had a different priority than her predecessor.
After four years as Arizona's attorney general, Napolitano became the first women to be elected governor of Arizona in 2002, and served two terms. Her priorities were education and child care issues.
Napolitano spoke on May 9 at the Center for American Progress (CAP) as part of its Women's Leadership Series. She gave an overview of the agency that she heads, and shared what matters most to her. She used the occasion to encourage more women to participate in public service despite the frustrations.
Running DHS
In 2008, President-elect Barack Obama asked Napolitano to head the Department of Homeland Security (DHS). Created in the wake of 9/11, DHS is the federal government's third largest agency, a fusion of 22 agencies under one umbrella.
Napolitano gave an overview of her mission at DHS, defining five distinct areas of responsibility.
Leading the list is counterterrorism. International and domestic terrorism have both increased and diversified, she said. While the threat from the core al Qaeda may be diminished, DHS must now deal with AQAP (al Qaeda on Arabian Peninsula), AQIM (al Qaeda in the Islamic Maghreb), and al Shabaab, and homegrown violent extremists.
Last July, CNN's Wolf Blitzer asked if the al Qaeda threat had shifted to less ambitious plots. Napolitano replied:
"I think the kind of massive international plot that led to 9/11 would be very difficult to accomplish today. So, yes, what we see are smaller plots involving fewer people, more difficult to interrupt, but we've seen, you know, several. We've seen the attempt on flight 253 on Christmas Day of 2009."
DHS is responsible for maintaining border security, and this has noticeably improved under Napolitano. "We have driven down illegal immigration numbers below what it was in 1971. On Jan. 27, 2010, Napolitano said, "The number of illegal crossings – the best indicator of illegal traffic – is now at less than half its all-time high."
According to Napolitano, DHS has entered into 130 agreements of countries overseas "to minimize the risk of a person or cargo entering that should not."
Napolitano said that immigration enforcement has changed under the Obama administration. The focus now is on removing persons with criminal convictions, fugitives of existing warrants, and repeat violators.
DHS also addresses disaster response and recovery from natural disasters, with FEMA and the Coast Guard now under the multi-agency umbrella. They have had to respond to tornadoes, hurricanes, forest fires, earthquakes, tsunamis, and even unexpected snow storms.
The fifth general area of responsibility, cybersecurity, has become a growing area of concern at DHS.
Human Trafficking
Napolitano has made combating human trafficking a personal priority. She says it has become a global scourge, targeting young women for purposes of "sex traffic and modern day slavery." They come from Central and South America, SE Asia, and former Soviet countries, she said.
In 2010, DHS launched the Blue Campaign to educate people on how to identify and report suspected cases of human trafficking. Napolitano said the department has used public service announcements in the U.S. and abroad. She gave an example of the training flight attendants receive in recognizing a trafficked child on a plane.
Napolitano shared one case where neighbors could see a young girl in a house through a window, but they never saw her go to school or play outside. They called the police, who in turn called DHS. Immigration and Customs Enforcement (ICE) investigated the case and found that the girl had been made into a work slave. After the rescue, Napolitano met the girl when she was attending college. She wants to become an ICE official.
"Political life can be challenging at times, but the rewards are unbelievable," Napolitano said. She used this story of the trafficking victim as an example of the positive impact a public servant can have on people's lives.
Napolitano would like to see more women get involved in running for political office. According to her, that lack of women in the House and Senate is not because they can't raise money or that the parties won't support their candidacy. The main reason is that "they choose not to."
But Napolitano urged women to use their sense of priorities to influence change. She said that while it can be frustrating, it can also be a lot of fun.
The Epoch Times publishes in 35 countries and in 19 languages. Subscribe to our e-newsletter.