A province in northern China is preparing thousands of hospital beds in anticipation of a surge in CCP virus patients—days after lockdown measures were relaxed in the epicenter city of Wuhan, according to internal documents viewed by The Epoch Times.
Heilongjiang, China's northernmost province, locked down its border city of Suifenhe on April 7, in what officials said was an attempt to stem the flow of imported cases from Russia.
From March 27 to April 9, the city reported more than 100 imported cases, as well as 148 asymptomatic patients—those infected who don't show any symptoms of the disease COVID-19—that were imported cases. Only three new domestic infections were reported during that period.
Residents in Heilongjiang, however, have expressed doubt about the official figures, saying authorities were likely aiming to downplay the severity of the new wave of infections by focusing on imported cases.
Suifenhe is building a 600-bed makeshift hospital dedicated to asymptomatic patients, while its 70,000 residents are now under lockdown. Only one person from each household can venture out for necessities once every three days.
A neighborhood officer, in a message on Chinese app WeChat seen by The Epoch Times, emphasized to residents of a complex in Suifenhe the gravity of the situation.
"Does everyone know how serious this is?" the officer asked. "You have no idea who's got it and who has not … having no symptoms is even scarier," referring to asymptomatic infections.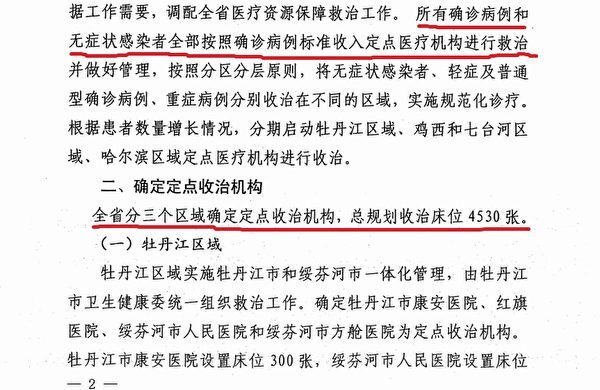 Meanwhile, an internal notice from Heilongjiang's health commission, dated April 8, shows that provincial officials plan to make available nearly 4,000 hospital beds elsewhere.
The notice, which indicates the authority plans to set up a 1,100-member medical support team, also instructed local authorities to provide a candidate list within 24 hours.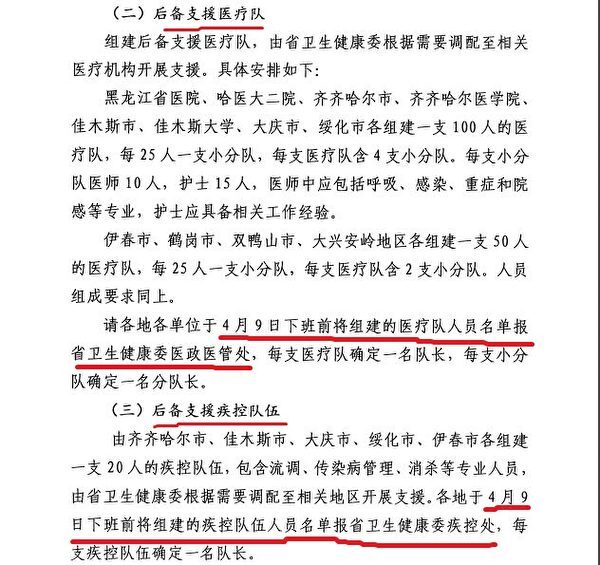 Asymptomatic Carriers
Up to 25 percent of all infected individuals are transmitting the virus while never showing any symptoms, according to Robert Redfield, director of the U.S. Centers for Disease Control and Prevention. Some others are also able to spread the virus 48 hours before they start to feel unwell.
Even some patients thought to have recovered from the disease appear to be testing positive again. On April 10, South Korea reported 91 cases of patients who contracted the disease again after having previously recovered. Jeong Eun-kyeong, director of the country's top health agency, said the virus may have been "reactivated" in those patients.
China didn't include asymptomatic patients in its daily tally of confirmed cases until April 1, when it announced 1,541 such patients to be under medical observation.
The National Health Commission in February acknowledged in its official guidelines that asymptomatic carriers to be a "potential source of infection," and since then, multiple Chinese health experts have played down the risk of spread from asymptomatic patients.
Chinese respiratory expert Yang Jiong, in an interview with state media in early April, said that there may be 10,000 to 20,000 asymptomatic carriers in Wuhan. That interview has since been deleted.
Official Data Questioned
While the Chinese regime has reported few new domestic infections in recent weeks, claiming most new cases are among travelers who were infected overseas, some Heilongjiang residents question whether the regime is providing the full picture.
Yu, who lives in the provincial capital Harbin, wonders if officials are simply labeling all cases as imported to downplay the situation.
"If they acknowledged local cases, it would mean that the outbreak is not under control, and 'imported cases' would be a convenient excuse," he told The Epoch Times. "Local officials have been covering it up, they don't report the true [numbers]."
Another Harbin native, Deng, said her neighborhood is currently under lockdown measures, which includes a curfew at 10 p.m. She said that at least two residents in her area, while entering the security gate, received a yellow and red flag on their mobile virus detection app, respectively, meaning they are potential virus carriers and would be quarantined.
Deng said she didn't dare to ask too much, since she didn't want to be accused of "not believing in the government."
"The information is not transparent," she said.
Hotels in Suifenhe have shut their doors over infection fears following the new lockdown, according to a local resident, who said his surname is Li. Some Chinese who recently came back from Moscow have been quarantined in local sports arenas, Li said.
"Coming back is actually even more unsafe," Li said. "You might not have the virus, but it's very easy to get infected in a concentrated group. You don't know who may acquire the virus."