Tens of thousands of people rushed to leave Wuhan, the world's CCP virus epicenter, after the city lifted a 76-day quarantine on April 8.
The reopening saw crowds unseen since Jan. 23, when the Chinese Communist Party (CCP) ordered a lockdown of the city and its 11 million residents. Drivers had already queued up on expressways well before the clock reached midnight, when officials were set to relax travel controls.
People also flocked to trains and airports, with many wrapping themselves in full protective gear, awaiting their first opportunity to get out of the city.
Footage from the border showed locals honking their car horns as they drove out of the city in celebration of their regained freedom of movement.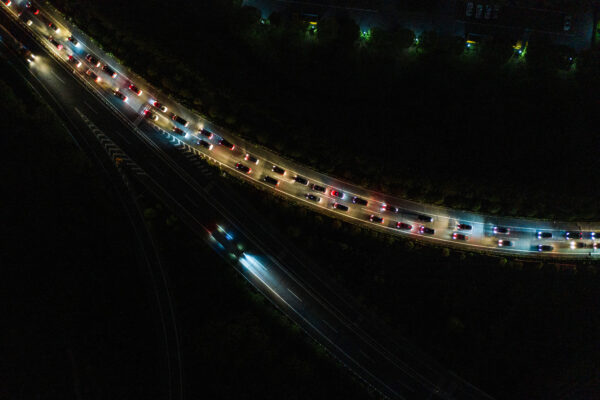 "Have to seize tonight and dash away," Chen, a resident from the city's Jianghan District who lined up at one of the 75 highway tolls in the early hours, bound for his workplace in southern Jiangsu Province, told The Epoch Times. "Who knows if there might be another policy tomorrow."
Chen said he regretted not listening to his boss's advice to leave Wuhan before the lockdown, leaving him stuck there for more than two months. "If you want to leave, you leave fast," he said.
Liu, whose parents live in Hanyang District, had similar concerns.
"You never know what directions the policies are going," she told The Epoch Times as their car, heading toward Mongolia, arrived in Xinyang City, Henan Province. "We leave as soon as we can. Changes happen every day."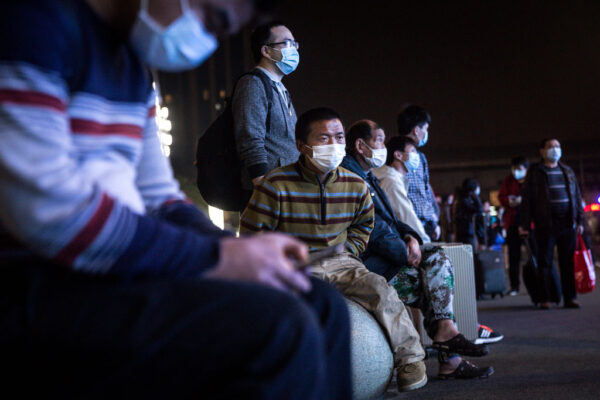 The family of three arrived to line up at the highway entrance one hour before the travel restrictions were lifted. In no time, more than a hundred cars were lined up behind her.
Around 55,000 people were expected to leave Wuhan on April 8 by rail—a number that's expected to nearly double by the next day. An airport official estimated that they would fly out 10,000 passengers from Wuhan by the end of the day.
Hidden Risks
For weeks since March, Wuhan has recorded few to no new cases in its daily case count. Over the past three weeks, officials have only reported three new confirmed cases.
In a push to reopen the city, officials have been declining to report new cases. There are also an unknown number of asymptomatic patients, who may more easily spread the virus because they're not aware of being infected.
A classified Chinese government report showed that such patients could account for up to one third of those who have been detected, according to South China Morning Post. The report also said that more than 43,000 patients who tested positive for the virus in China by the end of February were asymptomatic, and that official government data listing about 80,000 confirmed cases didn't include these patients.
Yang Jiong, a respiratory expert at the Zhongnan Hospital of Wuhan University, recently said there may be 10,000 to 20,000 asymptomatic carriers in Wuhan, and urged residents to stay vigilant, according to the state-affiliated Health Times.
After China said it would publicly report asymptomatic cases on April 1, more than 70 residential compounds previously designated as "virus-free" were found to have carriers. For the same reason, 87 neighborhoods, two villages, and 11 towns in Wuhan also lost their "virus-free" status.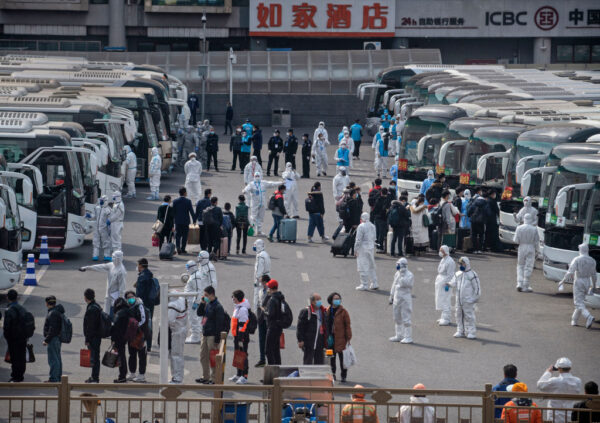 Guinea Pigs
In a news conference the day before Wuhan reopened, Hu Shuguang, deputy head of the epidemic control group in Wuhan, warned that combating the outbreak "remains the top priority at the moment."
According to a notice sent days earlier, officials will continue to exercise strict lockdown management on a community level, including checking each person's identity and temperature, mandating face masks, and advising residents against going out.
Fang, a resident from Wuhan, said that "people who go to work today are the first batch of guinea pigs."
"I don't know where the enemies are, where the virus is, and who has been infected. I'd get anxious if my family goes out the door," he told The Epoch Times' sister media NTD. "They are not using scientific methods to cure the disease, and often act out of political need."
Multiple regions across China are screening people who arrive from Wuhan.
Beijing, which is anticipating around 11,000 residents to return from the Wuhan lockdown, requires two virus tests: one a week before their trip to prove their health, and another after they complete a mandatory two-week quarantine at home or in a quarantine center, according to an April 8 news briefing.
In the far northern province of Heilongjiang, a surge of virus cases has led the city of Suifenhe to close its border with Russia.
In a measure reminiscent of Wuhan's lockdown, the local government has ordered citizens to stay inside their residential compounds, according to an April 7 government notice. Only one person from each household can leave every three days for essential items, and they must return home on the same day. Construction of a makeshift hospital is also underway.