Demonstrations are being held in countries around the world in response to the spike in oil prices that began after Russia launched a military invasion of Ukraine on Feb. 24.
Crude oil hit a historic market high on March 7 when it reached $130 per barrel, which represented the highest level since 2008.
The price dropped after Russian and Ukrainian officials held talks on March 16, but experts warn that inflation and instability are likely to continue.
Meanwhile, protests over the surging fuel costs have popped up in Albania, Paraguay, Canada, Spain, and France.
Phil Flynn from Price Futures Group attributes the prices to a "shortsighted and dangerous war on fossil fuels that is backfiring on almost every level."
Flynn said the green energy movement has led the world to be "dangerously undersupplied" with oil, allowing Russian President Vladimir Putin to use his vast energy resources as a military and political weapon.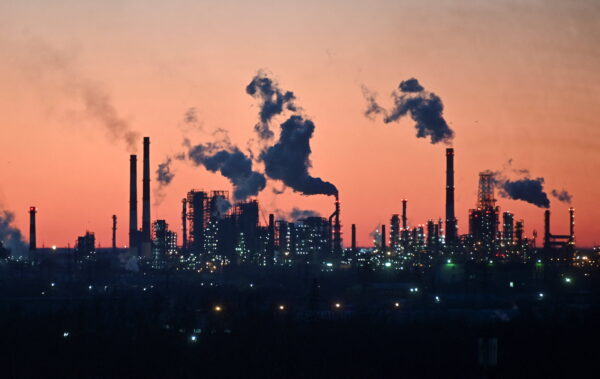 Paraguay imports 100 percent of its oil from other countries, primarily Argentina and the United States.
While the South American country relies entirely on hydroelectricity for energy usage, the transportation sector has been pummeled by skyrocketing oil prices. Bus drivers, truckers, taxi drivers (regular and motorcycle), initiated road strikes and mass closures across the country beginning on March 14, which lasted for three consecutive days.
Wealthy businessmen in Paraguay have capitalized on the global price hike and are using the inflated profits to raise 2023 presidential election campaign funds, Asuncion resident Silvia Torres told The Epoch Times.
"There's a monopoly on gas stations here," Torres said.
She also said there's been no action by President Mario Abdo Benitez to alleviate the pain consumers are feeling at the pump and that the protests will continue in the near future.
"Fuel prices go up every week. It's very expensive."
In Albania, police arrested at least 16 people on the evening of March 9 after demonstrators in Tirana took to the streets to protest gas and oil prices.
Activists and organizers called for more action the following day and demonstrations took place in Durres and Shkodra.
Outside the office of Prime Minister Edi Rama in Tirana, protesters held a banner that said, "Down with the government of the oligarchs."
Responding to the demonstrators, Rama posted a video on Facebook on March 10 addressing the effects of Russia's war in Ukraine on global oil prices.
"Ever since the first signs of the energy crisis … the government has warned of tough times ahead and put in place a financial shield for families and small businesses," he said.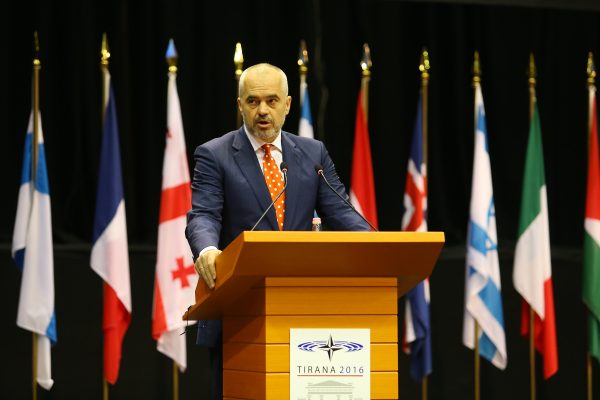 Representatives from the country's national dairy industry said in a statement on March 16, "This stoppage is entailing inevitable social, economic, and environmental consequences as it will mean the suspension of milk collection in livestock farms starting tomorrow and, above all, the supply of nutritionally basic products in people's food is put at risk—such as milk and dairy products."
On March 17, Spain's transportation minister, Raquel Sanchez, said the government dispatched 15,000 police to protect truck drivers who weren't affiliated with the protests to navigate the picket lines and guarantee the delivery of goods. Meanwhile, Prime Minister Pedro Sanchez offered assurances that his administration will pass measures on March 29 to reduce the crippling high energy prices and mitigate inflation.
Energy prices in Spain are at their highest in 36 years because of the effects of the Russia–Ukraine conflict.
Government assurances aside, farmers suffering from high diesel and feed costs plan to demonstrate in Madrid on March 20.
On the North American continent, a convoy of Canadian truck drivers in British Colombia demonstrated against soaring fuel prices on Highway 1 on March 14.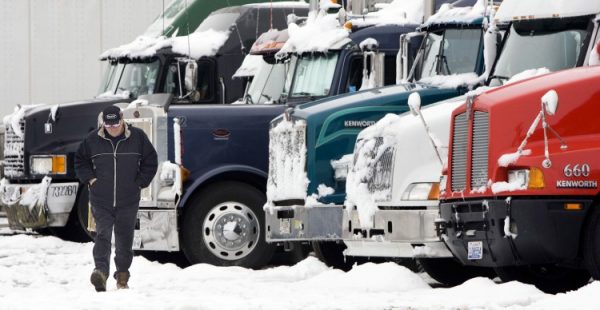 Protest organizer Ryan Hess said he wanted to bring attention to the high price of diesel in the province and how it's hurting the ability of transportation companies to make a profit.
In Europe, truck drivers in France are also struggling with the rise in diesel prices.
On March 14, upward of 100 truck drivers, or "hauliers," gathered in front of the government prefecture building in Rennes to contest the increase in fuel prices and demand a plan of action from the government.
In response, Prime Minister Jean Castex announced on March 16 a resilience plan to the tune of $400 million to benefit the French economy and those working within inflation-affected sectors, such as fishermen, farmers, construction, and road transport.
As oil prices continue to fluctuate, early figures show the increased cost of oil has hit Europe the hardest, with residents of Greece paying nearly 6 percent of their monthly income for 16 gallons of gasoline.
By comparison, Mexicans are paying almost 5 percent of their monthly income for the same amount of gas, and U.S. consumers are paying 1.22 percent.