The Project Veritas' board of directors has said that founder James O'Keefe was "suspended indefinitely" amid a probe by a third-party auditor into his alleged "excessive" spending of donor funds for "personal luxuries."
In a statement on Feb. 20, the board of directors said that the founder of the journalism organization "decided to remove his belongings from Project Veritas headquarters," on Monday.
"The Board and Management made numerous attempts in the last 14 days to have a conversation with James, but he ignored our outreach and decided to instead leak private information to others, either by doing so himself or by proxy," they wrote.
They added that O'Keefe had been invited to meet with the board on Feb. 10 to discuss the "financial malfeasance that was discovered" but that he did not attend. Another board meeting is scheduled for Feb. 21 and O'Keefe has also been invited to attend, according to the board.
"There were two subjects that the Board wished to come to terms with James on: the company's long-term sustainability based on staff retention and morale, and the company's financial health—which has been a serious concern for several months now," the board said.
It then pointed to some examples of O'Keefe's alleged actions that were uncovered by Project Veritas leadership, including him supposedly "spending $14,000 on a charter flight to meet someone to fix his boat under the guise of meeting with a donor."
Other actions allegedly include accumulating $60,000 in losses from holding dance events; more than $150,000 "in Black Cars in the last 18 months," "thousands of dollars spent on DJ and other equipment for personal use" and more.
Pfizer Report Uncovers Concerns
The board noted that Project Veritas leadership has not yet concluded probing the "full scale of financial issues over the years" but that a preliminary review currently indicates that O'Keefe "has spent an excessive amount of donor funds in the last three years on personal luxuries."
O'Keefe founded the nonprofit journalism organization in 2011 to continue his undercover reporting work.
Project Veritas has risen to prominence since then, thanks in part to its work with hidden cameras that have unveiled multiple explosive exposés, such as last month's undercover reporter conversation with a senior employee at drug manufacturer Pfizer who shared his concerns about the possible side effects of the COVID-19 vaccine as it relates to women's menstrual cycles.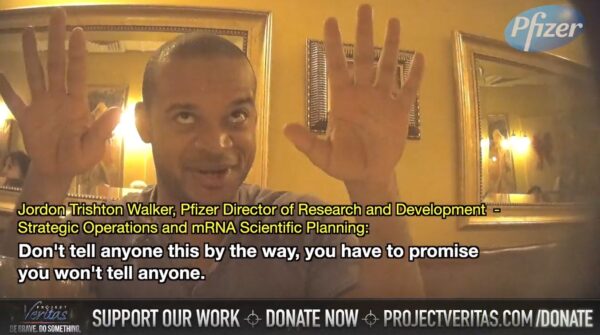 Earlier on Monday, O'Keefe had announced his resignation in front of staff members in New York, where the organization is headquartered.
In his announcement, which was posted on the Vimeo platform, the founder said he had been removed from the Project Veritas board of directors and stripped of his authority as CEO.
"I don't know why this has happened now or why this is happening suddenly right now," O'Keefe told staff.  "So currently, I have no job at Project Veritas. I have no position here based upon what the board has done. So I'm announcing to you all that today on President's Day, I'm packing up my personal belongings."
O'Keefe also defended his management style while noting that he had not "always been a compassionate leader," which he acknowledged was a "fault" of his, but added that "leadership has a price, and results often come at a human cost."

Board Says It 'Wants to Work Things Out'
He also noted that Project Veritas had recently "broke the biggest story in our organization's history… with 50 million views," referring to the video with the senior Pfizer employee, Jordon Walker.
O'Keefe's departure from the organization comes after the group's executive director and several board members last week released a statement saying that "a few weeks ago, a number of our staff members provided leadership with some verbal feedback describing real management concerns regarding the treatment of people and our internal processes."
At the time, the statement noted that O'Keefe had not been removed from Project Veritas.
However, Project Veritas' board of directors made it clear on Monday that "contrary to many reports from today, James was suspended indefinitely pending the resolution of a fulsome investigation and clarity which will need to be provided by a third party investigative audit report."
"The Board wants to work things out with James, and has tried every route possible to remedy the issues at hand and begin to take the legally required corrective actions," the board said.
It added that they were left with "no choice" but to suspend O'Keefe after he "unilaterally fired" the CFO, Tom O'Hara, who it said "can only be fired with Board approval."
This, they said, is a violation of Project Veritas' bylaws.
It added that the Board has a "legal obligation to comply with state and federal law, and these matters are serious ones that cannot be ignored."
The Epoch Times has contacted James O'Keefe for comment.