VILNIUS—A professor said on Thursday he had found the only known copy of Lithuania's declaration of independence languishing in a German archive – a discovery hailed by authorities as the discovery of the nation's "birth certificate".
Liudas Mazylis, political science professor at Lithuania's Vytautas Magnus University, told Reuters his find on Wednesday was the culmination of an eight-month search, funded by himself.
The discovery of the 1918 document, a year short of its centenary, triggered celebrations in the Baltic state.
Lithuania was already planning to mark the 100th anniversary, keen to assert its independence in the face of what it sees as renewed aggression from its neighbor Russia. Memories are still fresh of Lithuania's emergence from Soviet occupation in the 1990s.

Lithuania's President Dalia Grybauskaite said she had asked Germany to send the document back, and was confident Berlin would comply.
"We now have the best gift, the best monument to our centenary", Grybauskaite said.
Germany's foreign ministry said it had confirmed the identity of the document uncovered in its own archives by the Lithuanian professor.
"What a great find! This is perfect news for our Lithuanian friends. We celebrate together with them," it said in a statement that did not mention a return.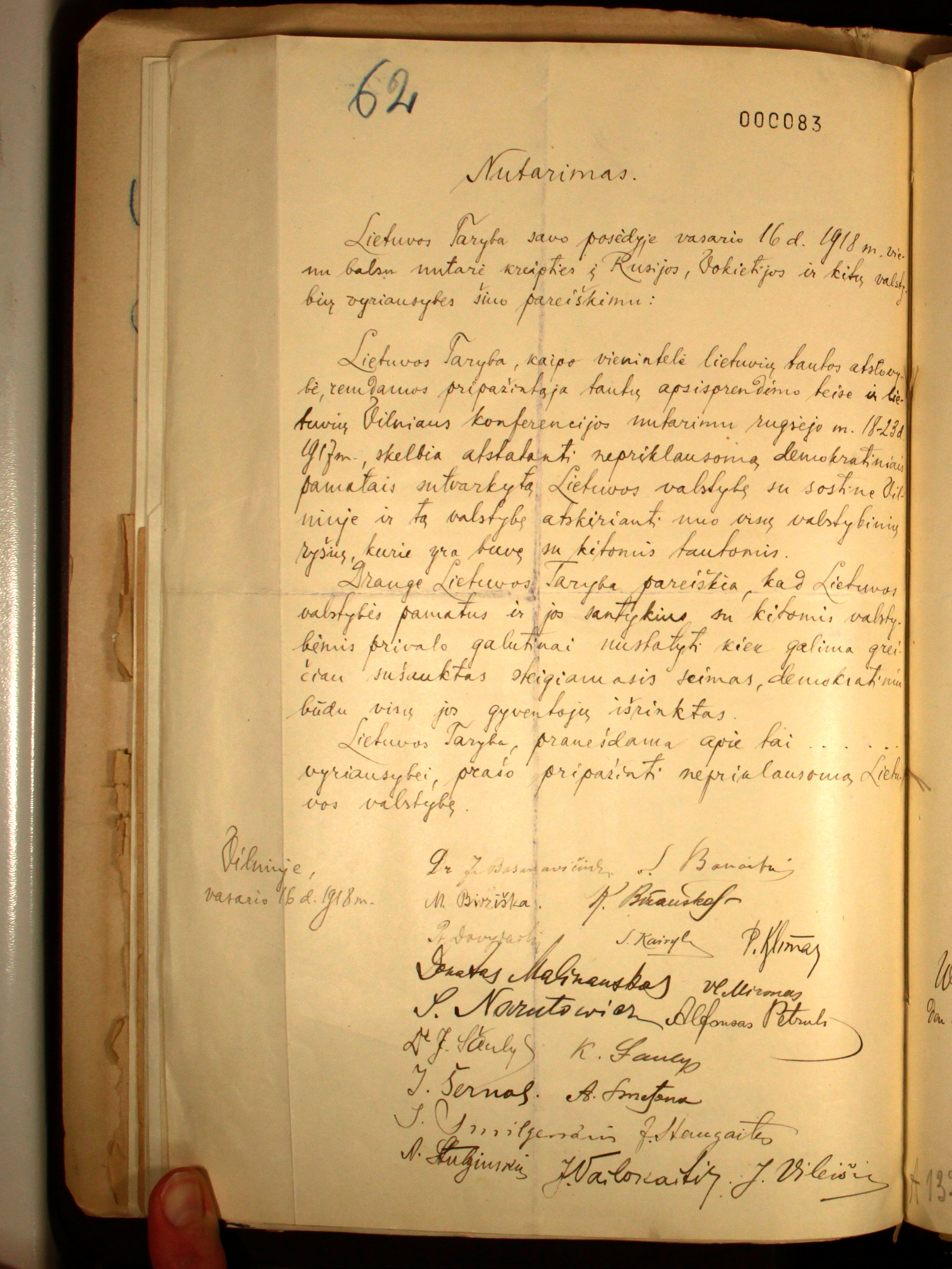 Lithuania traces its modern statehood to the independence declaration signed on Feb. 16, 1918, but it lost track of all copies as turmoil and fighting engulfed the region after the end of World War I.
The Lithuanian state was announced with the approval of Germany, whose army controlled the territory at the time, following a successful offensive against the Russian Empire in 1915.
"I was driven by an excitement of the possibility of finding such an important document, which was lost for so long," Mazylis told Reuters.
"We found our birth certificate", Lithuania's ambassador to Germany Deividas Matulionis said.
"The historians always thought that at least three copies of the declaration were signed, with two of them meant for Russian and German governments", he added.
Lithuanian business group MG Baltic last month offered a one-million-euro ($1.07-million) reward for the discovery of the document. The group's owner, Darius Mockus, told LRT television he would pay out once the document was delivered to Lithuania.