After months of deliberations, President Donald Trump announced today that he will not recertify the Iran nuclear deal and will impose additional sanctions on the Iranian regime for their support of terrorism.
The United States will stay in the nuclear agreement for now while it tries to renegotiate part of the deal, or reach a separate agreement that addresses problems that the original deal did not cover.
The president, however, is not optimistic that renegotiations or an additional agreement with the Iranian regime will work out, and could still walk away from the deal, because "we are never going to accept them resuming their nuclear weapons program," Secretary of State Rex Tillerson said in a briefing ahead of Trump's planned Oct. 13 announcement.
Trump has been a fierce critic of the agreement, describing it as an embarrassment to the United States and the worst deal he's ever seen. Tillerson said the Trump administration will take "a much broader strategic approach" to the problem.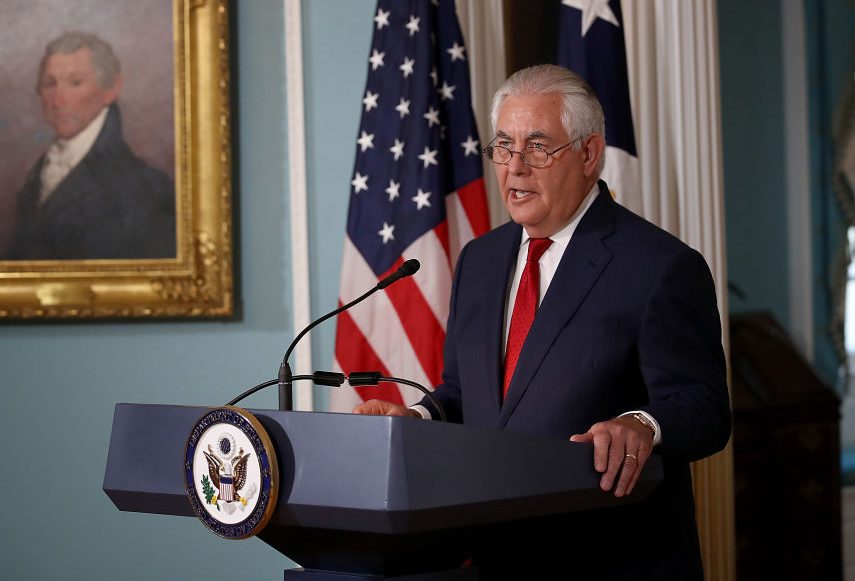 Under the agreement reached by the Obama administration and other world powers with Iran in 2015, the regime is on course to have a nuclear weapon in its possession by 2026.
"The clock is ticking down; we know when the trigger date is" Tillerson said.
Under the agreement, officially called the Joint Comprehensive Plan of Action (JCPOA), Iran temporarily stopped its nuclear program in exchange for sanctions relief and the release of over $100 billion in assets.
However, in less than 10 years, Iran will be allowed to install thousands of advanced centrifuges, which experts say will put it on course to develop a nuclear weapon within six months.
Iran has already been steadily advancing its development of ballistic missile technology capable of delivering a nuclear warhead. The development of ballistic missile technology was not part of the nuclear agreement, but was covered by a separate U.N. resolution—meaning that Iran's frequent violations of the restrictions on its missile program do not reflect on the nuclear deal.
Just last month, Iran showed off a new ballistic missile capable of reaching Israel.

Another weakness in the nuclear agreement is that inspections of Iranian sites have to be announced in advance. It takes normally 30 days or more for the Iranian authorities to give permission, giving it ample time to move assets around. Iran also does not allow its military sites—which are known to have been used for nuclear weapons development—to be inspected.
"We think the agreement is weak, it leaves areas unaddressed," Tillerson said.
The Trump administration wants to address these fundamental flaws in the agreement by removing the time cap and including inspection of Iran's missile development technology.
However, both Tillerson and Trump are not optimistic about the willingness of Iran to reach such an agreement.
"I don't want to suggest we give that a high chance of success," Tillerson said.
Decertification
The decertification is not part of the nuclear deal—it is a check that Congress imposed on the deal requiring the president to certify to Congress every 90 days that Iran is still compliant. The Obama administration never gave Congress a chance to vote on the bill, despite strong objections from both Democrats and Republicans.

The requirements for certification set out by Congress in the Iran Nuclear Agreement Review Act of 2015 (INARA) require the sanctions relief that was provided to Iran to be proportionate to Iran's efforts to limit its nuclear program.
Tillerson said that after a comprehensive months-long review, the United States found that that was not the case.
With Trump not recertifying the agreement, it will be up to Congress to decide how to proceed. According to Tillerson, Congress now has three options: do nothing and keep the United States in the agreement; re-impose sanctions on the Iranian regime; or keep INARA in place, but built in specific "trigger points," which, if violated by Iran, would automatically re-impose sanctions.
National Security Advisor H.R. McMaster said during the Oct. 12 briefing that the Trump administration has already been talking with congressional leaders and that there is a lot of ground for bipartisan support on the issue.

"No one is for Iran gaining nuclear weapons," McMaster said.
The President will also instruct his Treasury secretary through an executive order to put new sanctions on Iran's Revolutionary Guard.
The sanctions will specifically target individuals and Iranian assets, such as weapons experts and cyber activity, that are supporting terrorism.
Tillerson said that Iran has been supporting terrorist organizations in the region, such as Hezbollah in Lebanon as well as other fighters throughout the region.
The Secretary of State also said that it was considered to designate Iran's Revolutionary Guards as a foreign terror organization, but said that designating an entire army as terrorists might trigger unintended consequences on the battlefield.