President Donald Trump praised first responders during his visit to the city that was the scene of America's most deadly mass murder in history.
Trump visited a hospital where patients were being treated, praising the medical personnel for the incredible job they've done.
He said that most of those wounded in the shooting would be able to go home in weeks, if not days.
Stephen Paddock, a 64-year-old retiree, was identified as the gunman in Sunday night's attack, spraying bullets at an open-air concert from the window of his suite in a high-rise hotel, killing 59 people and wounding over 500.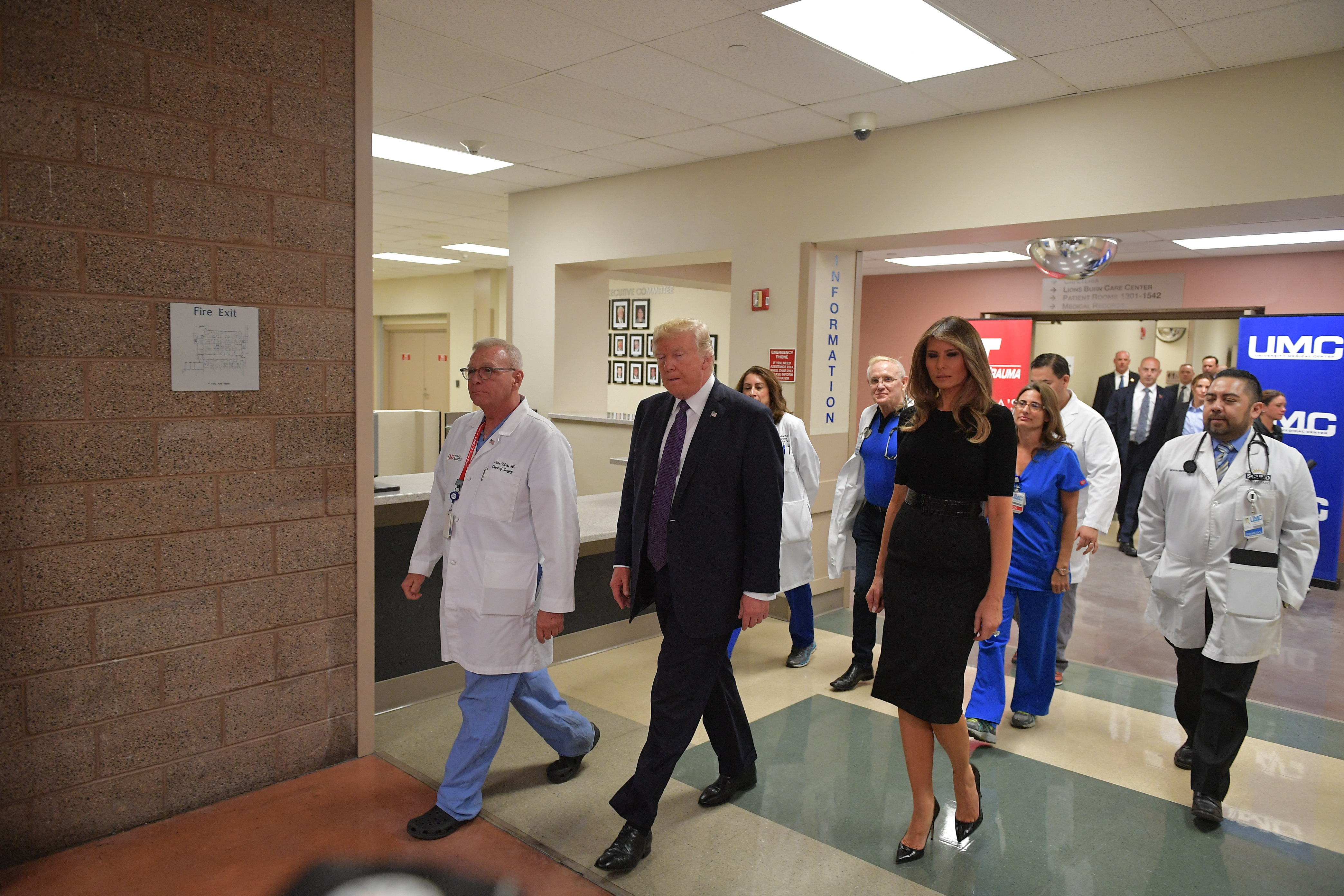 During his visit in Vegas, Trump described Paddock as a "very sick man, a very demented person."
The president also visited a local police station where he met with law enforcement officers who responded to the active shooter. Trump told them that they did an "incredible job" and that their "professionalism has just been amazing."
He said it was amazing how police had been able to locate the shooter in 11 minutes, saying that an active shooter situation like that could have gone on for hours.
He specifically praised the sheriff, telling him he should be very proud.
Trump also met with other emergency personnel, such as firefighters and the dispatchers, who were involved in the incident.
The president was set to meet families of the victims later in the day.
Before leaving for Las Vegas, Trump told reporters at the White House that what happened was a "very sad thing" and that he and First Lady Melania Trump were going to pay their respects.
"We're going to pay our respects and to see the police who have done really a fantastic job in a very short time," Trump said.
"It's a very, very sad day for me, personally," Trump said.
Trump also said that more information from the investigation would be announced when appropriate.
Investigation Ongoing
Paddock had no criminal record, no known history of mental illness, and no outward signs of social disaffection, political discontent, or extremist ideology, police said.
"We are not there yet," FBI Deputy Director Andrew McCabe said on Wednesday, speaking at the Cambridge Cyber Summit in Boston. "We have a lot to do."
However, Paddock appeared to be "descending into madness" in the months before the shooting, ABC News reported on Wednesday, citing an unnamed source briefed on the investigation.
Paddock had significant weight loss, an increasingly slovenly appearance, and was obsessed with his girlfriend's former husband, ABC said.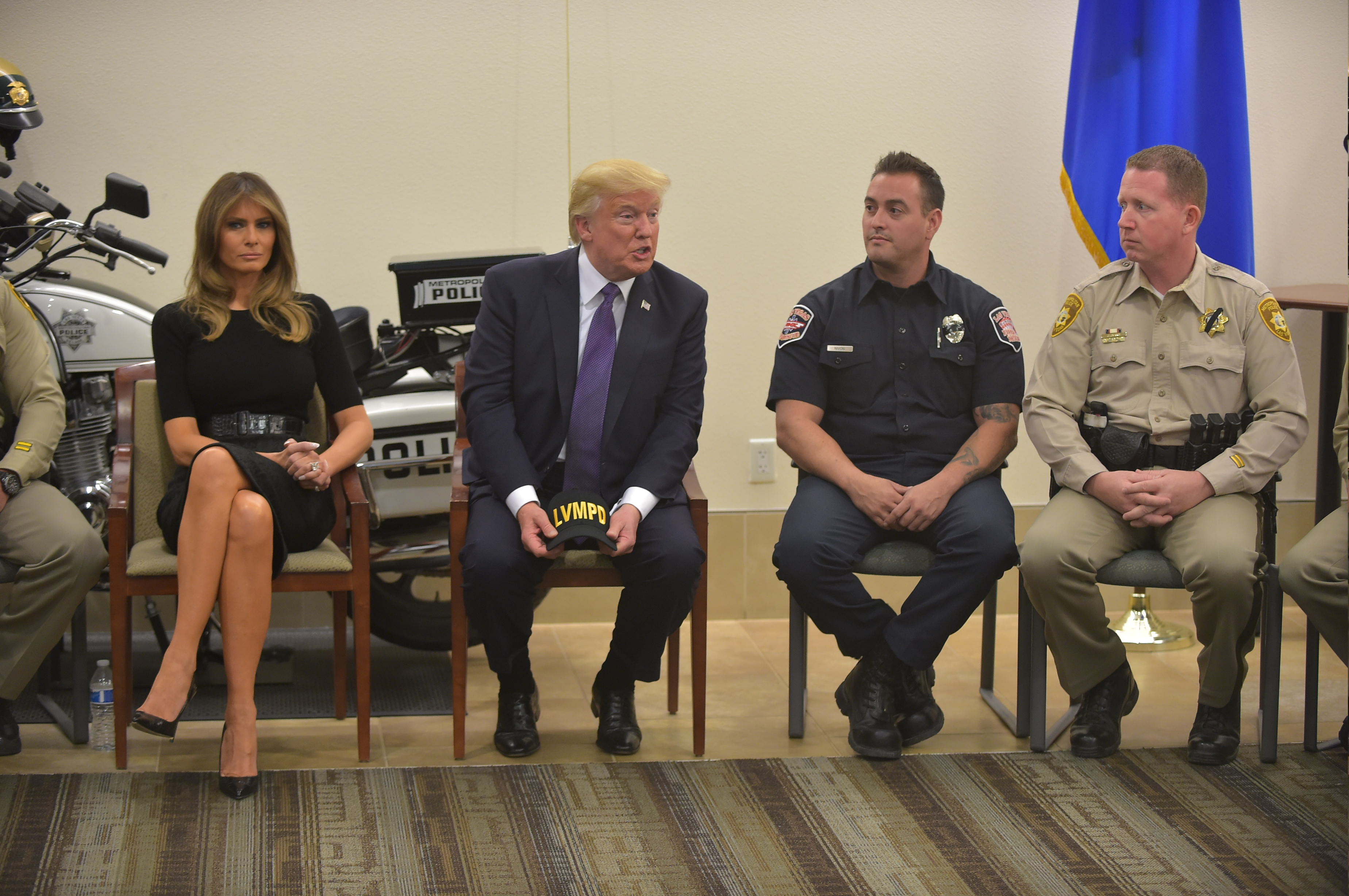 In June he was prescribed the anti-anxiety drug diazepam, commonly known as Valium, which can lead to aggressive behavior, the Las Vegas Review-Journal reported, citing records from the Nevada Prescription Monitoring Program.
"He was a private guy," Eric Paddock said of his brother. "That's why you can't find out anything about him. Is he such a weirdo because he didn't have a Facebook account and post 50,000 pictures of himself every day?"
Paddock's case is extremely rare if not unique in that he left behind no clues to his motives, said Craig Jackson, a psychology professor at Birmingham City University in Britain who has studied spree killers for the past 10 years.
"We usually find something there in the background where they see themselves to be the victims. No one has listened to them and they feel this is the last recourse," Jackson said, adding that spree killers typically leave behind a manifesto or video diary.
"If there is something, I think we would have found it by now," Jackson said.
Reuters contributed to this report