President Donald Trump sought to provide clarification for his comments on June 14 about accepting information about political opponents from a foreign government after facing criticism over his remarks.
Trump said in a phone interview with "Fox & Friends" that he would review the information offered by a foreign government and pass it on to the FBI if anything was "incorrect or badly stated."
"If I was, and of course you have to look at it because if you don't look at it you're not going to know if it's bad … of course you give it to the FBI or report it to the attorney general or somebody like that. But of course you'd do that, you couldn't have that happen with our country," Trump said during the interview.
"And everybody understands that and I thought it was made clear," he continued. "In fact, I actually said, at the beginning, I said I'd do both. If you don't hear what it is, you won't know what it is."
"If I thought anything was incorrect or badly stated, I'd report it to the attorney general, the FBI, I'd report it to law enforcement absolutely," he added.
The president made his comments during an interview with ABC News' George Stephanopoulos, when asked whether his campaign would accept the information about political opponents from foreign governments like China or Russia or pass them to the FBI.
He said that he could listen to the information provided by a foreign government, adding that "there isn't anything wrong with listening."
"If I thought there was something wrong, I'd go maybe to the FBI—if I thought there was something wrong. But when somebody comes up with oppo research, right, they come up with oppo research, 'Oh, let's call the FBI…' The FBI doesn't have enough agents to take care of it," Trump said during the ABC interview that was broadcast on June 12.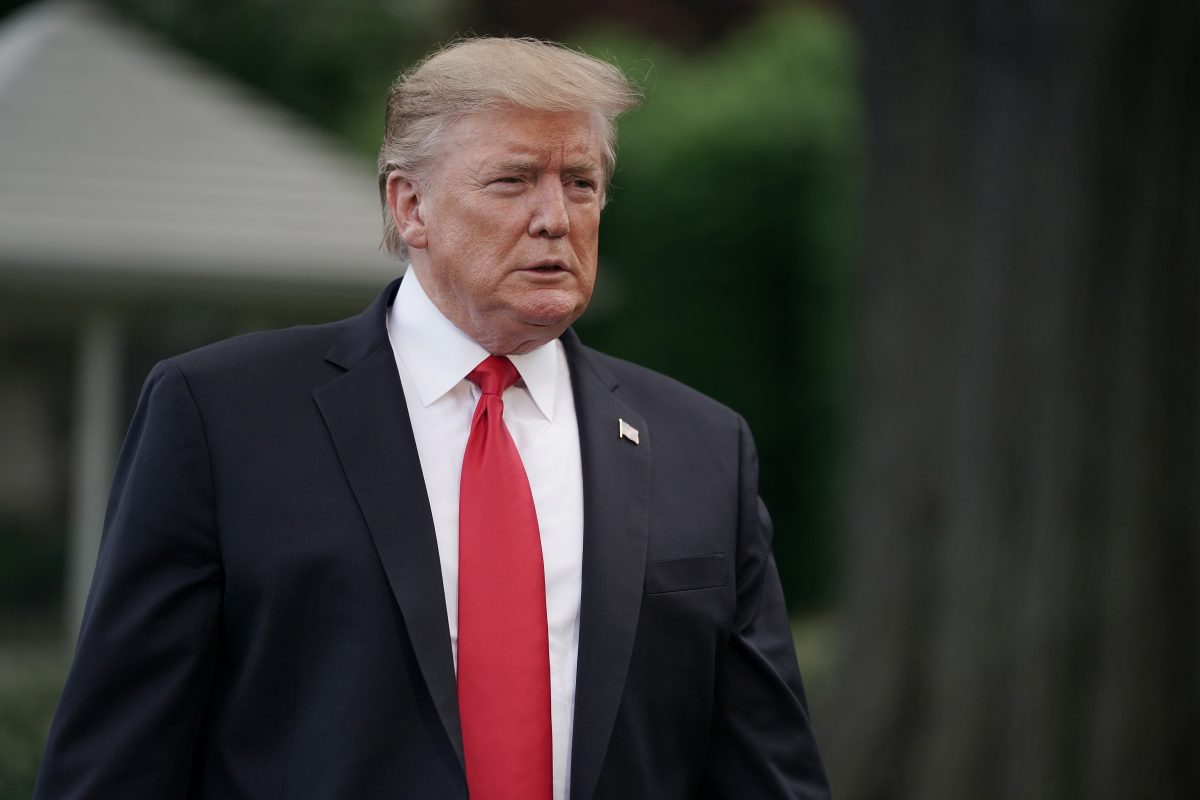 In the Fox & Friends interview, he said that being the president of the United States puts him in a different position as he is constantly meeting with other countries' heads of state.
"We have many conversations, and I'm thinking, jee, if they say, 'we don't like your opponent' am I supposed to, the president of France, am I supposed to report him to the FBI?" he asked.
At one point in the interview, "Fox & Friends" host Steve Doocy asked Trump: "If you did call the FBI with dirt on a political opponent, though, Mr. President, wouldn't the Democrats accuse you of using the FBI to investigate political opponents?"
"Oh, absolutely. Look, here's the bottom line: they spied on my campaign and they got caught," Trump said, adding that it was probably one of the worst political scandals in American history.
House Speaker Nancy Pelosi reacted to Trump's remarks during a press conference on June 13, saying that the president is unable to tell right from wrong and accused him of being involved in a "political coverup."
In response, Trump described her comments as "a fascist statement, it's a disgraceful statement."
"Her party got caught spying. If you look at what happened, Hillary Clinton with the money that ultimately went to Russia for the fake dossier, the totally fake pile of stuff….and the amount of money that was paid, and was paid by Hillary Clinton and the DNC, and it went to Russia, that's the criminal," Trump said during the interview.
The infamous Steele dossier, which fueled two years of wild speculation in the media about alleged ties between Trump, his associates, and Russia, was compiled by former foreign spy Christopher Steele, who was hired by Fusion GPS.
….and other really bad people, SPIED ON MY CAMPAIGN! They even had an "insurance policy" just in case Crooked Hillary Clinton and the Democrats lost their race for the Presidency! This is the biggest & worst political scandal in the history of the United States of America. Sad!

— Donald J. Trump (@realDonaldTrump) June 13, 2019
Fusion GPS was hired by the Democratic National Committee and the Clinton 2016 presidential campaign—through their law firm, Perkins Coie, to produce the dossier on Trump. The dossier contained 103 key allegations, none of which were were verified by special counsel Robert Mueller's 22-month investigation.
The Justice Department is currently investigating the origins of the 2016 counterintelligence probe into Trump campaign as well as the FBI's use of Foreign Intelligence Surveillance Act (FISA) warrants to spy on Trump campaign associate Carter Page.