President Donald Trump attempted to visit the Demilitarized Zone (DMZ) between South Korea and North Korea on Tuesday but was hampered by bad weather.
The unannounced visit to the DMZ—a buffer zone between North and South Korea—was kept secret until the last moment.
The White House Press Corps traveling with the President was only told of the attempted visit to the DMZ when the White House Press Secretary held up a piece of paper with the words DMZ in telling them what the destination was.
However, there was too much fog for the helicopter to be able to land safely.
"There wasn't enough visibility to land. It would have been really dangerous, and our guys pulled back," Sanders said.
"We waited as long as possible to try to go again, but the weather actually got worse."
South Korean President Moon Jae-in, who was traveling separately from Trump, was also diverted because of the fog.

"This did not work out as planned. The fog was not going to clear. It didn't look like it was going to clear for another hour or so, and the president had his speech that he can't be late for, in large part because we have to depart on time as well for China," Sanders told reporters.
In his speech, Trump painted a stark contrast between the communist North and a free South Korea, which has seen its economy grow by 350 times since 1960 and its average life expectancy rise from just 53 years to more than 82 years today.
"The Korean miracle extends exactly as far as the armies of free nations advanced in 1953—24 miles to the north. There, it stops, it all comes to an end. Dead stop. The flourishing ends, and the prison state of North Korea sadly begins," Trumps said.

Trump highlighted the desperate situation North Koreans live in. Most households don't have access to basic necessities such as plumbing and electricity.
"Parents bribe teachers in hopes of saving their sons and daughters from forced labor. More than a million North Koreans died of famine in the 1990s, and more continue to die of hunger today," Trump said.
Trump said the real goal of North Korea's pursuit of nuclear weapons is to use them to "blackmail its way to the ultimate objective."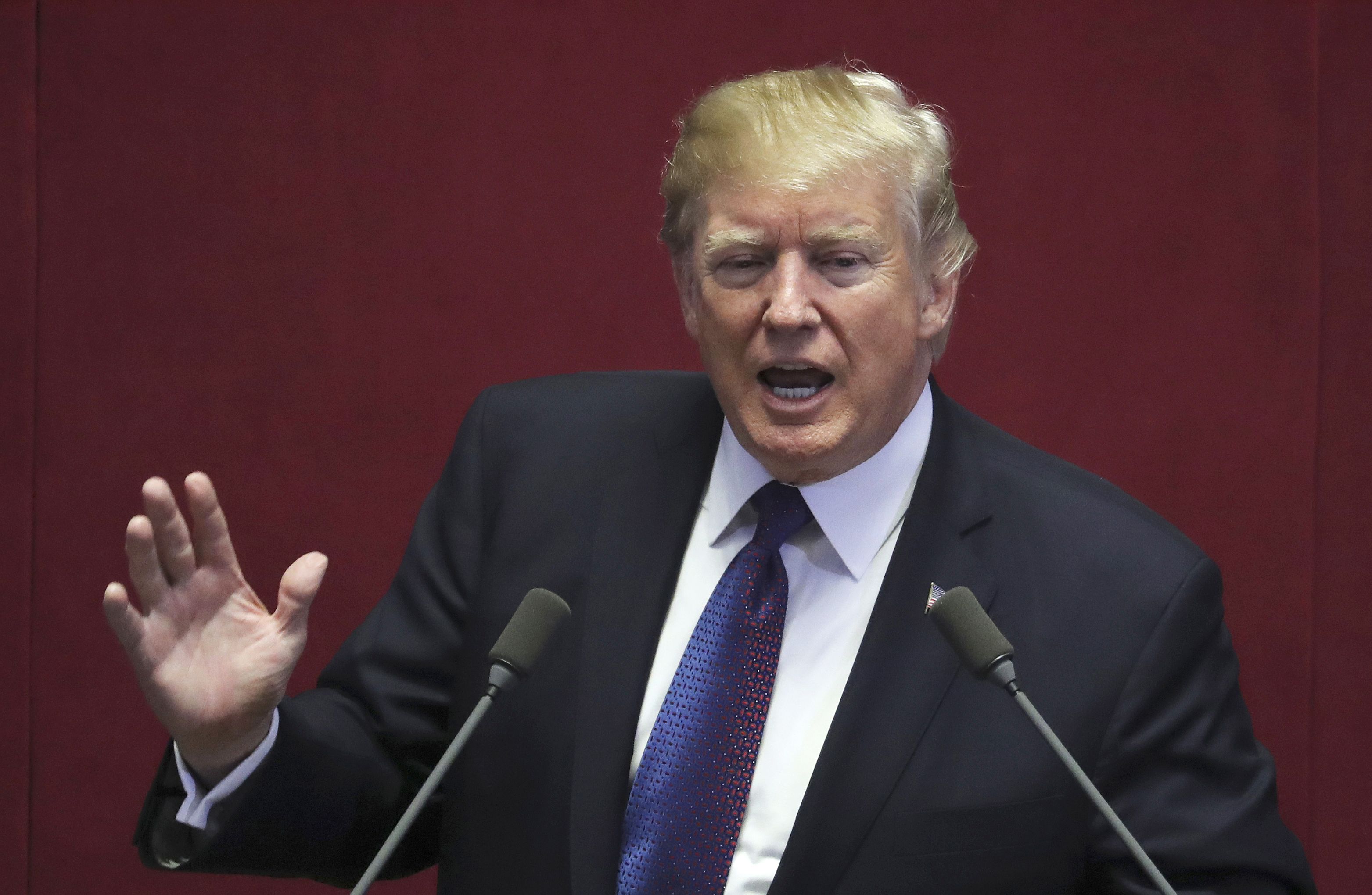 According to a senior White House official, the "ultimate objective" in blackmailing the United States and its allies is to lift the sanctions on the regime and to get U.S. troops out of South Korea so that the North can take control over the South.
"President Trump sent a very clear message that that is not ever going to happen under our watch," the senior White House official said aboard Air Force One en route to Beijing.
In China, Trump is expected to increase pressure on Chinese leader Xi Jinping to take more action against the North. China is a key lifeline for North Korea and its biggest trading partner.

A fellow communist country, North Korea has always been closely aligned with China. However, under Xi's leadership there have been indications that China is willing to take a stronger stance against the North.
Under pressure from Trump, China voted in favor of new U.N. Security Council sanctions in early September. China also cut financing to North Korean financial institutions and ordered North Korean businesses in China to shut down within 120-days.
If you enjoyed reading this article, please consider sharing it with your friends and family.