An 18-year-old pre-medical student froze to death on Jan. 30, as the bitter cold and harsh winds from the polar vortex were blamed for at least a dozen deaths.
Gerald Belz was found unresponsive at about 2:48 a.m. outside his University of Iowa residence hall.
He was rushed to the hospital but was pronounced dead.
At the time of his death, the air temperature in Iowa City was 22 degrees below zero with a wind chill of 51 degrees below zero, the Iowa City Press-Citizen reported. In such extreme cold, hypothermia can happen in as little as five minutes if the person is wearing inadequate clothing or has any skin exposed.
The university said in a statement: "We are saddened to share we've lost a member of the Hawkeye family. Our thoughts are with his family, friends, and loved ones. We encourage our students to reach out if they are in need of support."
Michael Belz, the father of Gerald, told KCRG that doctors told him that no alcohol was found in his son's system at the time of his death and that they believe the death was weather-related.
He said that Gerald was sending messages to his girlfriend via Snapchat late Tuesday into Wednesday and indicated that he was going to bed and didn't have plans to go out.
"We don't want the memory of Gerald being that he was a young, underage college student out drinking," he added to The Gazette.
He described his son as a quiet, tough, compassionate guy, who wanted to be a doctor from a young age.
Sad to report that 2018 Alum Gerald Belz passed away last night. Our condolences to the Belz family. Please keep his family in your thoughts during this difficult time. pic.twitter.com/Bml2uBU1q9

— CR Kennedy Football (@CRKFootball) January 30, 2019
"That compassion, it's part of the reason why he decided to study (in) the medical field," Michael Belz said. "He has experienced the frustration of having a loved one with medical issues that have been difficult to be diagnosed or resolved. He was wanting to be a neurosurgeon or cardiologist, that was what his ultimate dream was to be. He wanted to help people."
"It's hard. He was probably more of a mama's boy with a tough exterior," Belz told KCRG.
"I want people to remember him as a compassionate person. He had many more friends than I was aware of."
Brian White, a football coach at Kennedy High School who coached Brian on the team and also teaches a government class, said that Gerald was a good kid.
"Gerald Belz was a great kid," said White. "Very trustworthy. Certainly he did things the right way. You come across things that are necessarily the star but still do everything they possibly can to help you out."
Saddened by the loss of a member of the Hawkeye family: pic.twitter.com/sMq4XRK1Ci

— University of Iowa (@uiowa) January 30, 2019
Polar Vortex
The blast of polar air that enveloped much of the Midwest on Wednesday closed schools and businesses and strained infrastructure with some of the lowest temperatures in a generation. The deep freeze snapped rail lines, canceled hundreds of flights and strained utilities.
Chicago dropped to a low of around minus 23 (minus 30 Celsius), slightly above the city's lowest-ever reading of minus 27 (minus 32 Celsius) from January 1985. Milwaukee had similar conditions. Minneapolis recorded minus 27 (minus 32 Celsius). Sioux Falls, South Dakota, saw minus 25 (minus 31 Celsius).
Wind chills reportedly made it feel like minus 50 (minus 45 Celsius) or worse. Trains and buses in Chicago operated with few passengers. The hardiest commuters ventured out only after covering nearly every square inch of flesh against the extreme chill, which froze ice crystals on eyelashes and eyebrows in minutes.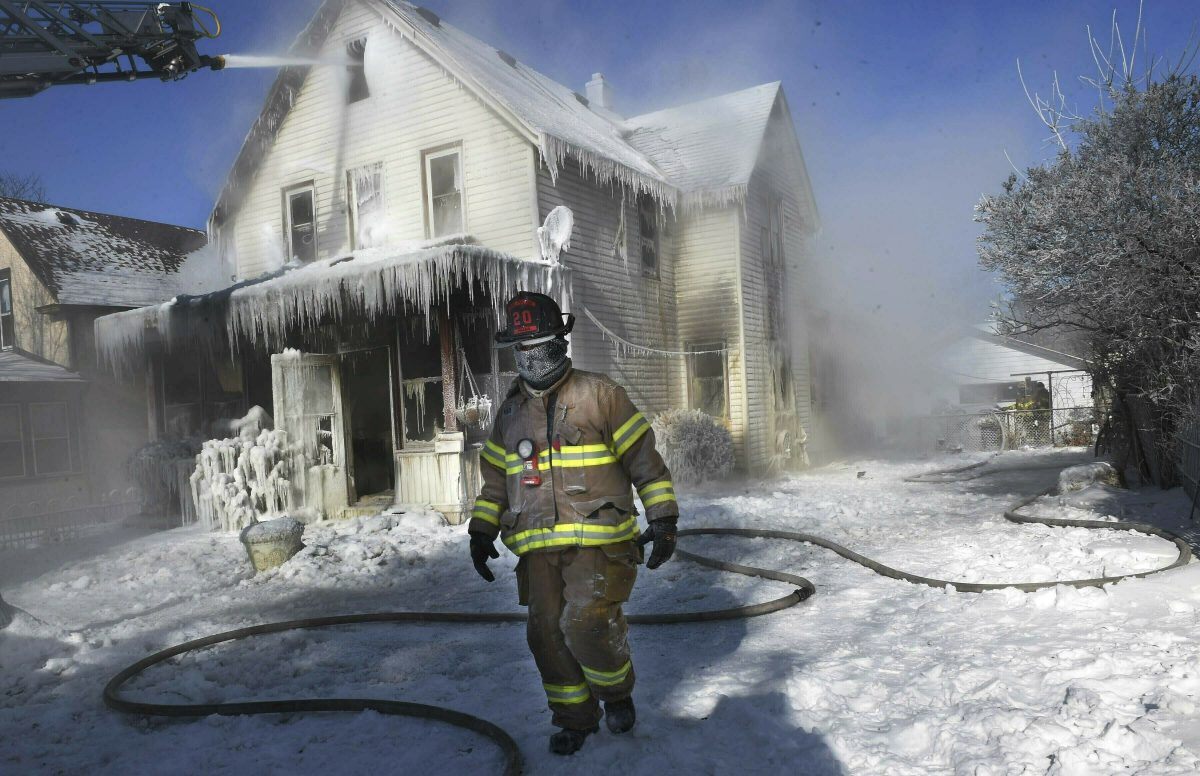 The Postal Service took the rare step of suspending mail delivery in many places, and in southeastern Minnesota, even the snowplows were idled by the weather.
The bitter cold was the result of a split in the polar vortex, a mass of cold air that normally stays bottled up in the Arctic. The split allowed the air to spill much farther south than usual. In fact, Chicago was colder than the Canadian village of Alert, one of the world's most northerly inhabited places. Alert, which is 500 miles from the North Pole, reported a temperature that was a couple of degrees higher.
The Associated Press contributed to this report.
From NTD News