The Powerball jackpot rose to $139 million after nobody claimed the winning numbers on Saturday, Nov. 17, according to lottery officials.
The winning Powerball numbers on Saturday night were 6, 8, 20, 52 and 68, with the Powerball number 5, according to the official Powerball website. The next drawing is slated for Wednesday, Nov. 21.
The California Lottery said there were no top-prize winners, nor did anyone win a Match 5-Plus or Match 5 prize, but there were tens of thousands of lower-tier winning tickets, with 54 people winning $315 each.
"There was no jackpot winner in California for this draw. But there are 66,650 winning tickets and the jackpot just got bigger!" according to the California Lottery.
Saturday's drawing would have netted a sole winner a jackpot of $124 million. Since no winner was declared, the next drawing on Wednesday will be worth an estimated $139 million, according to the website, which corresponds to a cash value of $79.3 million.
$1.6 Billion Mega Millions Prize Still Unclaimed
Meanwhile, a lucky South Carolina resident who purchased a winning ticket for the record $1.6 billion Mega Millions haul in late October still has not come forward.
"Everyone's talking about it," said Jee Patel, the manager of the KC Mart in Simpsonville, South Carolina, where the ticket was purchased. "It's a mystery."
The deadline for the winner to claim the prize in the state is April 21. The date marks 180 days since the numbers were drawn.
If the prize goes unclaimed by the deadline, according to the Mega Millions website, "each participating state in the Mega Millions game will get back all the money that state contributed to the unclaimed jackpot."
In South Carolina, unclaimed winnings are put in a fund typically used for educational expenses, according to CNBC.
Previous Powerball Winner Donated to Veterans
A Powerball winner who took home more than $100 million is sharing some of her new wealth with wounded veterans.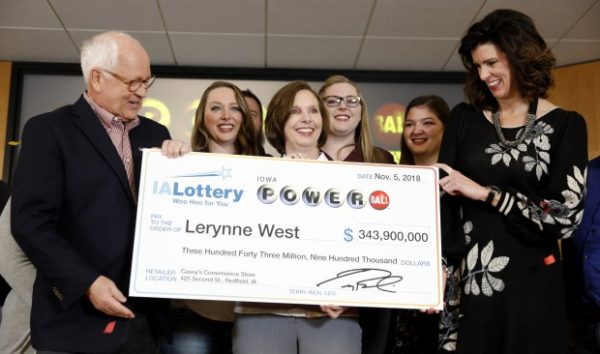 Lerynne West, 51, of Redfield, Iowa, split the $687.8 million jackpot last month, sharing it with a New York man. She took a lump sum, and after taxes, she took home $140 million. The jackpot, without taxes, was $343.9 million.
"Friday, October 26th started out like most other days, only it was kind of special for me because I had bought my first home," the single mother of three said at a press conference, according to CNBC. "I bought a home in Redfield, Iowa, and I was moving that day. Around noon-ish, the movers had left, my son-in-law had left and my sister was coming up to help me pack."
West has donated $500,000 to a veterans group, the Travis Mills Foundation, and she made the announcement on the "Ellen DeGeneres Show" on Nov. 14, an Associated Press report said.
West noted that it's important "that we never forget the sacrifices our soldiers and families make for our country." On the show, she said her father was a veteran of the Vietnam War, and her three brothers served in the military in different capacities.
"I want you to know that as I stand here today I know the responsibility that I have to do good with this money," she also said of her winnings, CNBC reported.
Travis Mills Foundation officials said the money would be used as "a catalyst for new projects," according to Fox News.
Epoch Times reporter Jack Phillips contributed to this report.