A planet has been found in the habitable zone of the closest star to Earth aside from our sun. Proxima Centauri is a red dwarf star, just 4.2 light-years from our solar system.
The European Southern Observatory (ESO) announced the discovery at a press conference on Aug. 24.
The planet's mass is at least 1.3 times that of Earth and it's a lot closer to its sun than we are to ours (the distance between Proxima Centauri and the planet is 7 million kilometers, only 5 percent the distance between Earth and the sun).
But because the red dwarf star is more faint than our sun, the planet is still considered to be in a habitable zone where liquid water may exist.


This planet will be a prime target in the search for extraterrestrial life and for humankind's first attempt to travel to another star system, according to ESO.
Dr. S. Pete Worden spoke at the press conference on behalf of the Breakthrough Prize Foundation, which is heading a project to send nano-probes into space with Proxima Centauri as one of the targets for observation. 
This planet will be a prime target in the search for extraterrestrial life and for humankind's first attempt to travel to another star system.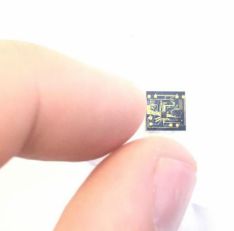 Silicon Valley philanthropist Yuri Milner and physicist Stephen Hawking announced this project, called StarShot, earlier this year. It will cost about $100 million for its initial research phase. Its probes will take about 20 years to reach their destinations, three nearby stars including Proxima Centauri.
Worden said the project members are excited about this most recent discovery and hope to explore it further with the probes.
A team of scientists who discovered the new planet, working as part of the Pale Red Dot campaign, said they can't yet be sure the planet has an atmosphere or water. But, based on what they know about it, they can infer that it may have both. 
If it doesn't have an atmosphere, it is likely to have a surface temperature of about -40 degrees. By comparison, Earth would have a temperature of about -20 degrees if it didn't have an atmosphere. But if the planet does have an atmosphere, it would have temperatures above the freezing point, allowing for liquid water. 
The planet receives about 70 percent of the energy from its star than we do from our sun, explained Guillem Anglada-Escudé of Queen Mary University of London, who led Pale Red Dot, at the press conference. 


The surface may be strongly affected by ultraviolet and X-ray flares from the star, more intensely than Earth experiences from the sun. But Dr. Ansgar Reiners of Pale Red Dot said that, if it has an atmosphere, this would not be so intense that it would exclude the possibility of life. 
Pale Red Dot discovered the planet, in part, by observing a wobble of the star that indicated the pull of an orbiting planet. Changes in the brightness of a star also signal an orbiting planet passing between the star and Earth. Active stars like Proxima Centauri can mimic this change in brightness, but Pale Red Dot observed a consistent signal over the course of 16 years, eliminating that possibility. 
Given our limited ability to observe the planet from Earth, Reiners said that sending probes through StarShot could greatly advance our knowledge. 
In conclusion, he said: "Proxima B is indeed our neighbor, so let us get used to it."