Post-Chavez Venezuela and the Chance for Change
March 7, 2013 1:57 am Last Updated: June 17, 2013 10:32 am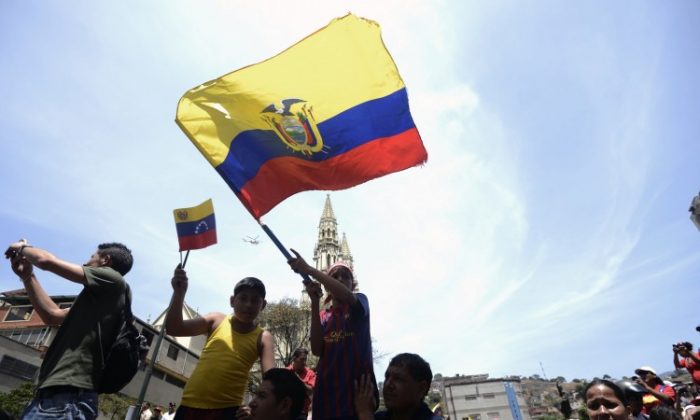 The death of longtime Venezuelan President Hugo Chavez, cracks open a window of opportunity for the oil-rich South American nation to shift global alliances—something Washington should encourage, according to some observers.
Venezuela's Constitution stipulates that an election take place within 30 days after Chavez's death to choose his successor.
 Vice President Nicolas Maduro, a like-minded socialist and Chavez's handpicked successor, is already the interim leader. If he carries on as leader, it is likely he'll continue his late boss's campaign against American and Western "imperialism" in Latin America, and remain cozy with countries such as China, Cuba, Russia, and Iran.
Chavez's anti-American sentiments often erupted into rash accusations—like blaming the 2010 earthquake in Haiti on American military tests.
He once said he would not be surprised if the American government had covertly spread cancer in Latin America—the cancer he ultimately succumbed to. Nor would he have been surprised to learn "there had been civilization on Mars, but … capitalism arrived there, imperialism arrived, and finished off the planet."
Chavez held on to his power so tightly that he ran for a fourth term last October even though he could not leave his hospital bed for the swearing-in ceremony.
Opposition and Opportunity
While Maduro is expected carry forward Chavez's legacy if elected—not so if his main opponent, opposition leader Henrique Capriles, wins.
Capriles could review Venezuela's place in the world, or at least reform relationships with traditional alliances. He said during his presidential campaign last year he wants to revisit contracts made with China, Russia, and other nations, to be more inline with Venezuelan interests.
Roger Noriega, former U.S. assistant secretary of state for Western Hemisphere affairs (Canada, Latin America, and the Caribbean) and a former U.S. ambassador to the Organization of American States, says now is the time for the United States to motivate change in the region.
"The Obama administration is … averse to taking a leadership role in these kind of issues, and probably their instincts are that we have some sort of baggage in Latin America—that's not true," Noriega says in a video posted on the American Enterprise Institute (AEI) website the day after Chavez's death.
He says Latin American countries will expect the United States to take a leading role and that other Western nations would support an American campaign to demand "narco kingpins" and Iranian and Hezbollah networks be ousted.
The United States maintains some leverage in Venezuela.
U.S.–Venezuela trade relations have been through some rocky episodes—Chavez nationalized the holdings of U.S.-based oil giant Exxon and others, and Washington imposed sanctions on Venezuela's state oil company after it supplied oil to Iran in 2011.
In spite of these bumps, and Chavez's anti-American views, "[Chavez] was smart enough never to cut trade with Washington, Venezuela's most important trading partner," says Daniel Greenberg, founder of the Institute of Latin American Service and Studies at Pace University in New York in a statement released Wednesday.
Venezuela remains one of the largest suppliers of oil to the United States, and the two countries cooperate in areas of mutual interest, such as counternarcotics, counterterrorism, commerce, and energy.
As pro-Chavez forces work against the opposition, the opposition may be looking for friends.
Interested parties began planning for Chavez's death while the leader was still alive and battling cancer.
Last April, military generals heavily involved in the narcotics-trade were already plotting repressive measures against the opposition to preserve their power, as noted in a discussion hosted by the AEI in Washington, D.C., at that time.
Noriega was part of that discussion. He also reported that the Chinese were demanding new guarantees on a $4 billion loan, according to his sources in the Venezuelan Foreign Ministry. The Chinese wanted assurances that a "post-Chavez government will honor its sweetheart deals," Noriega said.
Of Venezuela's allies, the one with perhaps the most at stake is China.
China's Oil Interests
Under Chavez's rule, the Venezuelan treasury developed an acute need for cash to maintain ambitious social programs aimed at Venezuela's poor. Chavez therefore opened the door to investors in allied countries, particularly China, allowing China to purchase Venezuelan oil well below market prices.
Chinese financial and technical support played a key role in keeping Chavez's regime going.
China's interest in Chavez is clear: Venezuela has the world's largest oil reserves. Its proven crude reserves reached 296.5 billion barrels in 2010, surpassing Saudi Arabia's 264.5 billion barrels, according to the Organization of the Petroleum Exporting Countries.
In the last half of Chavez's 14-year rule, China became a major player in Venezuela's oil industry. Today, China imports 10 times more Venezuelan crude than it did five years ago. By contrast, the United States imports 40 percent less than it did a decade ago. In the next 10 years, China intends to double imports.
Beijing has been doing what it can to ensure the oil will keep flowing in a post-Chavez future. Beijing has made major loans to Venezuela totaling $38 billion as of April 2012. Those loans are all to be repaid in oil.
By 2014, Venezuela will be obligated because of Chinese loans to produce over 500,000 barrels per day, at well below market prices.
If elections are held—which remains to be seen—and Capriles wins, renegotiating these deals would be a major challenge.
Greenberg thinks Capriles would have a good chance against Chavez's chosen successor Maduro, who lacks leadership talent. So there is some small window for change.  
"If Capriles wins," says Greenberg, "Chavez's reforms will most likely be scaled back rather than dismantled. Either way, Venezuela without Chavez will be a vastly different place."
With reporting by Gary Feuerberg.
The Epoch Times publishes in 35 countries and in 21 languages. Subscribe to our e-newsletter.