Rioters in Portland, Oregon, on Aug. 15 threatened to burn down police precincts if their demands weren't met by the authorities.
Before being forcefully dispersed by police officers, the mob also surrounded a group of men who had traveled in a limousine to see firsthand what's been happening in the city.
Unrest has shaken Portland since May 28, with no signs of letting up.
A crowd started marching from Laurelhurst Park, about three miles east of downtown, to the nearby Penumbra Kelly Building, which houses a Multnomah County Sheriff's Office, at about 9:10 p.m.
The bulk of the group stopped short of the building and began loud chants, including "Kill a cop, save a life," "What do we want? Justice! When do we want it? Now! If we don't get it, burn it down!" and "Every city, every town, burn the precinct to the ground."

Ignoring warnings from police officers, several people approached the building—a mob tried to burn it down earlier this month—and vandalized the outside while others launched mortars and large river rocks at officers and police vehicles.
"Officers reported having rocks, frozen eggs, glass bottles, and frozen water bottles thrown at them. Officers reported people were shining green lasers at them, which is against the law in Oregon," the Portland police said in an incident summary.
"At about 11:57 p.m., the crowd had engaged in violent, tumultuous conduct, creating a grave risk of causing public alarm for a sustained period of time; the crowd was rioting."
Officers began dispersing the crowd, deploying smoke and making some arrests. After they disengaged, a large group of people returned to the building early Aug. 16 and hurled rocks, glass bottles, and other items at police. One of the rocks weighed almost 10 pounds. People with "press" written on their clothing also engaged in the criminal activity.
Private vehicles parked nearby were hit by rocks and other objects; the projectiles smashed through at least one vehicle's window.
The mob ultimately dispersed around 2:15 a.m., following more clashes between law enforcement and rioters.
Because of the number of officers required to deal with the agitators, 911 calls for thefts, hit-and-runs, and stolen cars, among other crimes, were placed on hold. Some were on hold for the entire time the violent demonstration took place, police said.
Officers have struggled to keep the peace in Oregon's largest city and are now without the support of state troopers, who left on Aug. 13 after the district attorney announced his office is presumptively declining prosecution against some demonstrators.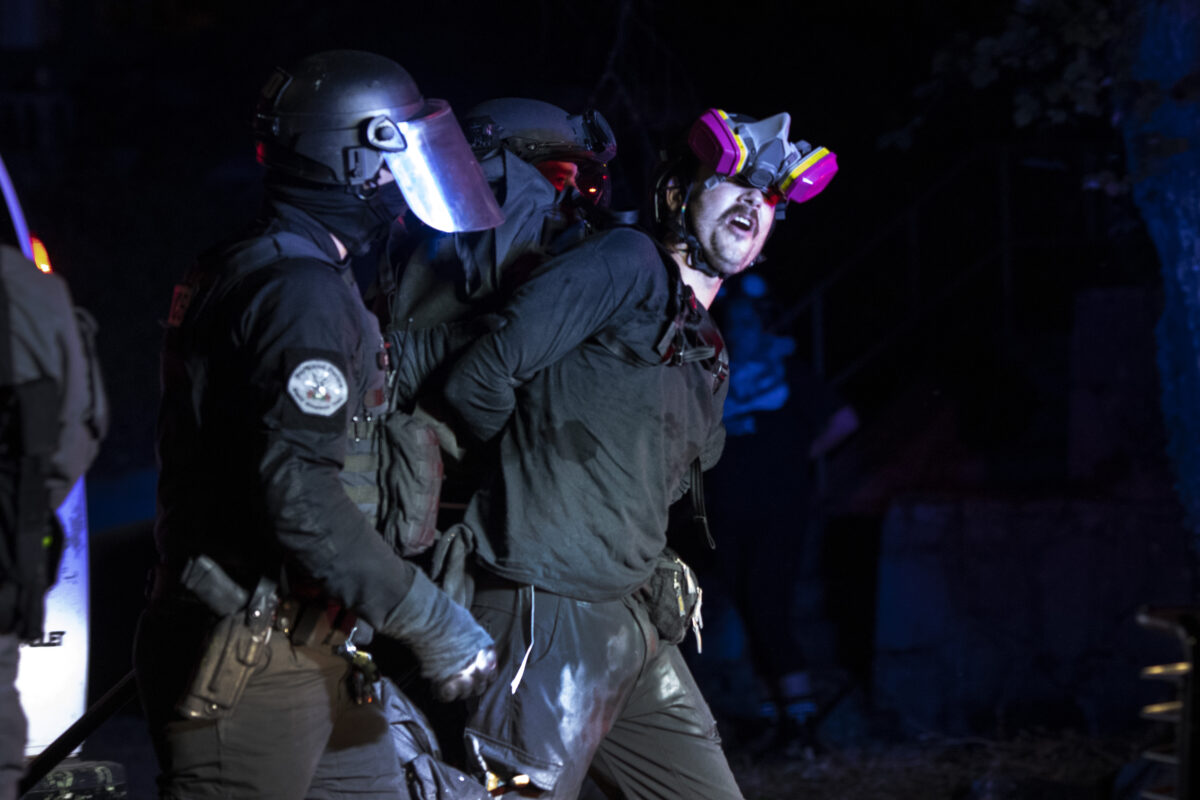 Group Ejected
The rioters grew upset late Aug. 15, when men who said they're part of a group called American Wolf showed up and began watching what was taking place.
"We're just coming out here to kind of document what's happening or get a firsthand view of what's happening," Peter Diaz, from the group, told Sergio Olmos, an Oregon Public Broadcasting reporter.
"If you watch any sort of media, or if you were paying attention, it seems like all the information we get through the TV seems to have some agenda behind it. So we like to go, put our boots on the ground, and actually see what's happening."
Enraged rioters shouted insults at the group and surrounded them, shining lasers in their eyes, urging them to leave, and threatening violence.
According to live-streamed footage, the mob followed the group as they left. American Wolf entered the limousine they used to arrive at the demonstration but soon parked down the street and got back out.
Rioters followed them and continued to issue threats while accusing the men of being white supremacists.
"I will cut your head off," one told the men.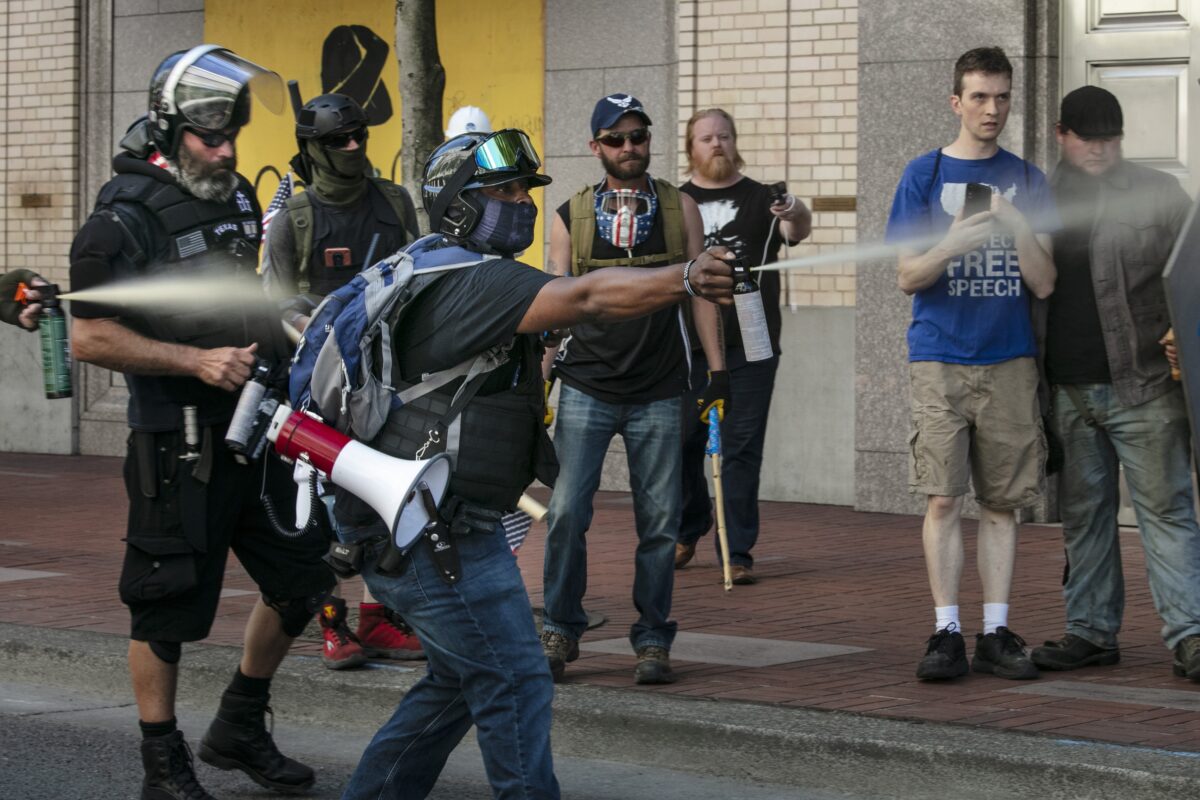 "I got mace, a pistol in my hands, a big ol' [expletive] knife. Let's go, Nazi. Let's go, Nazi. Let's go, Nazi," another said.
Contact information for American Wolf couldn't be found.
Video footage captured by Daily Caller reporter Jorge Ventura separately showed a rioter bashing a man with a baseball bat. The context of the clip wasn't clear. The assault took place just before a riot was declared by police.
The events overnight took place after a rally by Patriot Prayer, a conservative group that advocates for limited government, and the Proud Boys, an all-male organization that describes itself as a "pro-western fraternity" and has been involved in clashes with counter-demonstrators in the past.
The downtown, afternoon protest was interrupted by Black Lives Matter counter-demonstrators. The groups at one point fired paintballs and deployed pepper spray at each other. Counter-demonstrators blocked Patriot Prayer cars from leaving a parking garage and there were reports of at least two gunshots in the garage.
A police spokesperson told KOIN-TV that someone was injured by a paintball shot to the face and acknowledged that gunfire occurred, asking "anyone who is a victim of a crime" to call the police.
Correction: This story was updated with clarification on the district attorney's new policy.