Portland police officers cannot use tear gas to control crowds during protests and riots, Mayor and Police Commissioner Ted Wheeler announced Thursday.
"It's time for everyone to reduce the violence in our community. We all want change. We all have the opportunity and obligation to create change. We all want to focus on the fundamental issue at hand—justice for black people and all people of color," Wheeler, a Democrat, said in a video statement.
"That's why, as Police Commissioner, effective immediately and until further notice, I am directing the Portland Police to end the use of CS gas for crowd control."
CS gas is another name for tear gas.
The Portland Police Bureau said in a statement that police "have been subjected to repeated violence by a group of motivated and well-organized individuals" since late May.
"CS gas is a tool which has been used sparingly in the last 104 nights. We want to clear up a misconception that it is being used as crowd control. It is not. It is being used to disperse crowds only when there is a life safety event. Most recently, it was used to disperse a crowd from which a Molotov cocktail was thrown at officers and ended up injuring a community member who was on fire. We understand that this gas seeped into nearby homes and that is not something we desire," the bureau said.
"Banning the lawful use of CS will make it very difficult to address this kind of violence without resorting to much higher levels of physical force, with a correspondingly elevated risk of serious injury to members of the public and officers," it added later.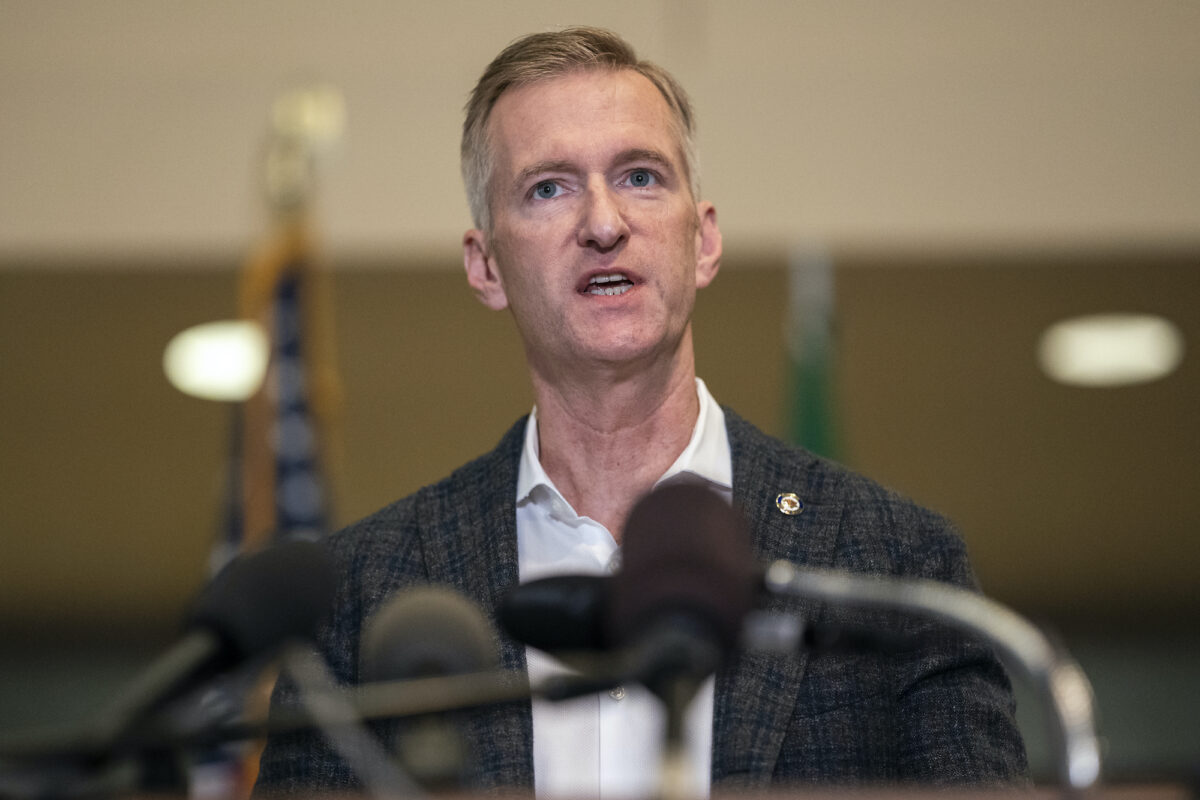 Commissioner Jo Ann Hardesty, a Democrat who has tried to wrest control of the bureau from Wheeler, said in a brief statement about the ban: "It's about time."
The Portland Police Association, the city's police union, didn't respond to a request for comment.
In the statement, Wheeler acknowledged that police officers have "relied on CS gas where there is a threat to life safety" during the months of unrest.
"We need something different. We need it now," he added, calling on the state legislature to take up the issue of what alternatives to use in responding to unrest.
Near-nightly riots have taken place in Wheeler's city since May 28, with no signs of stopping.

Wheeler also said: "Arson, vandalism, and violence are not going to drive change in this community. I expect the police to arrest people who engage in criminal acts. I expect the District Attorney to prosecute those who commit criminal acts. And I expect the rest of the criminal justice system to hold those individuals accountable. We must stand together as a community against violence and for progress."
The move came one day after councilmembers, including Wheeler, unanimously approved a ban on facial recognition technology.
Private commercial use of the technology will be banned as of Jan. 1, 2021, while public use of facial recognition was banned immediately.
"It's not an exaggeration to say this is a truly historic day for the City of Portland. Portlanders deserve peace of mind, and they deserve transparency from private institutions just as they do from public institutions," Wheeler said in a statement following the vote.
The American Civil Liberties Union said it supported the ban.