Portland Mayor Ted Wheeler claimed that the events on Aug. 17 were "largely peaceful" as video footage showed Antifa and their opponents brawling.
In some cases, the far-left extremist group was reported to have committed unprovoked assaults on people who did not fight back.
"I'm grateful that this was largely a peaceful event," Wheeler said at a press conference Saturday night as groups of black-clad Antifa members still roamed the city with their faces concealed.
"This was a dynamic event, with demonstrators frequently moving from one part of the city to others, and that made the job even more difficult," he said. "Police did an exemplary job of deescalating the situation, keeping the extremists on both sides separated for the most part, and preventing people who wanted to engage in acts of violence from confronting each other."
Portland Police Chief Danielle Outlaw, who has called for an anti-mask law to help police combat masked extremists, said it was "a peaceful event in our beautiful city."
Proud Boys marching over the bridge #Portland pic.twitter.com/qj29PCHqdS

— Christopher Mathias (@letsgomathias) August 17, 2019
"Shoot yourselves. Suicide is the only way out!"

—Antifa man to Portland cops #PortlandProtest pic.twitter.com/99hdscUW8g

— The Post Millennial (@TPostMillennial) August 17, 2019
Antifa taunting a black Portland police officer, calling him "Uncle Tom" and a "race traitor"#PortlandProtest pic.twitter.com/Td20ejvl4Z

— The Post Millennial (@TPostMillennial) August 17, 2019
A bunch of police just left despite there being large amounts of antifa still in the park. pic.twitter.com/EtNKGQzwcO

— Julio Rosas (@Julio_Rosas11) August 17, 2019
Antifa steals a MAGA hat from someone. A concerned citizen tries to intervene: "The hatred is not embedded within us, it's created." pic.twitter.com/KqC966dMIS

— The Post Millennial (@TPostMillennial) August 17, 2019
antifa chants "whose streets our streets" as they cross burnside. they are firmly on the eastside of portland now, fyi pic.twitter.com/zuLRZwdLtG

— Mikeford Biziths (@itsmikebivins) August 17, 2019
— Andrew Kimmel (@andrewkimmel) August 17, 2019
No reporters asked officials about Antifa despite the group appearing to commit most of the violence on Saturday and officials did not mention any group by name, though Wheeler railed against Joe Biggs, a Proud Boys member who was said to have organized the event.
The Proud Boys started downtown but did not appear to commit any violence and soon left the area across a bridge as the larger Antifa group milled around, shouting at journalists and yelling at police officers. Antifa was later allowed to cross a bridge and began fomenting chaos on the other side.
Videos recorded by Andy Ngo of Quillette, The Blaze's Elijah Schaffer, The Post Millenial, and independent reporter Jorge Ventura showed Antifa members hitting people, with some of the people hitting back. At least one of the Antifa opponents appeared to hit an Antifa member first. One video showed Antifa members opening a case and removing concrete blocks to hurl at a bus carrying protesters.
Other videos showed police officers leaving areas with large numbers of the extremists still around.
No police in sight as antifa mob descends on men. A fight involving weapons breaks out. Video courtesy of @TPostMillennial. #PortlandProtests pic.twitter.com/ddbHB7gwCx

— Andy Ngo (@MrAndyNgo) August 17, 2019
An old man gets assaulted by Antifa and has his American flag ripped from his hands and thrown to the ground. #PortlandProtests pic.twitter.com/vgugrVVMF4

— The Post Millennial (@TPostMillennial) August 17, 2019
Antifa attacks couple during rally in Portland. Reporting live on the scene. #portland #antifa #PortlandProtest pic.twitter.com/Xv6RwMQrAY

— Jorge Ventura Media (@VenturaReport) August 18, 2019
🚨ALERT🚨To clear up any confusion about who instigated the violent bridge altercation in Portland at #DefendPDX this video CLEARLY shows the right wingers were acting in self-defense when they pulled out a hammer as left wingers threw bricks/ attacked them unprovoked #hammergate pic.twitter.com/wtdF155A4W

— Elijah Schaffer S.O. (@ElijahSchaffer) August 18, 2019
Anitfa throws rocks and hammers and smashes windows of bus that contained Proud Boys in it. Reporting live #PortlandProtest #antifa #proudboys pic.twitter.com/5ZT27gqHCD

— Jorge Ventura Media (@VenturaReport) August 17, 2019
🚨CONCERNING 🚨 We caught Antifa smuggling concrete slabs within a black case then breaking up the slab & using it to throw at buses carrying right wingers stuck in traffic. This is further evidence of their pre-meditated violence & criminal activity in Portland @realDonaldTrump pic.twitter.com/ENgYiQ10VG

— Elijah Schaffer S.O. (@ElijahSchaffer) August 19, 2019
Antifa is now in the road as police tell them to get out of the street. https://t.co/dSrtkzl3Gw pic.twitter.com/R9GtLdGuiN

— Julio Rosas (@Julio_Rosas11) August 17, 2019
Police intervened at some points, especially when Antifa blocked off roads that were supposed to be open to traffic.
The Portland Police Bureau said in a press release that 13 people were arrested, later adding that two were juveniles and referred to the appropriate agency, nine were criminally cited and released, and two were booked into jail.
Alexander Dial, 37, was identified as one of those two, charged with attempted assault in the second degree and unlawful use of a weapon; the other was named as John Doe and charged with disorderly conduct in the second degree. Dial appeared to be seen on video throwing a hammer into a bus full of protesters, hitting one, after grabbing the hammer from a protester.
Eight of the nine who were cited and released were all cited for disorderly conduct in the second degree.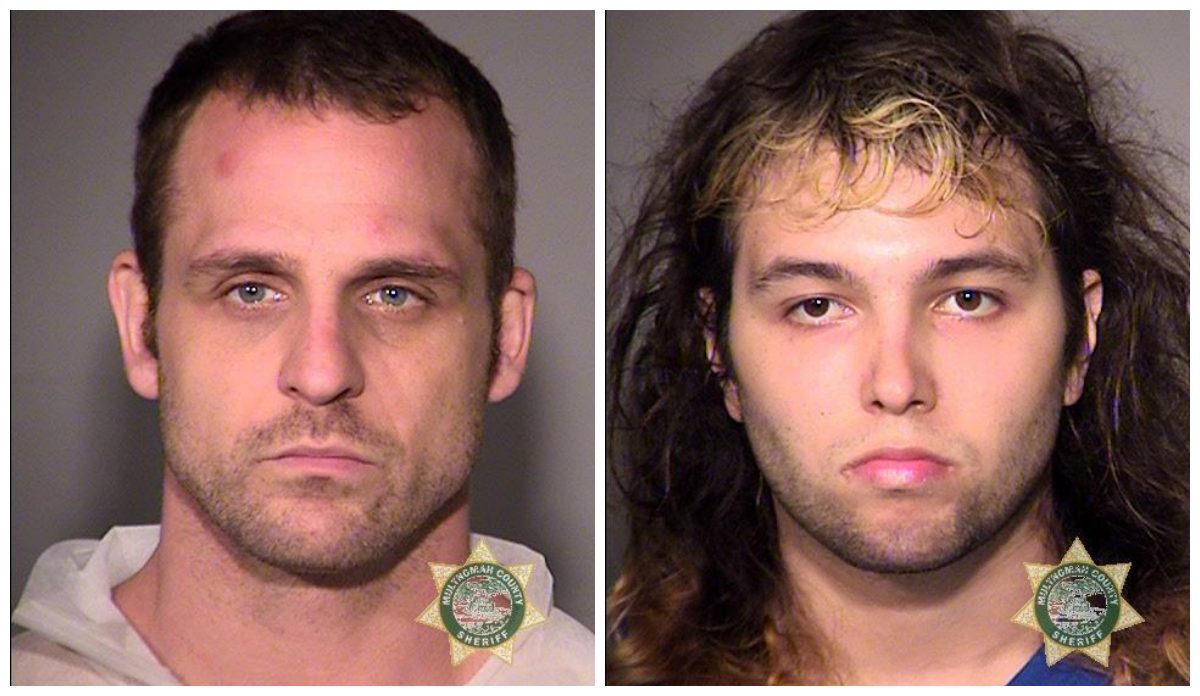 Others also faced other citations. Michael Mitchell, 44, was also cited for resisting arrest, interfering with police, and possessing weapons in a park.
Teagan Winkler, 21, was also cited with interfering with police. Brandon Howard, 33, was cited for assault in the fourth degree in addition to the disorderly conduct.
And Ryan Georgioff, 30, was cited for one offense, giving false information to a peace officer.
Police seized weapons including a small knife, bear spray, and several shields.