Portland, Oregon is bracing for what could be another round of violent clashes between the right-wing conservative-libertarian Patriot Prayer group and far-left Antifa counter-protesters.
"There will be a significant law enforcement presence in the area of the demonstration due to past threats and acts of violence," the Portland Police Bureau announced, in an apparent reference to two previous events that ended in bloody fistfights and riots.
Self-described anti-fascists—or "Antifa"—have been organizing anonymously online to confront Patriot Prayer and an affiliated group, the Proud Boys, in the streets.
Patriot Prayer was founded by Senate seat hopeful Joey Gibson, a self-described conservative libertarian, who says the group is about "fighting corruption and big government with the strength and power of love." He denies links to the racist alt-right, and has made statements specifically excluding violent hate groups from its rallies.
"No Nazis, Communists, KKK, Antifa, white supremacists, i.e. or white nationalists," stated an earlier Facebook post by Patriot Prayer, insisting that "no extremists will be allowed in" to its events, according to a Fox report.
The Proud Boys were established by VICE Media co-founder Gavin McInnes. They deny any connection to white supremacist groups, and describe themselves as "western chauvinists," who seek to spread an "anti-political correctness" and "anti-white guilt" agenda.
The Southern Poverty Law Center, however, describes the Proud Boys as an "extremist group" and says that despite the pronouncement of its leadership, "rank-and-file Proud Boys and leaders regularly spout white nationalist memes" and have appeared alongside known hate groups at rallies.
According to this Epoch Times report, Antifa is an extremist anarchist-communist group with roots in the "united front" of the Soviet Union's Communist International (Comintern), an organization set up to spread communist ideology around the world.
The idea of the united front strategy was to bring together left-wing organizations in order to incite a communist revolution.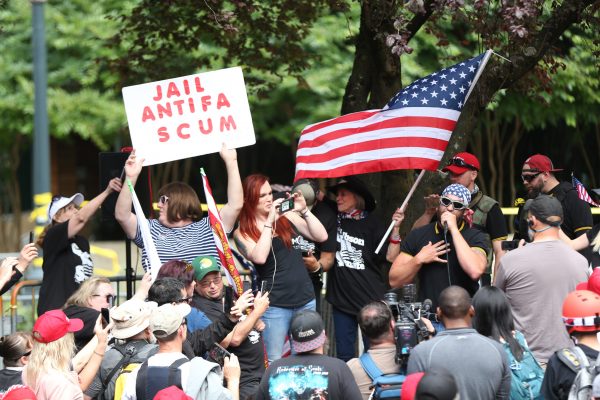 Gibson said in a live video on Facebook earlier this week that he won't stop bringing his supporters to Portland until they can express their views without interference.
"I refuse to do what Portland wants me to do because what Portland wants me to do is to shut up and never show up again," he said.
Saturday's event is being billed as a Gibson For Senate Freedom March.
In the footage streamed on July 31, Gibson outlines plans for the march, including that supporters of his group plan to infiltrate the counter-protesters by dressing in black, in a manner similar to the Antifa counter-protesters.
This time, Gibson changed the venue from a federal plaza outside U.S. District Court to a waterfront park so some of his Oregon supporters can carry concealed weapons as they demonstrate.
Portland police said they will be checking for weapons to ensure anyone who is armed has an Oregon concealed handgun license. They also said that protesters should expect to see a significant police presence including bomb-sniffing dogs and checkpoints where weapon screenings will occur.
"The intent of law enforcement is to provide a safe environment for all participants, non-participants, and community members while ensuring the peaceful exercise of the First Amendment," the police said.
Chartered buses will bring participants from Vancouver, Washington—where Gibson lives—to downtown Portland with armed security on board.
Gibson's insistence on bringing his right-wing supporters repeatedly to this liberal city has crystallized a debate about the limits of free speech in an era of stark political division. Patriot Prayer also has held rallies in many other cities around the U.S. West, including Berkeley, California, that have drawn violent reactions.
A live stream of the rally is recorded here:
A counterprotest organized by a coalition of labor unions, immigrant rights groups, and artists also will gather at City Hall before the Patriot Prayer rally.
In a post on antifascistnews.net, an unnamed source posting on behalf of the counter-protesters, states an intent for "militant antifascists" to challenge the Patriot Prayer rally.
"Converge on Tom McCall Waterfront Park at the Salmon Street Fountain.  This is where Patriot Prayer will be coming.  This action will be frontlined by militant antifascists, including Rose City Antifa, Eugene Antifa, PNW Antifascist Workers Collective, SHARP, and RASH NW.  This will be backed by Pop Mob, which makes up the large mass of participants.  This coalition has been endorsed by a range of groups, from the ones listed on the 10:30 a.m. rally to other groups like KBOO, Black Rose–Rosa Negra, the Democratic Socialists of America."
Dueling protests a month ago ended with Portland police declaring a riot and arresting four people.
A similar Patriot Prayer event on June 4 devolved into fistfights and assaults by both sides as police struggled to keep the groups apart.
Recommended Video:
The Origins of Antifa