Correction: A previous version of this article cited a participant stating that the Pope called off his appearance at the event. This has not been officially confirmed by the Vatican.
For months a prestigious conference on combating international organ trafficking and transplant tourism had been planned at the Pontifical Academy of Sciences. Experts in the field were scheduled to attend.
But a storm of controversy erupted over the participation of a controversial Chinese transplant surgeon and his colleague, with dozens of unwelcome headlines in the international press.
Human rights advocates and some prominent Catholics opposed the Pontifical Academy of Sciences's decision to invite Dr. Huang Jiefu, the Chinese regime's official spokesman on organ transplantation, and wrote to conference organizers and the media.
On the day they spoke at the conference, on Feb. 7, Dr. Huang and his colleague Dr. Wang Haibo, gave what some participants found to be an unconvincing defense of organ transplant reform in China.
China had previously vowed to cease the use of organs harvested from executed prisoners beginning in January 2015, and this contention, among others, was found wanting.
"I am fully aware of the speculation about my participation in the summit," Huang told the conference, citing "continuing concerns about the transplant activities" of the regime, according to The Associated Press (AP).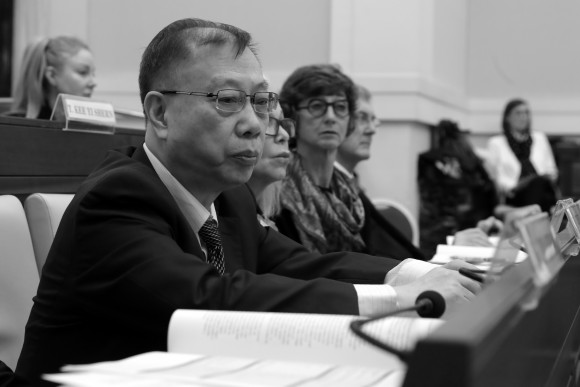 Before the Vatican summit, researchers of organ harvesting in China and human rights advocates had urged the summit organizers to bar Huang Jiefu due to his involvement in what researchers have described as the regime's systematic harvesting of organs from prisoners of conscience. They also requested that the Vatican invite engaged researchers to the summit for a balanced discussion.
Three principal researchers—former Canadian Member of Parliament David Kilgour, Canadian human rights lawyer David Matas, and American investigative journalist Ethan Gutmann—say that the Chinese regime has been forcibly harvesting the organs of Uyghur, Tibetan, house Christian, and Falun Gong prisoners of conscience since the early 2000s. Most of the organs come from Falun Gong practitioners, a population targeted for harsh persecution, the researchers say.
Bishop Marcelo Sánchez Sorondo, the chancellor of the Pontifical Academy of Sciences, waved off the protests against Huang Jiefu, saying that the Vatican summit was an "academic exercise and not a reprise of contentious political assertions," in an email reply to Wendy Rogers, an Australian bioethicist. The organizers also prevented television coverage of the Chinese presentation.
"Are they doing any illegal transplantation of organs in China? We can't say," Bishop Sorondo said. "But we want to strengthen the movement for change," he told AP.
The summit, incidentally or not, comes as the Vatican is seeking to build better ties with Beijing.
During the presentations, Huang Jiefu and Wang Haibo defended themselves and the Chinese regime with evidence and explanations that some doctors present said they did not find convincing, rousing a tense exchange from participants at the summit.
Huang prepared only two slides, one showing an increase in both living and cadaver donors in recent years, and another showing the regime's efforts to clamp down on illegal transplantation activity. Also, Wang argued that it was simply impossible for the regime to police all transplantation activity in the country, given that there are "1 million medical centers and 3 million licensed doctors operating in the country," according to AP. They also proposed that the World Health Organization (WHO) start a global task force to combat illegal organ transplant activities.
Dr. Gabriel Danovitch from the UCLA Medical Center challenged the Chinese doctors to state plainly whether the regime has still used prisoner organs.
Dr. Jacob Lavee, president of Israel's transplant society, called out the Chinese regime's lack of accountability.

The Chinese transplantation system doesn't allow "public scrutiny or independent verification," while regulations permitting the use of organs from death row criminals remain on the books, Lavee said in a prepared statement. He added that the term "executed prisoners" is vague enough to mean actual criminals or prisoners of conscience—an important distinction in light of evidence that the regime was carrying out forced organ harvesting.
"As long as there is no honesty and accountability for what took place—the killing of innocents on demand—there can be no guarantee of actual ethical reform," Lavee said, and called for an "appropriate international body with the power" to conduct surprise spot checks and interview donor families.
Wang Haibo argued that he and Huang Jiefu "spent the past 12 years battling critics inside China and out to reform the sector," and that China shouldn't be singled out for WHO inspections, according to the AP.
Lavee wrote in an email to Epoch Times that the exchange of views between the Chinese doctors and himself was heated, and that the audience was "divided between supporters of either side."

"The Vatican was about to march into a rapprochement with Beijing—a march that would have ended with the Vatican's complete moral abasement," American investigative journalist and principal organ harvesting researcher Ethan Gutmann wrote in a note.
"Instead the Vatican has briefly stumbled—or perhaps been tripped up a little—by the press coverage given to brave politicians and medical experts from End Organ Pillaging and DAFOH," he added, referring to Doctors Against Forced Organ Harvesting, a Washington, D.C.-based NGO.
Huang and Wang's remarks at the Vatican also don't stand up to close scrutiny, says Dr. Torsten Trey, the executive director of DAFOH.
"You cannot refute a charge of decade-long forced organ harvesting from hundreds of thousands of Falun Gong and other prisoners of conscience with two slides," he said.

The defense of China's system by doctor Wang Haibo, that officials cannot actually regulate all transplantation activity "turns out to actually justify international concerns: They cannot guarantee that the forced organ harvesting has ended."
He emphasized the need for "a very thorough, independent international inspection."
Trey described Dr. Danovitch and Dr. Lavee's challenge to the Chinese doctors as "commendable," and one that "should be echoed by all medical professionals."