PG-13 | 1h 52min | Biography, Drama | 1 February 2008 (USA)
The year was 1995. By all accounts, Jean-Dominique Bauby had a vibrant and fulfilling life. He had worked his way up to the position of editor-in-chief of the popular French-based lifestyle magazine Elle, and had a loving family, including two young kids.
At the young age of 43, however, things suddenly take a turn for the worse: He suffers a near-fatal brain-stem stroke that renders him a head-to-toe paralytic. He does, however, remain in command of one physical ability—control over his left eye.
A New Life
Directed by Julian Schnabel, the film "The Diving Bell and the Butterfly" covers the final two years of Bauby's life and is based on a book that he wrote of the same title. Masterfully adapted into a screenplay by Ronald Harwood, the film captures the essence of Bauby's memoirs.
The film opens with Bauby (played by Mathieu Amalric, "The Grand Budapest Hotel") waking up in a hospital in Calais, France. He's been in a three-week-long coma. His neurosurgeon, Dr. Lepage (Patrick Chesnais), tells him that he has a rare cerebrovascular condition known as locked-in syndrome.
Bauby initially thinks that he is speaking to Dr. Lepage. Much to his horror, he realizes that he is only talking to himself in his own mind. In spite of this devastating news, Bauby uses his incredible sense of humor to work through things by mental self-talk.
Dr. Lepage assigns brilliant speech therapist Henriette (Marie-Josée Croze) to help Bauby communicate. She develops an alphabetical system (known today as partner-assisted scanning), whereby Bauby, in blinking his good eye, chooses letters, which then form words and sentences. He is also instructed to answer simple questions by blinking once for "yes" and twice for "no." It's a painfully slow process of communication, but it's the best that is available to him.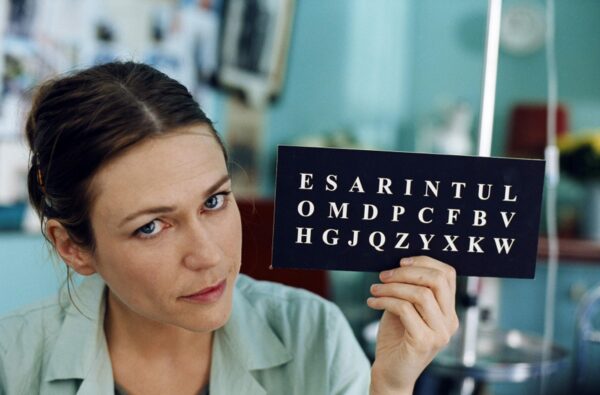 The first act of the film details Bauby's thoughts from a first-person vantage point. We hear his thoughts in a somewhat dreamlike way, as he drifts back and forth between flashbacks and his current state. As he tells himself, the only things that have been undamaged, besides his left eye, are his imagination and memory.
Eventually, after he is moved into a wheelchair so that he can be wheeled around, things switch to a third-person perspective, and we are better able to see how people react to him.
Of course, Bauby's longtime partner, Céline (Emmanuelle Seigner), has also been devastated by this tragic event. However, she manages to keep up a relatively strong façade for the benefit of their mutual mental well-being. In an especially touching scene, she takes him out to a beach for Father's Day, and although he feels happy to see her and their children, he is equally upset that he can't physically touch or play with them.
Another emotionally riveting scene is when Bauby's father, Papinou (the late Max von Sydow), rings his son at the hospital as a show of sympathy. Papinou compares his own failing health to his son's condition, telling him that he is unable to leave his apartment just as Bauby can't move his body, nor escape it.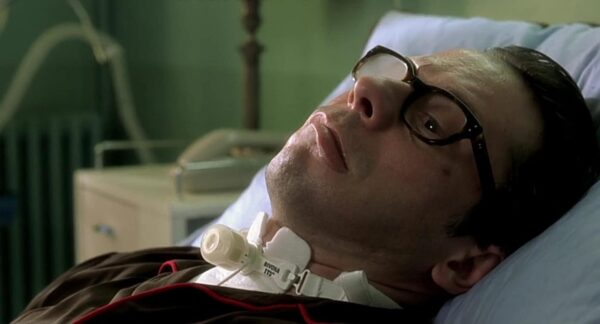 Schnabel manages to convey the solid support that Bauby has around him, which includes family, friends, and the amazingly caring (and patient) hospital staff. They inspire him to write his memoirs, which is an especially laborious task due to slow eye-blink dictation. Fortunately, Bauby manages to get his memoirs published.
"The Diving Bell and the Butterfly" is a heartfelt cinematic work that pays homage to Jean-Dominique Bauby, along with the helpful folks around him (especially the women) who formed the backbone of his support structure.
'The Diving Bell and the Butterfly'
Director: Julian Schnabel
Starring: Mathieu Amalric, Emmanuelle Seigner, Marie-Josée Croze
Rated: PG-13
Running time: 1 hour, 52 minutes
Release Date: Feb. 1, 2008 (USA)
Rated: 4 stars out of 5

Ian Kane is a filmmaker and author based out of Los Angeles. To see more, visit DreamFlightEnt.com or contact him at Twitter.com/ImIanKane