What goes around comes around, as the saying goes, and for  this homeless man who acted out of compassion, he was rewarded when he least expected it.
Ron is a homeless man from Salt Lake City, Utah, and as he was sitting near a freeway exit with a sign asking for work or help, Angel Janes drove past on her way home. She felt compelled to stop, and although she had neither a job nor money to offer him, she gave him a cigarette. Wrapped tightly in a blanket in his arms was a tiny dog—a Chihuahua. Angel struck up a conversation with Ron and asked him about the dog.
It turns out Ron had watched horrified as a woman had discarded the dog on the freeway like a piece of trash, so he quickly rescued it, knowing that at any time it could be run over on the busy freeway. Even though he had saved the dog from death, he knew there was no way he could keep it, and pleaded with Angel to help him find a safe home for it.
"Just in this brief time we spoke, I was inspired by this heartfelt person," Angel shared with The Dodo. "He was just trying to do right so this dog 'wasn't homeless like me.'"
Janes knew she couldn't give the dog a home, so she posted the story on her Facebook page, looking for a kind person to give it a forever home. It was reposted to an animal lovers page by Kathleen Dallmann, and one lady turned up where Ron was located, wanting to foster the pooch.
"A few minutes after I posted it, a lady was on her way to pick up the dog to foster him," Dallmann said. "She offered Ron $50 as a show of her gratitude for keeping him safe. He said, 'No, I just wanted to do the right thing.' But she insisted he take it."
"He was in tears because he was able to help the dog find a home," said Dallmann. "He said he knew what it was like to be homeless, and he didn't want the dog to be homeless."
The woman was prepared to keep the little dog until a forever home could be found. Little did she expect that someone would come to adopt the dog no sooner than she had posted the adoption notice. Chasity Guyer and her daughter turned up and fell in love with the tiny one straight away. They named him Lucky Louie in reference to how quickly he'd found his dream home.
"He is doing really good," said Guyer, adding that "he's not going anywhere."
Dallmann felt relieved that Lucky Louie was indeed lucky, but she wanted to do more for homeless Ron.
"I was so happy that things had worked out for the dog, but I couldn't stop thinking about Ron," she said. "He didn't even have a place for himself. So, I started a GoFundMe page for him. I didn't know if anyone would donate, but after getting the word out, it got up to $500."
When she handed Ron the $400 she had collected so far, he was overwhelmed.
"He was in tears," Dallmann said. "He couldn't believe that the community would do something so nice for him. When I handed him the money, he wanted some of it to go to the dog's care. But I told him it was just for him."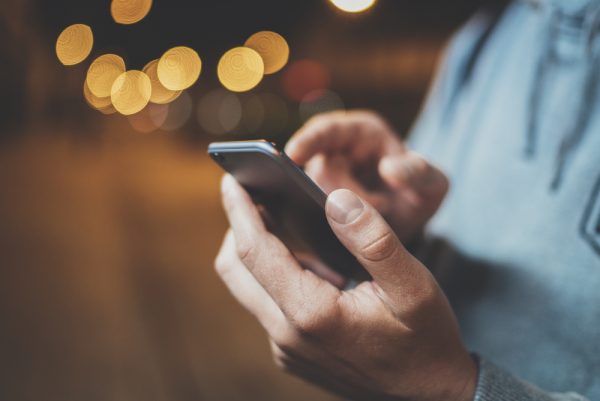 Ron has begun to put things into place to help himself get off the streets, first by purchasing a mobile phone to start looking for opportunities to support himself.
"Now that he has a phone, we're able to get in touch," Dallmann said. "He really wants to get a job. Like the dog, everyone deserves a second chance at life."
Take a look at Ron expressing his thanks in the video to those giving him a helping hand. Let's hope that just like the dog he saved, he can find happiness as well. He deserves a chance.
UPDATE WITH RON: Met with Ron tonight to give him all the money that was donated. I wish i could have got his original reaction because he was seriously freaking out, crying, and kept saying, "Are you sure this is for me!? From who, from who!? Who would do this for me!!?? For a homeless man!!??" I told him it was from the community, giving back because they were inspired by him and want to make sure he has a happy ending just like that dog that he saved from getting hit by a car and found a good warm home for. He said multiple times people have loaded up all his belongings in a truck and drove off with it. That people usually call him horrible names, so he just couldn't believe it. He looked through the envelope like 10 times because he really couldn't believe it. He said he promises that he will not let us down!! He was like, "This man isn't sleeping on the street tonight!!!" Then the second thing he said he was going to do was to go to get a phone so he can stay connected. I have literally never seen anyone so excited in my life and shed a couple tears myself, seriously a million dollar response. He wanted to donate some of it for food for the dog, I told him we got it under control. All of you are soooo amazing. You gave him the will to fight the good fight. Keeping the go fund me up for a little bit longer in case anyone anyone wants to donate. Not every day you get to hand a homeless man $400 plus dollars, thanks everyone! We have continued the gofundme, if you are interested in helping please click on the link below! 🙂 Angel Janes Dutch Whitlock Lisa Donaldsonhttps://www.gofundme.com/Helpahomelesshero

Gepostet von Kathleen Dallmann am Montag, 2. April 2018
The GoFundMe page of Ron has now received US$6,805 to this date. The last update on the page states that "we are currently attempting to get Ron into a program that will help him with the transition back into caring for himself."
It further explains that the program will help him look for jobs, healthcare, and counseling. Though it will take time, Dallmann is determined to actively work towards it.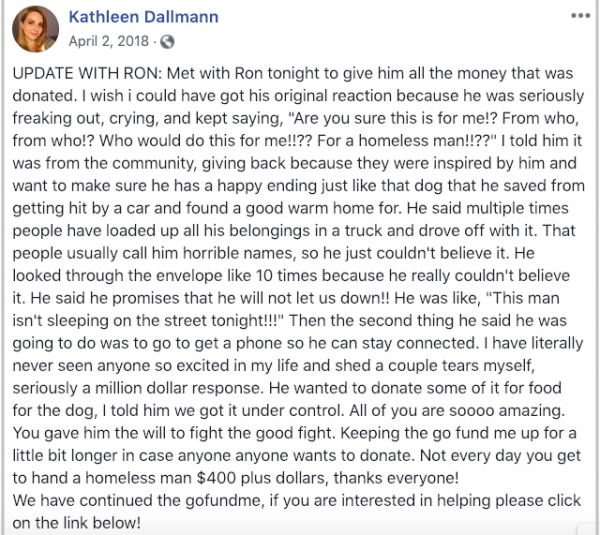 This story serves to remind us that human values and virtues are still not lost—indeed, there is still hope for humanity.
Every deed counts, however large or small—so keep spreading the goodness.