Speaking to reporters on Aug. 3, Secretary of State Mike Pompeo pressed Turkey for the release of detained U.S. pastor Andrew Brunson, adding that the "clock had run out" for the government to act.
Pompeo's remarks come just days after the Trump administration issued sanctions on Aug. 1 on two top Turkish officials, Minister of Justice Abdulhamit Gul and Minister of Interior Suleyman Soylu, for their roles in the detention of Brunson.
The sanctions, imposed by the Treasury Department, mean that any property or interest in property belonging to the Turkish officials within U.S. jurisdiction would be blocked. Americans would also generally be prohibited from doing business with them.
"The Turks were on notice that the clock had run out and it was time for Pastor Brunson to be returned and I hope they'll see this for what it is: a demonstration that we're very serious," Pompeo told reporters aboard his plane as he flew to Singapore from Kuala Lumpur, Malaysia.
"Brunson needs to come home as do all the Americans being held by the Turkish government," he said. "Pretty straightforward. They've been holding these folks for a long time. These are innocent people."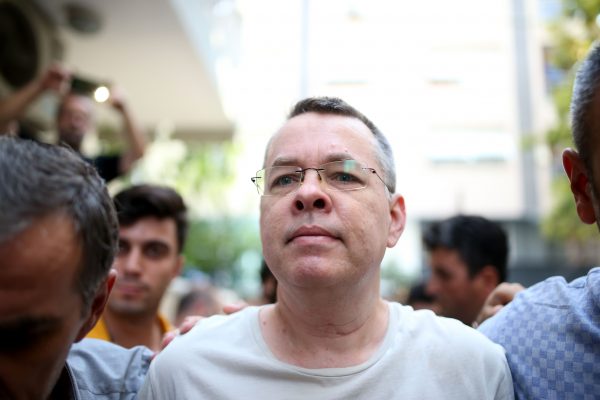 State department spokesperson Heather Nauert said Pompeo met with Turkish Foreign Minister Mevlut Cavusoglu on Aug. 3 on the margins of The Association of Southeast Asian Nations (ASEAN) Ministerial in Singapore. She said they conversed on a number of issues and had a "constructive conversation."
Brunson, a Christian pastor from North Carolina, has lived in Turkey for more than two decades and has been in pre-trial detention since 2016. He was accused by Turkey of orchestrating a failed military coup in 2016 and of having links to terrorist organizations.
Both Brunson himself and the U.S. government have denied these claims, neither of which have been substantiated.
Near the end of July, Brunson was released from prison and placed under house arrest due to health problems. He has previously called the charges against him "shameful and disgusting."
According to White House Press Secretary Sarah Sanders, the U.S. government has seen "no evidence that Pastor Brunson has done anything wrong." She said on Aug. 1. that Brunson is a victim of "unfair and unjust" detention by the Turkish government.
President Donald Trump has repeatedly called for the release of Brunson in the past few months. On Twitter, he called the detainment a "total disgrace" and called out Turkish President Recep Tayyip Erdogan by name to free him.