Secretary of State Mike Pompeo said that he did not watch the impeachment testimony given by Gordon Sondland, the U.S. ambassador to the European Union.
"I didn't see a single thing today. I was working…I'm not going to recuse myself from this. I know precisely what American policy was with respect to Ukraine. I was working on it, and I'm incredibly proud of what we accomplished," Pompeo told reporters in Brussels after a NATO meeting on Nov. 20.
"We delivered remarkable outcomes for the Ukranian people and I hope that we're able to continue to do so. We got them the defensive systems they needed, we got them the resources, the previous administration refused to do that."
Pompeo said that he was proud of what the Trump administration has accomplished, singling out President Donald Trump.
"I'm proud, I'm proud that President Trump led that effort to get our policy on Ukraine right. We not only planned for it, we not only laid out a plan forward, but we executed and delivered on it. We'll continue to do that. Our focus at the State Department is on making sure that we get our policy right, execute it flawlessly, and deliver it on behalf of the American people," he said.
Sondland testified before the House Intelligence Committee on Wednesday, telling lawmakers that "everyone was in the loop" on dealings with Ukraine, including Pompeo.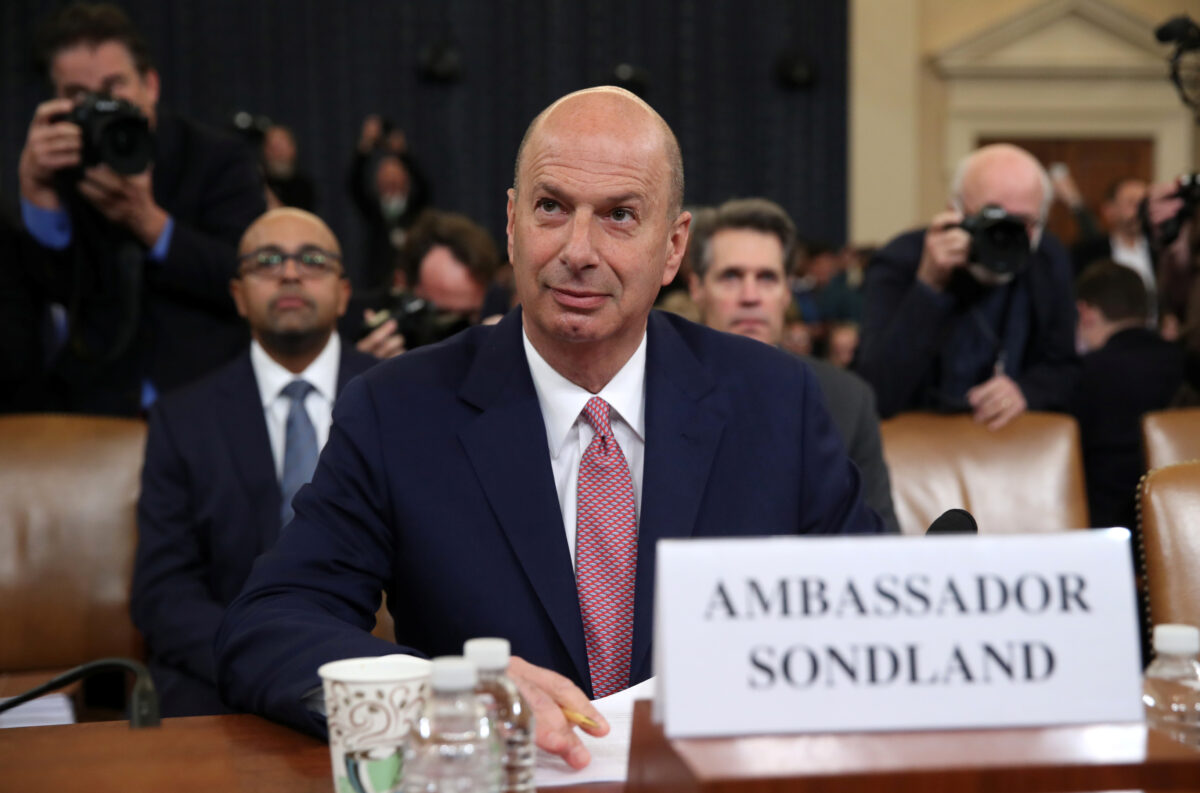 Rep. Jim Himes (D-Conn.) said he didn't understand why Pompeo didn't "put an end to" efforts to get Ukraine to "look into" actions by former Vice President Joe Biden and his son Hunter Biden in Ukraine, in addition to the country's efforts to interfere in the 2016 U.S. presidential election.
"If this had been irregular, or a drug deal, or a shadow foreign policy, he would have been the one to put an end to it, and yet he did not, right?" Himes asked
"The secretary of state was I think taking into account the totality of what I'd been working on, globally, and said 'you're doing a great job, including this,'" Sondland said.
"We never thought it was irregular, we thought it was in the center lane."
Sondland also said the State Department didn't give him documents he requested to be presented to lawmakers, blaming the department for his shifting testimony. Sondland has changed his answers on multiple issues.
Republicans pressed Sondland on any link between Trump reviewing congressionally-approved military aid for Ukraine and the request for probes and Sondland said that no one in the administration, or Trump's lawyer Rudy Giuliani, told him that aid was tied to political investigations. Sondland did say he felt there was a "quid pro quo" in regards to Trump wanting the probes and a meeting with Trump desired by Ukranian leadership.