NY Political Leaders Embrace Bid for Minimum Wage Increase
July 30, 2013 2:29 pm Last Updated: July 30, 2013 2:43 pm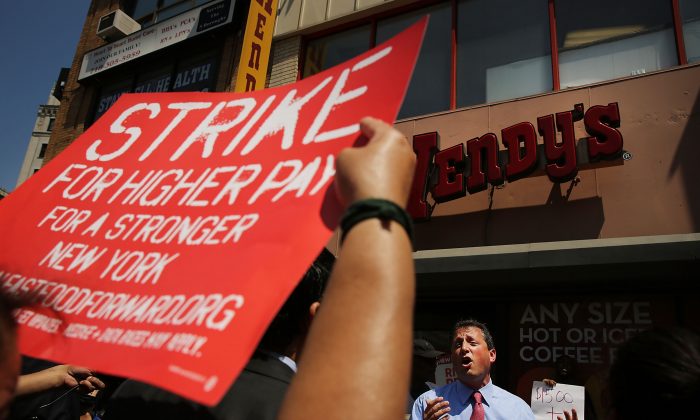 NEW YORK—A series of rallies in New York City on July 29 echoed a larger national campaign to increase the minimum wage for fast food workers. 
The rallies and sit-ins at fast food restaurants ran from 6:30 a.m. to 4 p.m. at McDonald's and Wendy's restaurants in Manhattan, the Bronx, and Brooklyn. 
The political support for the proposed wage increase, from $7.25 to $15 an hour, was strengthened by visits from City Council Speaker Christine Quinn; New York City Public Advocate Bill de Blasio; City Council Members Donovan Richards, Steve Levin, Jumaane Williams, Brad Lander; U.S. Representatives Carolyn Maloney and Jerrold Nadler; State Assembly members Brian Kavanagh, Richard Gottfried, Linda Rosenthal; State Senator James Sanders; and others. 
The current federal and state minimum wage is $7.25 an hour.
The Service Employees International Union (SEIU) is the driving force behind unionizing fast food workers and guaranteeing them more rights—including what they are calling a "living wage."
Tamara Green, 26, is a fast food worker at a Burger King in Brooklyn. She joined all of the protests and is one of the most vocal advocates among workers in the New York City campaign. She said that Quinn's support and presence early in the morning was a major boost for her and others.
"She came up to me after I spoke [about trying to live on minimum wage] and asked me, 'Is it really that bad?'" said Green outside of a local SEIU meeting on Monday evening. 
Green's situation is typical of front-line employees in the fast food industry. Her minimum wage paycheck is not enough to cover expenses for food, laundry, rent, and basic utilities, let alone standard extras such as new clothes. 
The unionizing and wage increase campaign is part of a continuing national effort that features rolling one-day strikes in major U.S. cities. Employees on strike return to work the next day, and union officials and faith leaders usually escort them to deter possible employer retaliation. 
In Washington on July 30, President Barack Obama released a plan with a series of proposals to bolster the middle class. One proposal includes a call for Congress to raise the minimum wage level to what it was at the beginning of the Reagan administration in 1981 with indexing for inflation.