Police said a mass overdose at a residence in Chico, California, has caused one death and 12 people to be hospitalized, adding that the number of fatalities could still rise.
"Certainly there is potential for additional fatalities, I want to emphasize that," Chico Police Chief Michael O'Brien said at a Jan. 12 press conference, noting that had authorities not intervened, it "certainly would have been far worse."
He said it is believed the victims may have ingested fentanyl—a highly dangerous opiate.
O'Brien said that at around 9 a.m. police received a 911 call, reporting a multi-casualty emergency. "Upon arrival," said the chief, "Chico police officers found multiple individuals in what appeared to be life-threatening overdose conditions."
He said police performed CPR and administered six doses of naloxone—a drug that can reverse the effects of an opioid overdose.
CHICO POLICE: Drug overdose suspected as cocktail of "fentanyl, in combination with another substance." This was treated as "mass casualty" incident, with 6 emergency personnel giving CPR to 6 patients at the same time. All OD victims between 19 to 30. pic.twitter.com/CuYEZO7YQf

— Cecile Juliette KHSL (@CecileJuliette) January 13, 2019
One male adult was pronounced dead at the scene, and 12 others were taken to an area hospital. Eight of the 12 were admitted into the hospital, and four of them were said to be in critical condition.
O'Brien said the ages of the victims are believed to range from 19 to 30, but noted that this was pending confirmation.
"Every indication is that this mass overdose incident was caused from the ingestion of some form of fentanyl in combination with another substance," O'Brien said, "although that is yet to be confirmed."
He expects confirmation in the coming days that the substance was, indeed, fentanyl.
'Hazmat Site' Precautions
O'Brien said that two officers had to be treated at the hospital after they had "started to feel some effects" after the response. They were treated and released and were in "good condition."
O'Brien said the scene of the overdose is currently being treated as a "hazmat site," or a hazardous materials site.
He said that police suspect "fentanyl, or a fentanyl-similar type of overdose," adding that even trace amounts of the substance can be dangerous.
"The amount of fentanyl—these substances are extraordinarily dangerous and it takes a very minute amount to cause [life-threatening] conditions."
Naxolone 'Saved Lives'
Chico police have been able to administer naxolone since 2018.
"This is not the first time that naxolone has saved lives in the city of Chico," O'Brien said, adding that the medication could be administered in error and not cause harm to the patient.
"We do respond to many, many overdoses, and particularly with the opioid crisis that is occurring everywhere in this country to include Chico, California," O'Brien said. "We wanted to have in the hands of those officers who are often times first on the scene the ability to administer a life-saving drug."
"We were waiting, and have been waiting, unfortunately, for this to happen in the sense that we knew fentanyl had been moving west," O'Brien said.
He mentioned that fentanyl hasn't been as much of a problem in Chico compared to other parts of the U.S., where most overdose-related emergencies have been linked to heroin.
"That is changing, unfortunately, and now we've had this mass casualty incident … likely to have been caused by fentanyl."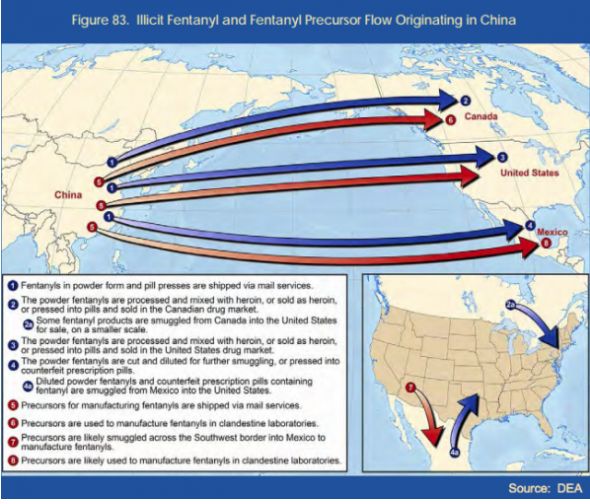 Fentanyl Overdoses
In August, President Donald Trump urged the Senate to pass a measure to stop synthetic opioid drugs such as fentanyl from being transported into the United States via the U.S. Postal Service system.
"It is outrageous that Poisonous Synthetic Heroin Fentanyl comes pouring into the U.S. Postal System from China," he wrote on Aug. 20.
The shipment of fentanyl from China to the U.S. is "almost a form of warfare," Trump said in August.
"In China, you have some pretty big companies sending that garbage and killing our people," Trump added.
More than 71,500 Americans have died of a drug overdose in 2017, according to data released the U.S. Centers for Disease Control and Prevention.
The majority—or least 68 percent—of those deaths could be attributed to opioids such as fentanyl.
Fentanyl was originally developed as a painkiller and anesthetic, but it's 50 to 100 times more potent than heroin.
"[Chinese drug makers] have been using the internet to sell fentanyl and fentanyl analogues to drug traffickers and individual customers in the United States," said Deputy Attorney General Rod Rosenstein in a statement on Oct. 17, 2017.
Epoch Times' Jack Phillips contributed to this report