Police officers arrested one suspect and were searching for another after reported shooting at a Louisiana Walmart on Aug. 6.
Authorities said they received a phone call about an active shooter and arrived at the Baton Rouge location to find that shots were fired inside the store, reported WAFB.
A search of the store turned up one suspect. A second suspect fled in a light-colored sedan and was described as slightly built, thin, black male wearing black shorts, black shirt and short haircut.
An innocent bystander was hit by a bullet fired by one of the men, who entered the store and pulled guns on each other after a fight, according to East Baton Rouge Parish Sheriff's Office Sheriff Sid Gautreaux.
"I want to let everybody know that this was not an active shooter," Gautreaux said in a press conference at the crime scene. "Thank God this was nothing like anywhere near what they faced in El Paso or anything like this."
Some sort of shooting in Baton Rouge pic.twitter.com/WYbEDWvnwp

— CallMeTrinityToo (@jpp191944_) August 6, 2019
The bystander was inside the Walmart buying a lunchbox, reported The Advocate.
Gaurteaux told reporters that only one of the two people fired and that the bullet hit the bystander. One of the guns was recovered at the scene.
The bystander was rushed to Baton Rouge General Medical Center and is in fair condition, a hospital spokesperson told the Advocate.
"We constantly train for it. We do it year-round with active shooter response and everybody knows what their roles are," Sheriff Gautreaux said, reported WBRZ. "This to me showed that all the training that we've done with other agencies, fire department, EMS, other law enforcement agencies, is working."
Mike Hoss, a communications director, had posted a video on Twitter showing a man on the ground being arrested near the edge of the Walmart parking lot.
"Possibly the shooting suspect at Baton Rouge Walmart. Driving past Walmart on Burbank where police had a man on ground. Have no clue if person is suspect, but guns were drawn. Will update if possible," he noted.
The Walmart in question is located at 10550 Burbank Drive in Baton Rouge.
Possibly the shooting suspect at Baton Rouge Walmart. Driving past Walmart on Burbank where police had a man on ground. Have no clue if person is suspect, but guns were drawn. Will update if possible pic.twitter.com/aW4fGDNX2B

— Hoss Communications (@MikeHossComm) August 6, 2019
El Paso Opens Healing Center as Trump Plans Visit
El Paso officials opened a grief center on Tuesday to help people cope with last weekend's mass shooting at a Walmart, in which 22 people were killed and many others were wounded.
The center opened a day before President Donald Trump was due to visit the border city.
El Paso's police chief, Greg Allen, said investigators believe the suspected gunman, 21-year-old Patrick Crusius, posted an anti-immigrant screed that appeared online shortly before the attack. Crusius is being held on capital murder charges, though federal prosecutors are also considering charging Crusius with hate crimes. Trump said Crusius and other mass murderers and hate crime criminals should be executed "quickly, decisively, and without years of needless delay" in a statement on Monday.
Also on Monday, Crusius was assigned a veteran public defender from San Antonio, Mark Stevens. Stevens didn't immediately reply to a request for comment left on Tuesday.
Trump on Wednesday was also expected to visit Dayton, Ohio, where another gunman killed nine people and wounded many others in an attack only hours after the El Paso mass shooting. White House counselor Kellyanne Conway recounted visits Trump has made to grieving communities after mass shootings in Parkland, Florida, and Las Vegas.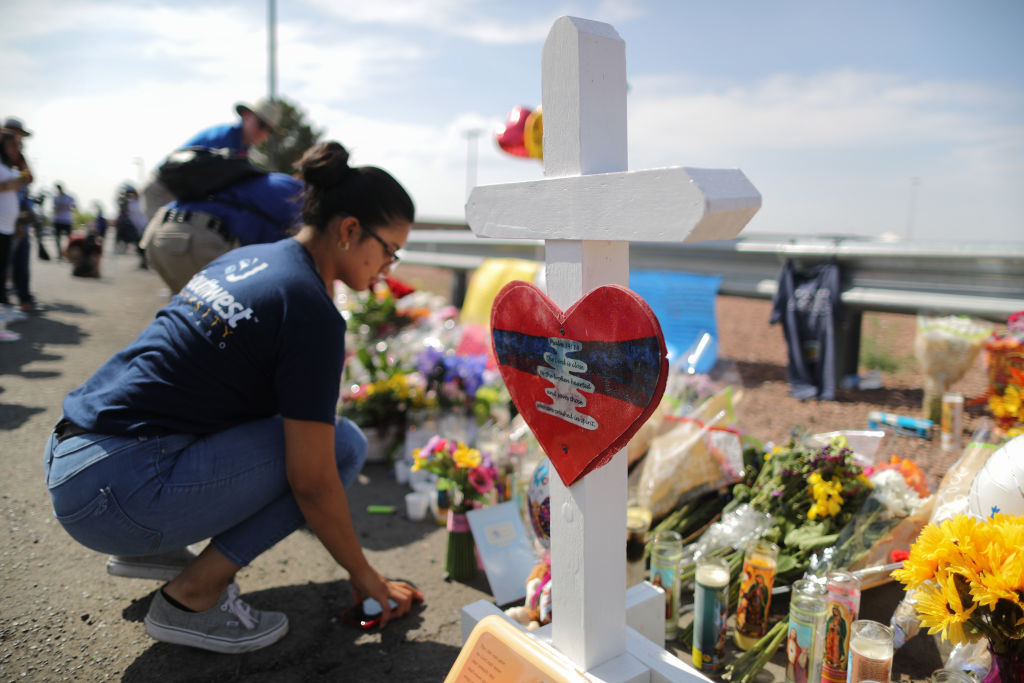 "He goes, trying to help heal communities, meeting with those who are injured, those loved ones who have survived, the innocents who have lost their lives so senselessly and tragically," Conway said.
El Paso's Republican mayor, Dee Margo, announced Trump's visit at a news conference Monday evening, preemptively defending the decision to welcome the president while acknowledging there would be blowback: "I'm already getting the emails and the phone calls."
"This is not a political visit as he had before, and he is president of the United States," Margo said, referring to a campaign rally Trump held in February. "So in that capacity, I will fulfill my obligations as mayor of El Paso to be with the president and discuss whatever our needs are in this community and hope that if we are expressing specifics, that we can get him to come through for us."
El Paso's police chief, Greg Allen, said 15 victims remained hospitalized as of Monday evening, including two who were in critical condition.
The Associated Press contributed to this report.