Police officers in riot gear arrived in Stone Mountain, Georgia, after hours of heated interactions between demonstrators and counter-demonstrators on Aug. 15.
Despite the closure of Stone Mountain Park, where ralliers planned to gather in support of the Confederate monument, hundreds turned out.
Demonstrators from several groups showed up, including the Three Percenters. Many carried guns and said they wanted to protest in support of the First and Second Amendments.
Counter-demonstrators included Black Lives Matter activists and so-called anti-fascists, some of whom were armed.
After about five hours of tense interactions, including several scuffles, police officers in riot gear appeared and officials ordered people to leave.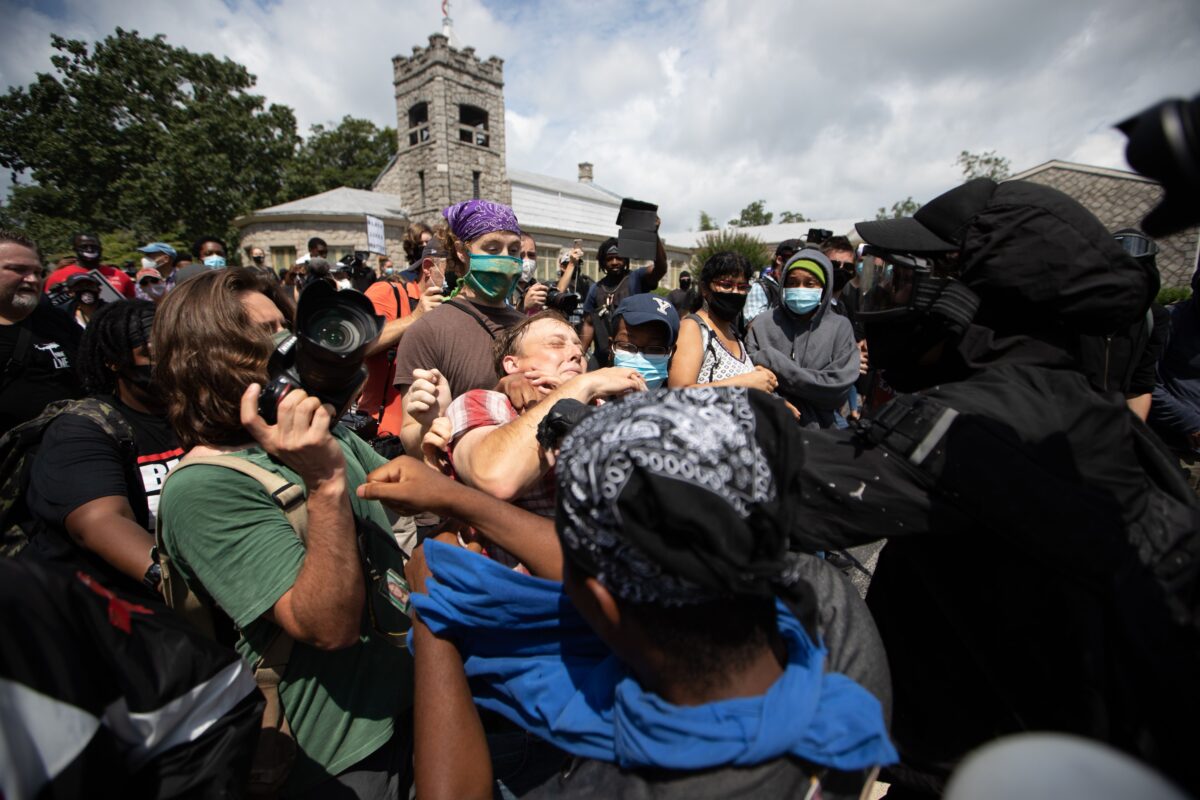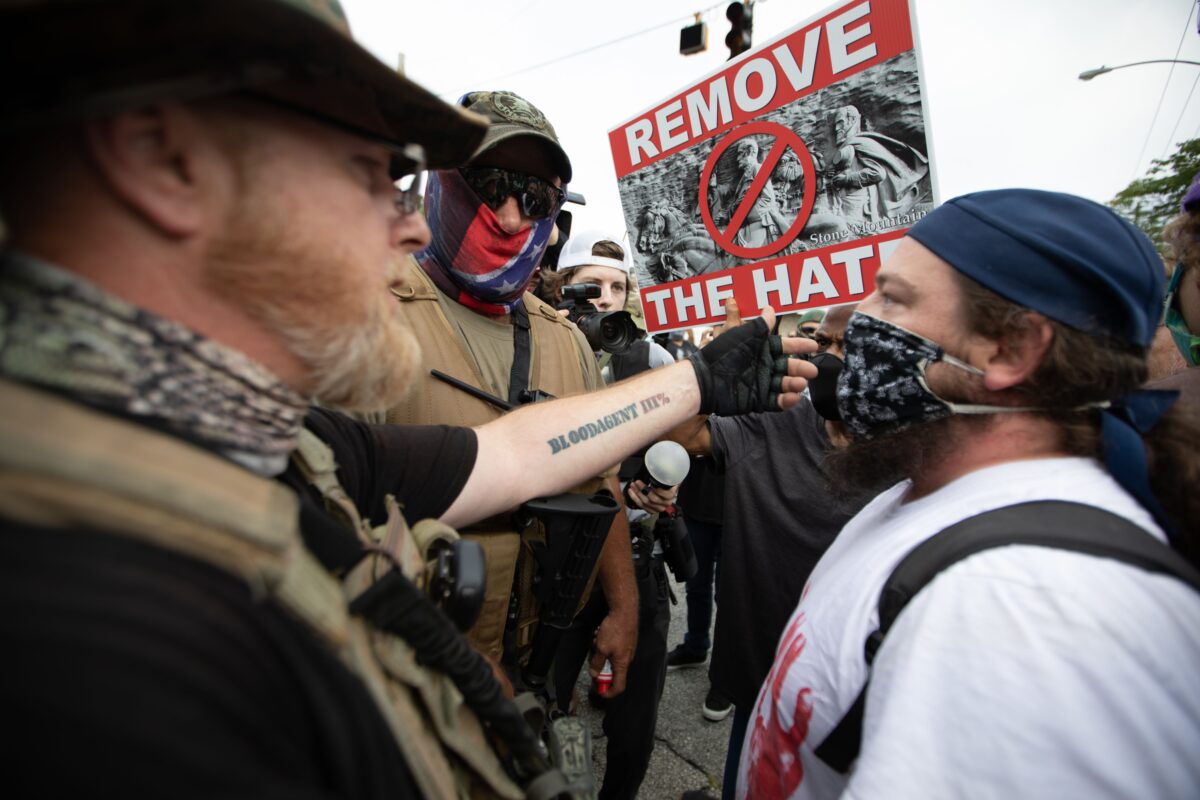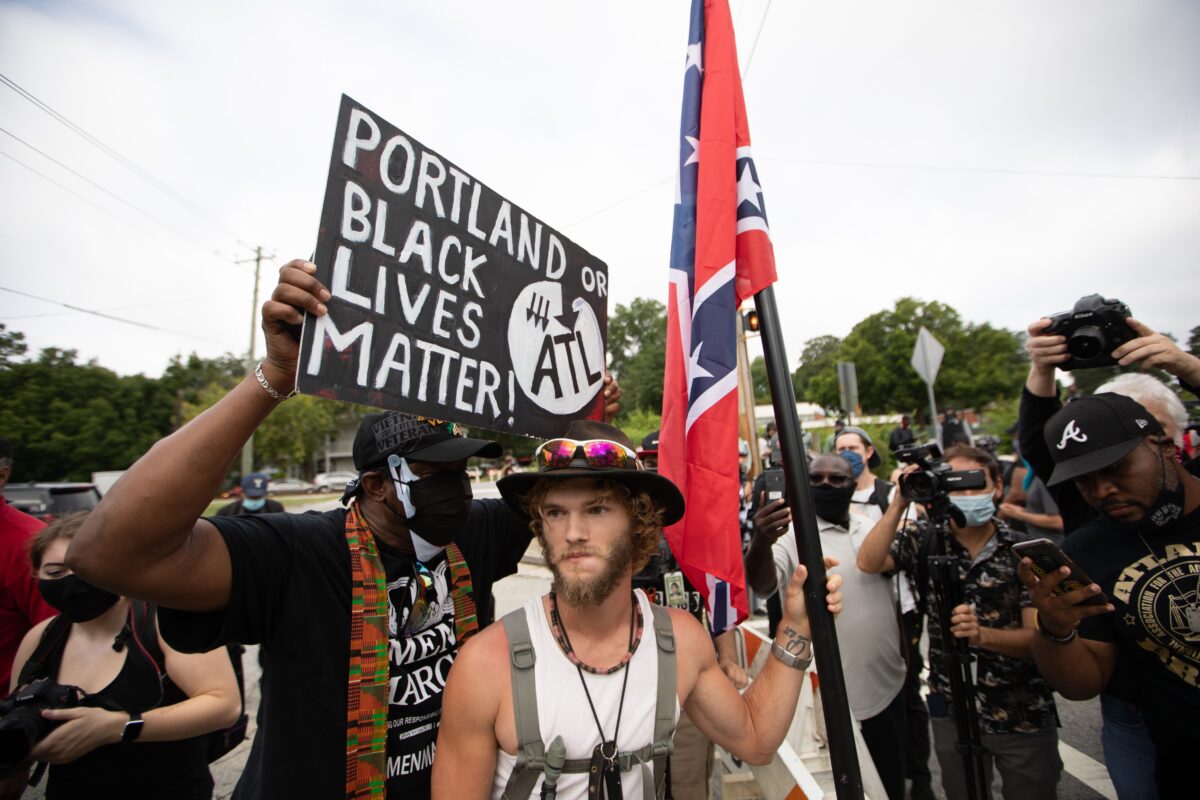 "It is time for you to disperse, or you will be arrested for disorderly conduct," Stone Mountain Police Chief Chancey Troutman said through a loudspeaker. "Please leave at this time."
Georgia National Guard troops were also present.
Maj. Gen. Thomas Carden, adjutant general of the guard, told WSB-TV that the clashes "exceeded the threshold that local authorities were comfortable with."
"So they've decided to disperse the crowd and arrest those that are noncompliant," he said. "Peace is always the strategy. At the end of the day, people have had the opportunity to have their voices heard."
In a statement later on Aug. 15, Mayor Patricia Wheeler and city manager ChaQuias Miller-Thornton said the demonstrators didn't have a permit to gather.
"However, in pursuit of the safety and protection of the city's citizens, visitors, all law enforcement officers, and property, and to deter acts of riot, the city's police chief made a decision to allow the protestors to assemble and/or parade while maintaining police presence," they said.
"The goal was to allow all sides to have an opportunity to express their constitutional right to freedom of speech, without a major disruption of peace. The gatherings ended with no injury, no arrests, and no property damage," the statement says.
"Minor altercations did occur within the course of the event, however, it was the position of the Stone Mountain Police not to escalate or to engage until the situation needed to be control by such force, and until there was sufficient law enforcement presence at the scene to adequately and effectively engage."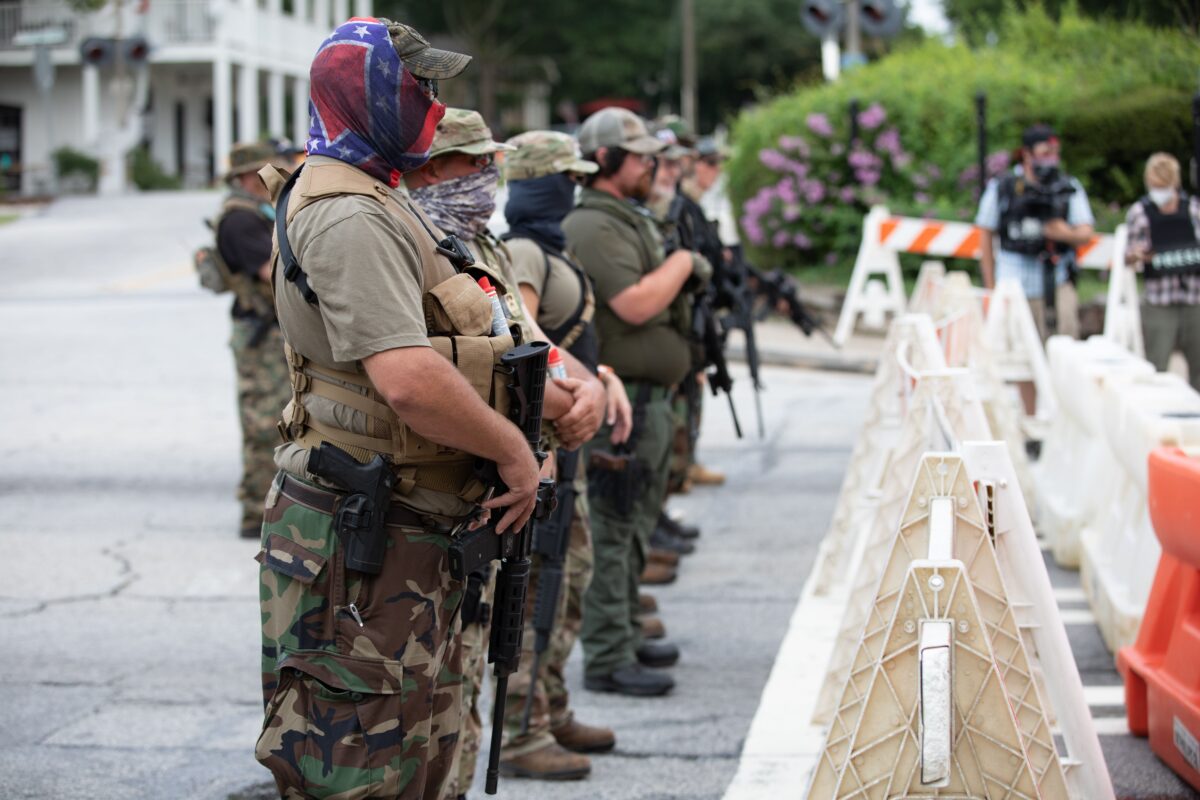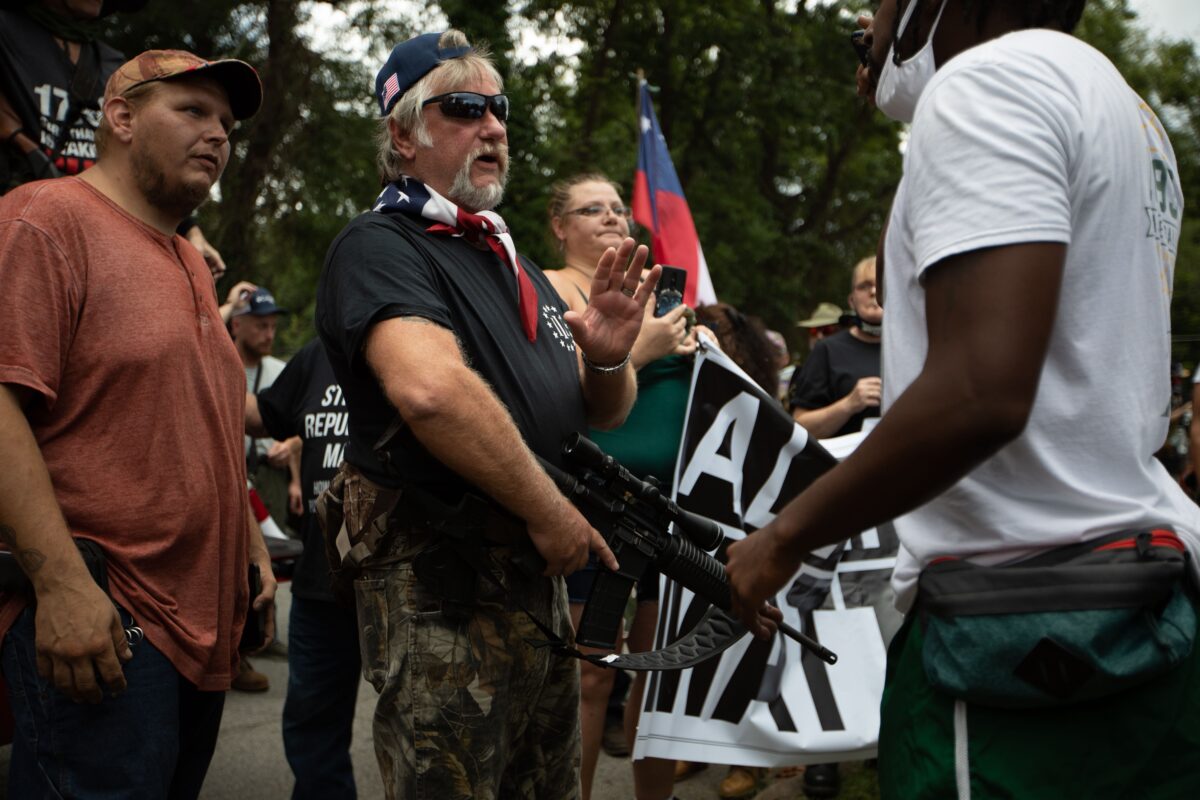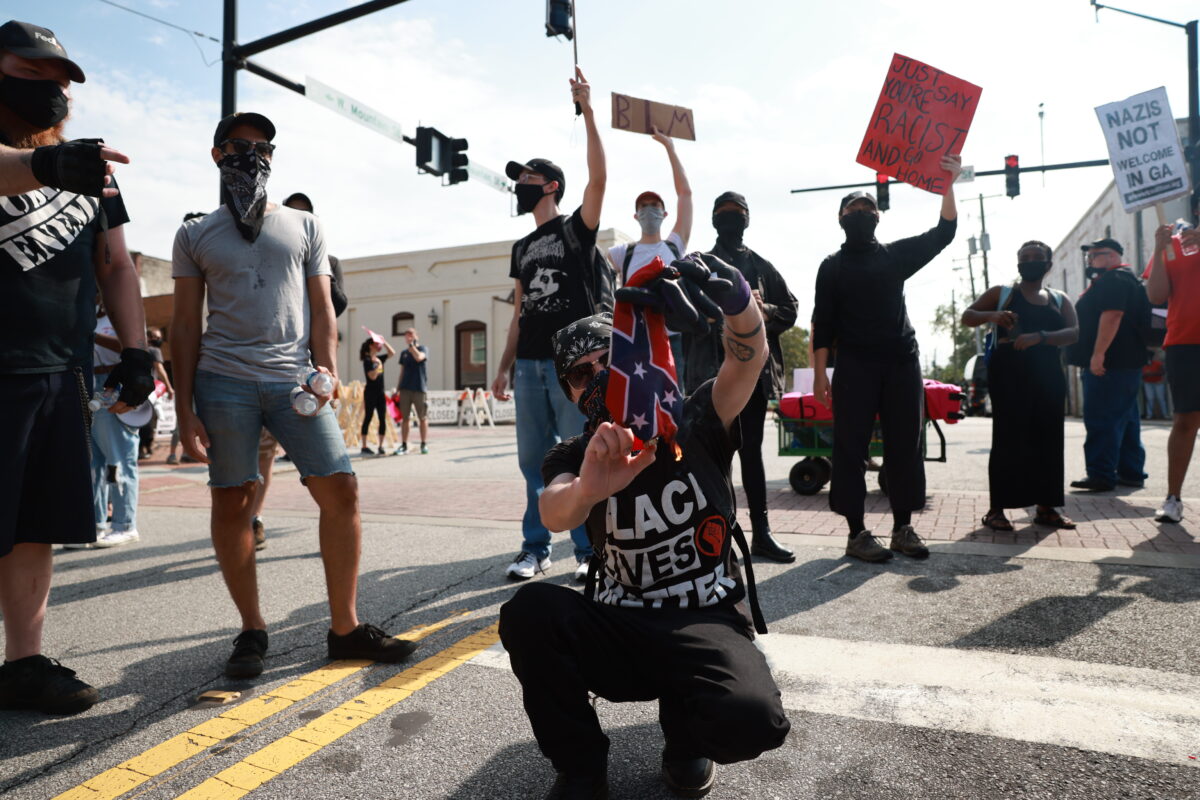 Chris Hill, part of the Three Percenters Security Force, told independent reporter Ford Fischer that his group went to the town to "basically stand in defense of people that want to preserve Stone Mountain, want to preserve southern heritage," and let people know they're not hateful or racist.
Hill told The Epoch Times in an email that "our response was to provide security for anyone who showed up."
Counter-demonstrators, who outnumbered the ralliers, chanted "no justice, no peace" and "Nazis go home." At one point, a black man shouted at a white rallier, accusing him of being racist for standing next to an "All Lives Matter" banner.
The group set fire to at least one Confederate flag.
Few physical interactions appeared to take place, and no guns appeared to be fired.
An all-black militia that has been appearing in different states in recent weeks was reportedly set to travel to Stone Mountain in a reprise of a visit last month, but its leader said this week they would be staying home.
"We've already made history, why would we walk back into a kill box?" he said in a video message.