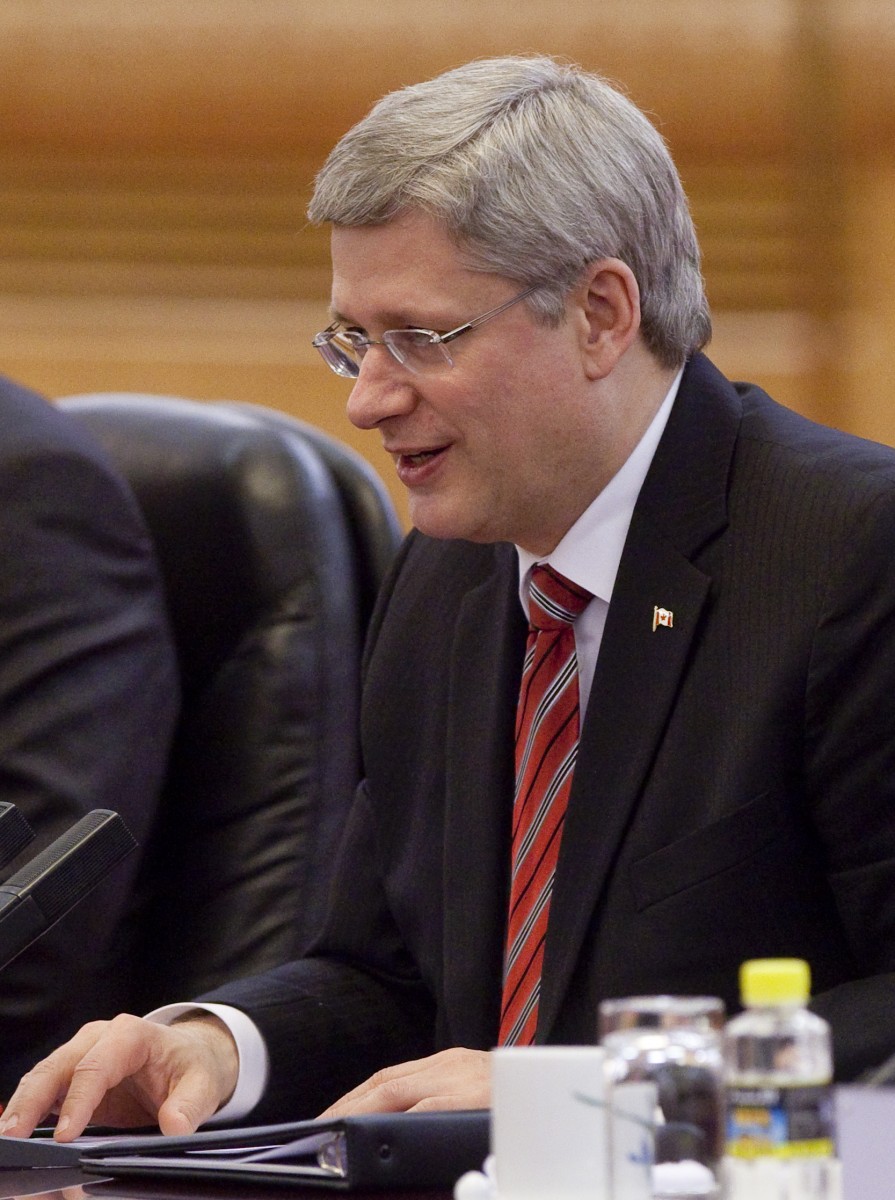 PARLIAMENT HILL—The police chief of one of China's major cities has disappeared from sight just days before Prime Minister Stephen Harper was to visit the city and meet its controversial mayor, a hardline communist demoted for international criticism related to his persecution of Falun Gong.
The PM looks to be arriving amid political turmoil in Chongqing, as its high-profile police chief Wang Lijun has disappeared and appears to have sought asylum at the U.S. consulate in nearby Chengdu.
The U.S. State Department confirmed Wednesday that Wang had been at the consulate, but a spokesperson refused to comment on rumours he sought asylum.
Meanwhile, Harper's meeting with Chongqing's Communist Party secretary Bo Xilai could help raise the fortunes of one of the regime's most brutal and anti-democratic figures, say critics.
Wang was Bo's right-hand-man and a very public figure in a campaign to crack down on crime, which proved controversial because of accusations that some figures had been protected and that political opponents were targeted.
Trials for the accused are often handled through political channels instead of the regular legal process, and Bo's campaign has also swept up lawyers who defended gangsters.
On Thursday, Chengdu issued a notice that Wang was being moved from his position as police chief.
According to the micro-blog of the Chongqing city government, Wang had "suffered overwork and immense mental stress," and is "taking holiday-style medical treatment."
But according to journalist Wang Xing with Southern Metropolis Daily, a Chengdu police official confirmed that Wang had sought asylum at the U.S. Embassy, and that after being arrested after leaving he was flown to Beijing. That post was later deleted from Wang Xing's Sina Weibo microblog.
Wang was Bo's main enforcer during the crime crackdown, but in the process over 600 entrepreneurs were arrested, many tortured into confessions, and billions of yuan worth of assets confiscated.
Both men are leading figures in the persecution of Falun Gong as well, responsible for hundreds of deaths. Bo has kept Wang by his side through several posts.
Bo, the former Commerce Minister, was moved to his role as Chongqing City's party secretary in 2007. His activities since becoming Party chief in the city have attracted controversy.
The whipped-up atmosphere that Bo created in his "hitting the black" anti-mafia campaign drew ready comparisons to the Cultural Revolution by Chinese commentators. It was coupled with a "singing red" movement in which Bo mobilizes thousands of people to sing classic revolutionary (i.e. "red") songs.
In his efforts to revive Maoist communism, Bo had Chongqing television stations cancel sitcoms to broadcast "revolutionary" programs and news, while government workers and students were told to spend time working in the countryside.
These and other ostentatious displays of communist symbolism by Bo are thought to be part of his effort to be installed in the Standing Committee of the Chinese Communist Party's Politburo, the supreme power organ in China.
Leaked Cable on Bo
According to a U.S. cable posted online by Wikileaks, Bo was removed from his national role and denied the vice-premiership position he sought at the time because of the prominent role he'd played in the Communist Party's ongoing persecution of Falun Gong, which led to a slew of lawsuits by victims against him in other countries.
The leaked cable referred to a professor who said: "Bo's move to Chongqing puts an ambitious, arrogant, and widely disliked competitor for a top position in a trouble-filled position far from Beijing."
"Premier Wen had argued against the promotion, citing the numerous lawsuits brought against Bo in Australia, Spain, Canada, England, the United States, and elsewhere by Falun Gong members," the professor continued.
"Wen successfully argued that Bo's significant negative international exposure made him an inappropriate candidate to represent China at an even higher international level."
Harper will meet with Bo on Saturday, the final day of his trip to China. The Prime Minister's Office said they would not comment on internal Chinese politics nor confirm whether they know about Bo's role in China.
Harper's meeting with Bo appears to be part of an effort by the PM to cover his bases with people touted as future leaders within the party.
But the meeting is a "big mistake," said human rights lawyer David Matas, who is involved in a lawsuit against Bo winding through the Canadian courts.
"Bo Xilai represents the worst elements of China and the Communist Party system—ambitious and brutal—and he has been marginalized and demoted because of it, and because of the international storm his brutality has caused, and the fact that he is so ill-reputed abroad that they can't send him abroad. And so they sent him away."
Matas said Bo's efforts to return to power would be "bad news for anybody who believes in human rights."
"Harper, by visiting him, is helping Bo Xilai in his campaign to rehabilitate himself, and to resuscitate the reputation he has lost by his own activity in abusing human rights."
Greg Autry, author of "Death By China," was stunned to learn Harper was meeting with Bo.
"Chongqing is turning into the neo-Communist centre of the world. Bo is trying to revive Maoist communism," he said.
"By legitimizing someone trying to revitalize Mao's communism, you are helping [to support] ideals that are directly contrary to everything Canada stands for."
Bo rose to power through former Chinese leader Jiang Zemin, in part because of his hardline crackdown on Falun Gong in Jiang's campaign against the spiritual group, a move some analysts interpreted as an effort by Jiang to solidify his own political position.
Bo is among the most ardent repressors in China, and as Governor of Liaoning from 2001 to 2004 presided over 100 confirmed torture deaths of Falun Gong practitioners.
Currently, he is being sued by Toronto resident Rong Jin, who at 27 was detained and tortured in a prison in Dalian, Liaoning province.
Evidence of complicity in torture, murder, genocide, and crimes against humanity has prompted a total of 14 lawsuits against Bo in 13 countries.
In November 2009, following a two-year investigation, a Spanish court indicted Bo, along with Jiang Zemin and three other top Chinese leaders, for their role in crimes of torture and genocide committed against Falun Gong practitioners.