A 9-year-old girl and her 6-year-old twin brothers were struck and killed by a driver in a pickup as they crossed a road to board a school bus in northern Indiana on Oct. 30, police said. Another child survived but was badly hurt.
Alivia Stahl and twins Xzavier and Mason Ingle all died at the scene, Indiana State Police (ISP) said in a statement.
The fatal accident occurred around 7:15 a.m. in the 4660 block of Indiana 25.
A bus stopped and lowered its stop-arm on the road near Rochester. The children were crossing the road to board the school bus. A northbound pickup truck, a 2017 Toyota Tacoma, hit and killed the three siblings as they were passing through the southbound lane, Indiana State Police Sgt. Tony Slocum told AP.
"[My brother] didn't lose one kid, he lost all of his kids," the children's uncle, Elgin Ingle, told WNDU. "What do you tell your little brother, how do you tell your little brother it's going to get better? You can't."
Another child, 11-year-old Maverik Lowe, survived but suffered multiple broken bones and internal injuries and had to be airlifted to a hospital. The boy, who was not related to the three children, was conscious and speaking to emergency workers, Slocum told AP.
"At last check, he was in surgery," the ISP statement read.
The bus driver and the three children who were on the bus were not injured.
"This school has been warned, this has been an issue, we have said this before," Ingle told WNDU. "They've made complaints, other parents. It's not safe to walk a child across a highway, especially at that time because everyone's going to work at that time."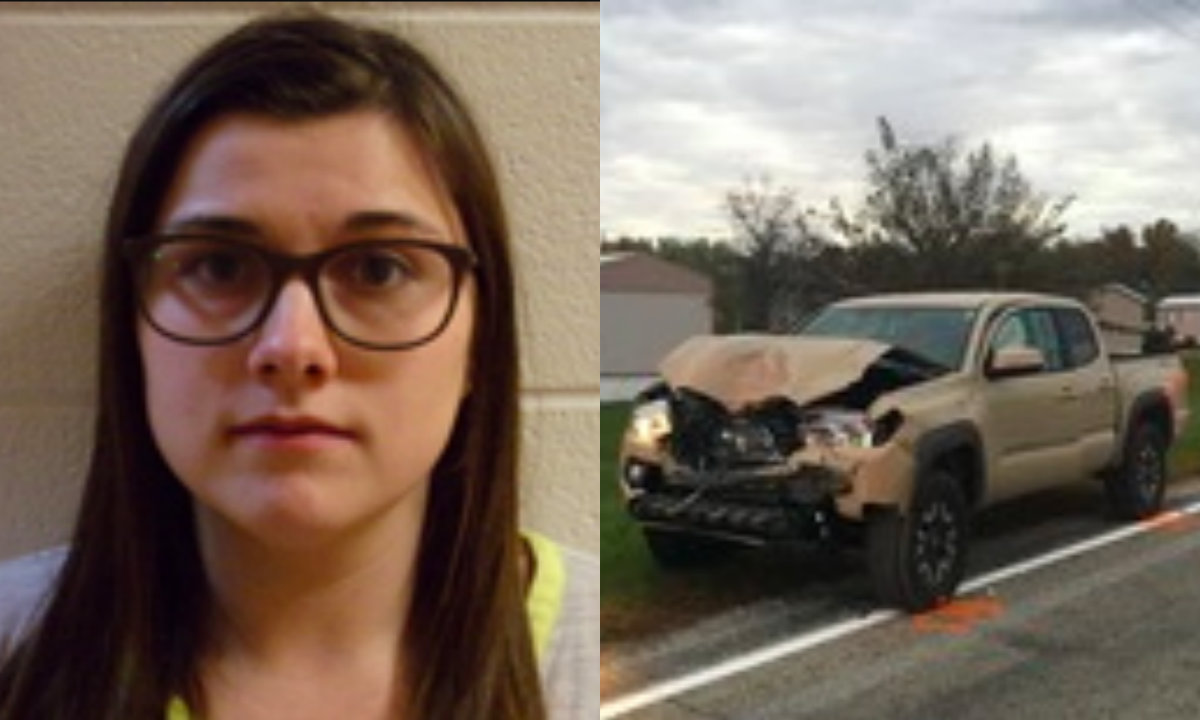 Driver Charged
The driver, Alyssa Shepherd, 24, was arrested by state police on the afternoon of Oct. 30.
Shepherd was charged with three counts of felony reckless homicide, and one misdemeanor count for passing a school bus with the stop arm extended, causing injury. She was released later in the evening on a $15,000 bond.
Indiana law requires motorists to stop when a school bus is picking up or dropping off children and the stop arm is extended. The students had the right of way as they crossed the street from the rural mobile home community where they lived, Slocum told AP.
Mentone Elementary School of Tippecanoe Valley School District, where the three children attended, issued the following statement on Facebook:
Our school corporation has suffered a tragedy this morning. We have learned of three student fatalities and one student seriously injured and airlifted to a Fort Wayne hospital as they were hit by a vehicle while boarding their bus.

We have deployed all school counselors to meet the emotional needs of our staff, students and parents.

We are awaiting to learn more confirmed details but wish to ask the community to come together to pray for the families, our students and our staff.
Indiana Gov. Eric J. Holcomb sent out a statement via Twitter in the afternoon on the same day.
"Words cannot express the depth of sorrow Janet and I feel, which only pales in comparison to what family, friends, teachers, classmates and community are feeling right now. Today, and for many more to come, we mourn their loss," Holcomb's statement read.
Detectives were interviewing witnesses and a crash reconstruction team was at the scene near Rochester, about 100 miles north of Indianapolis.
Indiana State Police are continuing to investigate the accident. The National Transportation Safety Board will also take part in the investigation, according to RTV6.
The Associated Press contributed to this report.