Photos of piles of ice shards along Lake Michigan have gone viral in recent days.
Rising temperatures in the area caused the lake to thaw, producing the formations.
The ice pieces are pushed together by the water beneath the lake, and it contributes to the display, according to USA Today.
Simply stunning !!!https://www.independent.co.uk/news/world/americas/lake-michigan-frozen-pictures-spring-ice-shards-a8832631.html?utm_medium=Social&utm_source=Facebook#Echobox=1553115543
The U.S. Coast Guard said that people shouldn't get too close to the ice.
"No ice is safe ice, especially this time of year," U.S. Coast Guard boatswain's mate Chief Petty Officer Grant Heffner told MLive on March 20. "The ice is certainly deteriorating and breaking up."
MLive noted that as of March 8, about 56 percent of Lake Michigan was covered with ice.
Looks like Elsa got loose on Lake Michigan! The frozen Great Lake starting to thaw in an amazing display of shards of ice. #fox35 http://ow.ly/2dSN30o8hB1

由 Bob Frier FOX 35 发布于 2019年3月21日周四
Temperatures in South Haven, Michigan, where the photos were captured, got above freezing this week.
Huge shards of ice amassed earlier this week on Lake Michigan, along the shore of South Haven, Michigan: https://t.co/iftbl3yk9N pic.twitter.com/HPys27ol54

— ABC News (@ABC) March 20, 2019
This is mesmerizing. The frozen water of Lake Michigan has started melting and is pushing up these shards of ice. I'm obsessed! 😍😍😍😍 pic.twitter.com/ZXPXRSanfK

— myob. (@xSaltsicle) March 21, 2019
According to the Coast Guard in an alert last year, people should follow the acronym "ICE" if one plans on going out on frozen Lake Michigan or any other body of water, Fox17 reported.
"I" is for information to let others know you're heading out on the ice. They recommend not to go alone.
"C" is for communication, meaning people should have a cellphone handy in case they need to call for help.
"E" is for environment, which means dress appropriately and be prepared if you get stranded.
Unprecedented Spring Flooding Possible, Say Forecasters
The stage is set for unprecedented major flooding this spring for most of the nation, U.S. weather officials said Thursday, according to The Associated Press.
More than 200 million Americans are at risk for some kind of flooding, with 13 million of them at risk of major inundation, the National Oceanic and Atmospheric Administration said in its spring weather outlook. About 41 million people are at risk of moderate flooding.
Major flooding now occurring in Nebraska, Iowa, South Dakota, Missouri, and other Midwestern states is a preview of an all-too-wet and dangerous spring, said Mary Erickson, deputy director of the National Weather Service. "In fact, we expect the flooding to get worse and more widespread," she said.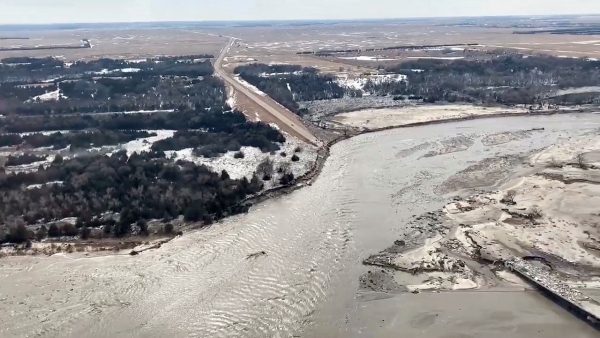 This year's flooding "could be worse than anything we've seen in recent years, even worse than the historic floods of 1993 and 2011," she said. Those floods caused billions of dollars in damage, and officials said this year's damage in Nebraska, Iowa and South Dakota has already passed the billion-dollar mark.
Forecasters said the biggest risks include all three Mississippi River basins, the Red River of the North, the Great Lakes, plus the basins of the eastern Missouri River, lower Ohio River, lower Cumberland River, and the Tennessee River.
"This is the broadest expanse of area in the United States that we've projected with an elevated risk that I can remember," said Thomas Graziano, a 20-year weather service veteran and director of the Office of Water Prediction. "Is this the perfect storm? I don't know."
The Associated Press contributed to this report.