North Korea's nuclear missile program has made explosive progress in the recent years, culminating in a nuclear bomb test in September and an intercontinental ballistic missile test two weeks ago that proved North Korea can strike the entirety of the U.S. mainland.
Now an image captured by North Korean state media and incidentally released to the world reveals that North Korea's nuclear program may have been much more advanced under former leader Kim Jong Il than previously believed.
Video of Kim Jong Un walking through a munitions industry exhibition in North Korea has captured a picture of the North Korean leader's father and predecessor Kim Jong Il looking at a circular, disco-ball-sized device that some experts believe could be a nuclear bomb.
If it is, it would suggest the communist regime had managed to miniaturize its atomic weapon as far back as 2006.
That capability would lend further credence to the current Kim's claims to have developed a miniaturized hydrogen bomb small enough to fit inside the warhead of an ICBM.
The regime's claims about its nuclear program, including claims it has exploded two hydrogen bombs, which are far more powerful than regular atomic bombs, are frequently discounted.
Some experts believe the photograph, which is mounted on the wall of the exhibition hall as Kim walks through, could be doctored. If so, the image would represent an attempt by North Korea to lead international observers to believe the regime's nuclear weaponry is further along that it is.

According to North Korean state media and Kim Jong Un's broadcast statements, the regime has now completed its "state nuclear force."
The regime claimed last September's nuclear bomb test was a hydrogen bomb, a thermonuclear device 1,000 times more powerful than the atomic bomb dropped on Hiroshima during World War II.
Experts remain skeptical of that claim and many suggest that the test, which triggered a 5.6 magnitude earthquake on Sept. 3, was a boosted fission weapon rather than a hydrogen bomb.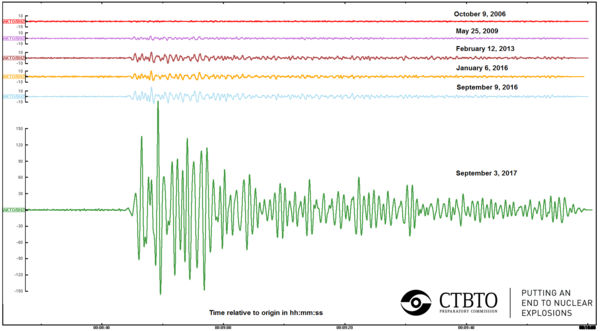 Hydrogen bombs use a second stage of nuclear fusion reactions to exponentially magnify the destructive force of a typical atomic explosion. A boosted fission bomb, however, simply adds some thermonuclear gas to amplify a normal atomic bomb.
The image with the photo is only seen for a moment, making a detailed analysis difficult with only a few frames of grainy video showing the device.
It is similar in size to more recent pictures of Kim Jong Un inspecting what North Korea state media claim to be the regime's first hydrogen bomb.

The photograph of Kim Jong Il inspecting the device was not previously released. If it is an atomic weapon, it would suggest the regime has kept its nuclear program secretive during the Obama administration, perhaps out of fear of invoking the kind of sanctions and attention the regime is now experiencing.