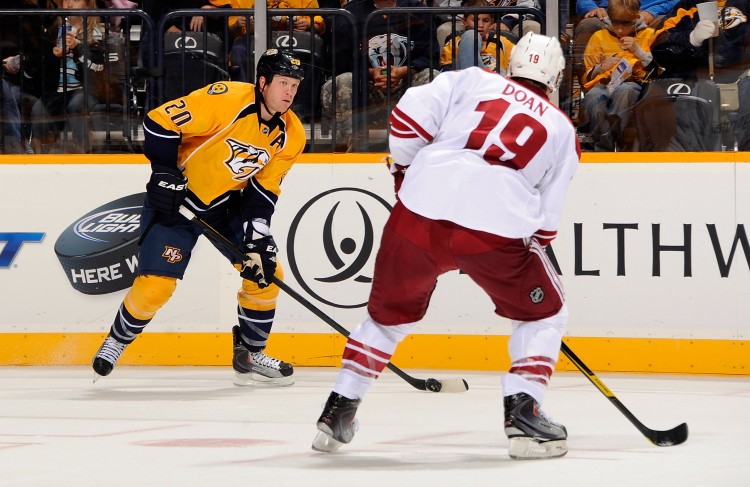 Canadian hockey purists may have a tough time digesting this second round matchup: Nashville–Phoenix. No, they're not your typical hockey towns, but make no mistake about it, the Predators and Coyotes are two very good hockey teams.
Hockey fans will have a hard time remembering a round of Stanley Cup playoffs that has more to talk about than this year's first round.
Aside from the absolute mayhem including a record-breaking number of suspensions, upsets of the No. 1 teams in each conference, Nashville and Phoenix managed to get past two Original Six teams in Detroit and Chicago respectively.
Last Friday, the Predators became the first team to reach the second round after eliminating the Red Wings in five games. Phoenix, meanwhile, came through five straight overtime games to start a series before totally shutting down Chicago in Game 6.
Similar Styles
Success in playoff hockey usually starts with rock solid goaltending. Both starting goalies—Mike Smith for Phoenix and Pekka Rinne for Nashville—are big veterans who were drafted in the later rounds. They have had outstanding regular seasons and playoffs so far.
Smith posted a 1.81 goals against average and a .950 save percentage in the first round win over Chicago. That is an improvement from his impressive regular season stats of 2.21 GAA and .930 save percentage. Smith's signature performance was a 39-save Game 6 shutout.
Rinne is a Vezina Trophy finalist and his playoff stats are almost identical to Smith's—1.81 GAA with a .944 save percentage. Rinne turned in two incredible 40-save performances in Games 3 and 4, leading his team to victory.
These two teams won't play the wild "old time hockey" seen in the Philadelphia–Pittsburgh series. There are no flashy offensive stars on either team.
Phoenix only had three players in the regular season score 20 or more goals. Their leading scorer, Ray Whitney, will turn 40 in May.
Nashville only had two 20-goal scorers and their leading scorer, Martin Erat, had just 58 points. What's noteworthy is Nashville having seven players who recorded at least 40 points. The addition of dynamic Russian Alex Radulov could be the difference-maker for Nashville.
These two teams are very well-coached and exemplify discipline. During the regular season Nashville was the NHL's least penalized team and Phoenix was the third-least penalized team.
The teams split the regular season series with two wins apiece, perhaps not surprisingly.
The Phoenix Coyotes were the Winnipeg Jets prior to 1996. Coincidentally, with Winnipeg returning to the NHL this year, Phoenix won its first division title and playoff series as the Coyotes. It is an open question as to where they'll be next year.
Nashville has a bit more experience in the playoffs having made it to the second round last year and losing to eventual Stanley Cup finalist Vancouver.
General manager David Poile and head coach Barry Trotz have been with Nashville from Day 1. They've built the team from the ground up and are now in a position to challenge for the Cup. They tweaked their squad to make a Cup run at the trade deadline.
This unlikely series kicks off Friday in Phoenix. While the NHL playoffs have been anything but predictable, the evidence points to a long, tough series with a slight edge to Nashville.
Canadian hockey fans should definitely tune in and forget the geographic locations of the cities of Phoenix and Nashville.
Follow Rahul on Twitter @RV_ETSports