Shuttered businesses could soon be allowed to reopen in New York, Gov. Andrew Cuomo said, suggesting the first phase of reopening will be expanding the list of companies deemed "essential."
Cuomo last month ordered so-called non-essential businesses to shut down as part of his stay-at-home order, which largely restricted people to their homes. The order and similar ones made by governors across the country crippled the economy and cost millions of jobs. Some experts say they helped slow the spread of the CCP (Chinese Communist Party) virus, a novel coronavirus that emerged from mainland China last year, but others say less strict social distancing measures could have accomplished similar effects.
Hospitalizations dropped again in New York overnight, prompting Cuomo to unveil details on the regional plan for reopening.
Officials will work on determining which companies that were shut down can be reopened.
"How essential is that business service, right? You have to start somewhere. Right now, we have the economy working with 'essential workers' so we want to start to bring the economy back, move up one tranche with how you define essential," Cuomo told reporters in Albany on Thursday.
Phased reopening means identifying which businesses are almost as essential as the ones that stayed open using the following matrix, according to the governor. pic.twitter.com/srhsozFHpZ

— Zachary Stieber (@ZackStieber) April 16, 2020
"What's the next level of essential businesses? Are there certain businesses that are inherently safer or can be safer?" he added.
A matrix developed by officials pointed to companies that provide services or products that are "more essential" and that have a low risk of infection spread among customers and employees opening "ASAP," or as soon as possible.
The next phase would target companies that provide "more essential" services or products but have a higher infection rate or companies that are "less essential" but have a low infection risk.
The final phase would see the rest of the companies, which are "less essential" and have a higher infection risk, opening.
For now now, Cuomo extended his stay at home order to May 15 and expanded an order he issued this week on wearing masks to include bus and train operators, public transit riders, and drivers and riders in for-hire vehicles like Ubers.
Where businesses are allowed to reopen is still being determined in coordination with other states. New York formed a compact with Pennsylvania, New Jersey, Delaware, Rhode Island, Connecticut, and Massachusetts earlier this week.
Joel Griffith, a research fellow specializing in Financial Regulations at The Heritage Foundation, told The Epoch Times this week that businesses that could open first include retail stores, salons, golf courses, and restaurants.
The White House was planning to announce guidelines later Thursday on reopening the country. President Donald Trump told reporters late Wednesday that data "suggests that nationwide we have passed the peak on new cases," citing flat growth in areas once labeled as hotspots, including Baltimore, Maryland, and Philadelphia, Pennsylvania, and the decline in daily cases and hospitalizations in the New York City metro area.
COVID-19 patients hospitalized in New York state dropped for the third straight day to under 17,300. The peak hospitalizations, which took place in recent days, arrived far lower than all projections cited by state officials, who once predicted as many as 140,000 beds would be needed. Cuomo claimed the models were wrong because they "assumed a higher rate of infection, a higher rate of spread."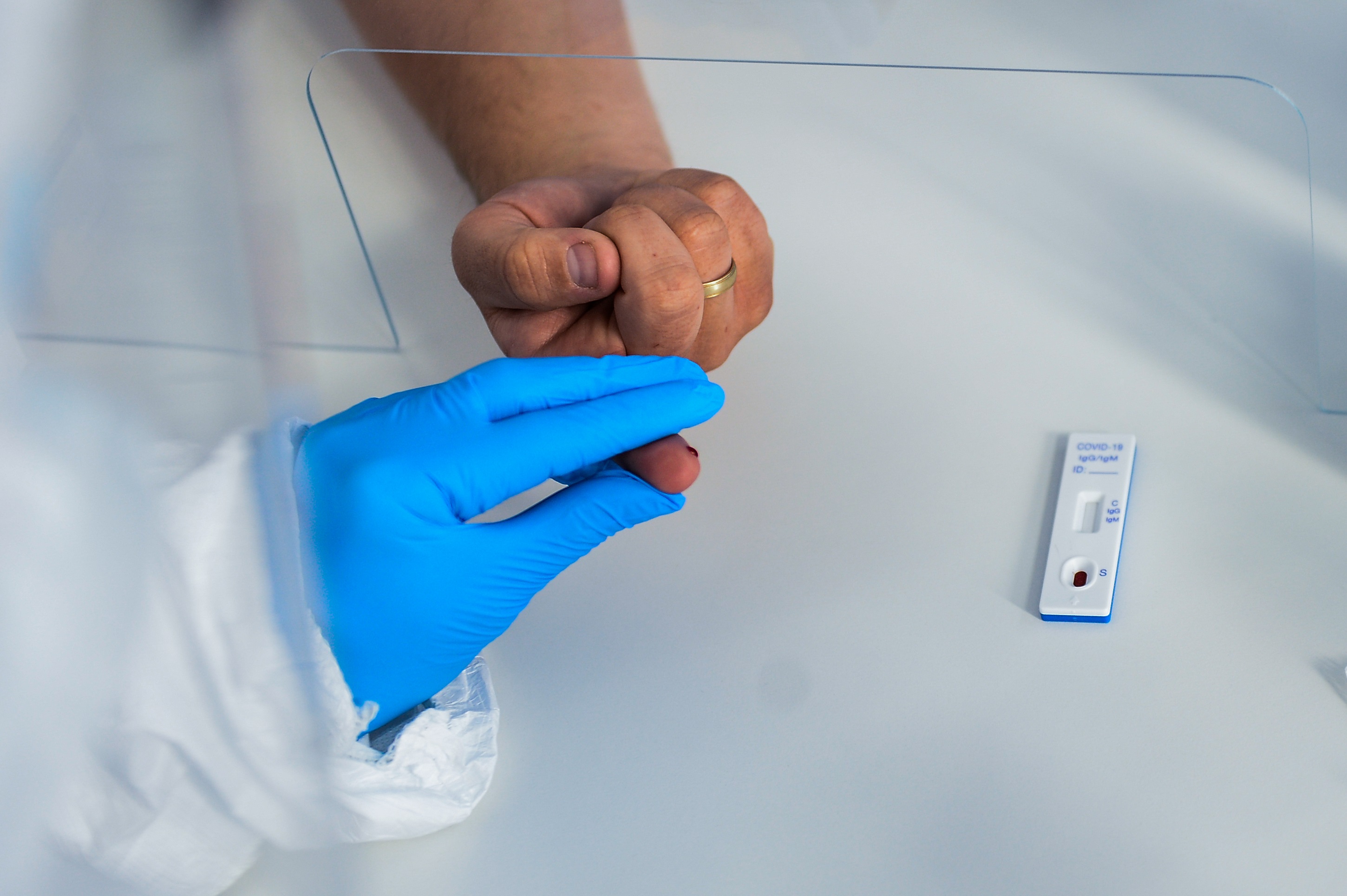 Private Sector, Testing
Private companies must rethink how business is conducted, officials said, listing examples as having as many people as possible continue to work from home and how social distancing can be accomplished in the workplace.
The "new normal" could see companies redesigning conference rooms and making sure desks are kept six feet apart, according to the Democratic governor. Six feet is the social distancing measure issued by the Centers for Disease Control and Prevention, though little data has been released backing up that figure.
Interactions with customers should be kept to a minimum and employees who do interact with customers should be provided protective gear like masks and gloves. Additionally, officials want businesses that primarily interact with high-risk groups like the elderly to take special precautions.
"This is going to be a moment of transformation for society. And we paid a very high price for it. But how do we learn the lessons so that this new normal is a better New York?" Cuomo said.
Underpinning the phased reopening will be testing, including using PCR-based tests to analyze new cases and antibody tests to see which people were infected in the past but are now recovered.
Part of the testing protocol will be rapid tracing to identify and test people who came into contact with newly confirmed patients. Workers responsible for doing the tracing are part of a new "army" that didn't exist in the past, Cuomo said.
The federal government will need to work with states on testing and tracing, he added. Trump said Wednesday that the federal government will be working closely with states in terms of testing but he wants states to administer the tests.