Pfizer vaccines could be available to Australians under 40 as early as September or October, the head of the federal government's COVID-19 Vaccine Task Force said on Tuesday.
Lieutenant-General John Frewen told reporters that there was a limited amount of imported Pfizer vaccines and an abundance of locally-made AstraZeneca. Therefore the current age group priorities would remain in place.
At present, health authorities prefer that people under 40 take AstraZeneca, instead of Pfizer, but to make the choice after consulting with their GP.
However, once the Moderna mRNA vaccine is approved and a sufficient Pfizer supply is available, Frewen said more options would become available.
"But I won't tie myself to specific dates at this stage," he said.
Federal and state health officials met today to discuss the national roll-out plan going forward.
There are concerns surrounding staff shortages for administering vaccines once tens of millions of Pfizer and Moderna doses arrive later in the year.
"The capacity to deliver those ever-increasing amounts of vaccine towards the end of the year is one challenge," Frewen said. "Some of the states and territories are already foreseeing they may have workforce challenges, particularly some of the smaller jurisdictions."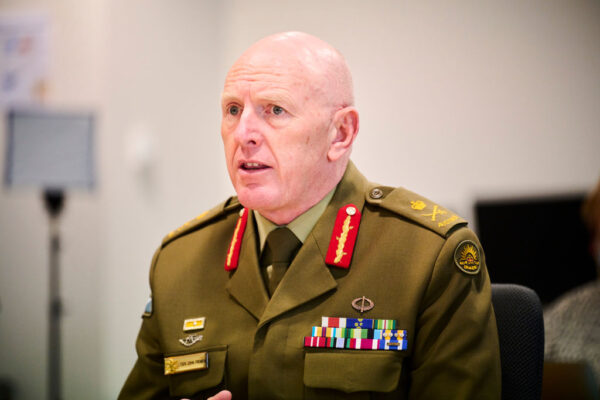 An option to bring in trainee paramedics and final year medical students to meet the manpower requirements is also currently under consideration. In addition, the possibility of upskilling some of the current workforce is also being looked at.
"All of these sorts of options are on the table," Frewen told the ABC. "We're looking for every opportunity we can to accelerate the rollout."
Frewen will also meet with Treasurer Josh Frydenberg and other industry leaders tomorrow in an online forum to talk about how the industry could be incorporated into the plan.
Leaders will also discuss the option to launch workplace vaccinations programs as another option to accelerate the rollout, which would also help alleviate pressure off the primary healthcare system.
"Many of these industries already do annual flu vaccinations," Frewen said. "So I think there's a couple of attractions to their ability to do workplace vaccinations when it comes to COVID as well."
"They're used to vaccinating their workforce, it's another efficiency in the program, potentially."