Americans should be wary of gas prices again rising starting in the spring, according to one petroleum analyst, who warned that a gallon of regular gas could hit $4 again.
"It's a question of when, not if. I think something like that could happen by potentially April, maybe sooner," GasBuddy petroleum analyst Patrick De Haan told Yahoo Finance. "I think motorists are going to start getting squeezed more so in late February. The next three weeks could be a bit of a mixed bag."
The reason for the rise in prices will be, in part, driven by planned breaks by refineries, De Haan said.
"We have a pretty heavy amount of refinery turnarounds that is going to start here in the next couple of weeks. That is going to lead to a diminished amount of gasoline supply."
De Haan wrote on Twitter that he sees at least 10 refineries with about 10 percent of U.S. refining capacity "undergoing some level of maintenance lasting between 2 weeks and 2.5 months starting in mid-February," which will likely drive up prices.
"We need more refining capacity … yesterday," he wrote.
With China reopening its economy after years of COVID-19 lockdowns, there will be increased demand. China is the world's largest consumer of primary energy.
"With China reopening, you can't underscore it enough," he said. "The U.S. economy, when we reopened, saw a level of pent-up demand. The same would apply in China. That is likely to chart our course for the next three to six weeks."
As of Jan. 26, AAA motor group data show that the average price for a gallon of regular gasoline stands at $3.502. Hawaii is leading the way at $4.94 per gallon, the data show, while California is next at $4.51.
When, or if, prices rise this year, they will again become political fodder ahead of the 2024 elections. Before the 2022 midterm elections, Republicans repeatedly criticized Democrats and the Biden administration for what they say are damaging energy policies that have driven up gas prices and inflation.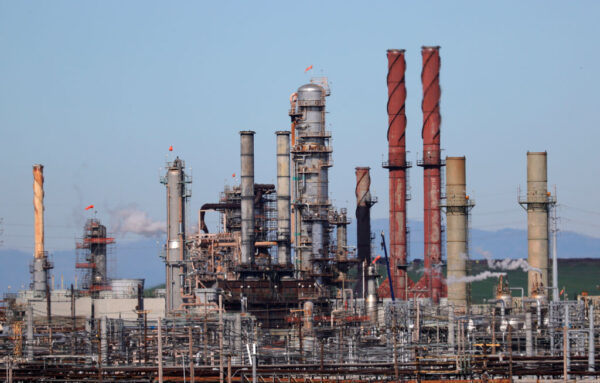 As of Jan. 26, Brent crude was trading just above $87 per barrel and West Texas Intermediate crude was trading just above $81 per barrel.
Plant Outages Rise
Unplanned outages have pushed up gasoline prices in Texas and Oklahoma this year ahead of what's expected to be a heavier-than-usual turnaround season for refineries. The rising prices and margins are unusual for this time of year, when travel falls, according to Reuters, citing analysts.
A diesel-producing unit at PBF Energy's Chalmette, Louisiana, refinery was shut following a fire on Jan. 21. It could be out for at least a month. Exxon Mobil said on Jan. 23 that it will perform planned maintenance on several units at its Baytown, Texas, petrochemical complex.
The ongoing refinery maintenance season could be much lengthier than usual, with many U.S. Gulf Coast refineries still running below capacity after Winter Storm Elliott knocked out roughly 1.5 million barrels per day of refining capacity in December 2022. A Suncor refinery in Commerce City, Colorado, has remained offline since the storm.
A lot of overhauls were also delayed by the COVID-19 pandemic, and refiners are now planning twice as many overhauls this spring than usual, putting more pressure on fuel supplies.
Fuel inventories are low relative to historical levels, "so there is little margin for error," said Rob Thummel, portfolio manager at Tortoise. U.S. gasoline inventories are at about 10 percent below normal and diesel at about 20 percent below normal.
A coming ban on Russian seaborne fuel cargoes will place new calls on U.S. refined products, said Ole Hansen, head of commodity strategy at Saxo Bank.
"Supply of diesel to Europe from the U.S. and the emerging refinery hub in the Middle East may make up some of the missing barrels from Russia, but a shortfall seems likely," Hansen said.
Reuters contributed to this report.