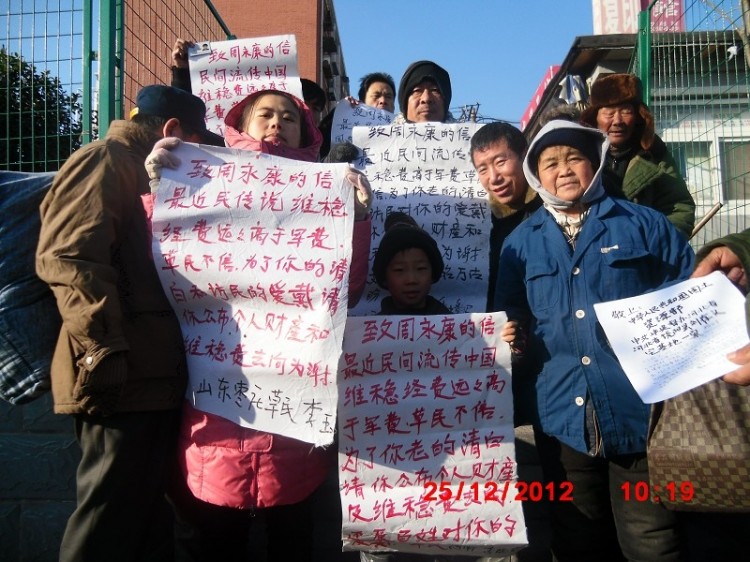 People from around China have gathered in Beijing to petition former security chief Zhou Yongkang for a detailed breakdown of the state's stability maintenance expenditure, which totaled 701.8 billion yuan (US$112.54 billion) in 2012. They also called on Zhou to disclose his personal assets, believing he has embezzled from the fund.
Petitioners have been holding signs and gathering outside Peking University, Tsinghua University, the State Bureau for Letters and Calls, and various train stations throughout Beijing since Dec. 20.
Zhou headed the Political and Legislative Affairs Committee (PLAC) for five years, but was replaced after the recent 18th Party Congress. Under his leadership, the state organ's stability maintenance expenditure has been rising every year, and is mainly used to oppress petitioners and dissidents, as well persecute Falun Gong, a spiritual practice based on the principles of truth, compassion, and tolerance. In 2012, the expenditure rose by 11.5 percent, even surpassing China's military expenditure of 670.3 billion yuan (US$107.52 billion). 
Beijing police have not interfered with the petitioners so far, which is unusual in China, and could mean that Zhou no longer holds any power in the Chinese Communist Party. 
One petitioner's sign read: "A letter to Zhou Yongkang–we heard that China's stability maintenance expenditure is higher than our military expenditure, and we citizens cannot believe this to be true. Please publicize your personal assets, as well as the stability maintenance expenditure, thank you! Chinese citizen: XXX."
Liu Xiuzhao, a petitioner from Chongqing City previously detained for 40 days by Chongqing authorities for petitioning, told The Epoch Times, "I found out from the Internet that Zhou Yongkang and Bo Xilai are in the same gang, and Chinese citizens all despise them. Now, the time has come to expose them."
"We petition because of the corruption in our public security, procuratorial organs, and courts, all of which are supervised by the PLAC," Liu continued. "They treat petitioners as a threat, and oppress us in the name of stability. They embezzle the stability maintenance fund, pay the police to oppress us, and use it to enrich members of the PLAC. Zhou is behind the suffering and hardship that every petitioner has been put through, and everyone feels nothing but anger towards him."
China's petitioning system, which dates back to imperial times, allows citizens who have been wronged by local authorities to seek redress at the capital. However, according to Liu, these departments in Beijing detain petitioners and coordinate with police from their respective regions to place them in illegal black jails, labor camps, mental institutions, and re-education centers, before returning them to their hometowns. All this has been done under Zhou's command in the name of stability, as well as contributing to his personal and political interests, they say.
Liang Yonghung, a petitioner from Guangxi, said, "We have petitioned for such a long time about being wronged, yet none of our cases have been brought to justice. The PLAC has spent so much on 'stability,' but we don't know where all the money has gone. Zhou was the secretary of the PLAC, so he owes the people an explanation, because this money belongs to taxpayers."
Ruan Qichong from Jingzhou City, Hubei Province, who was kidnapped and imprisoned during the 18th Party Congress, said, "The government has robbed us of our houses and properties, and even if we win our cases in court, we still don't get them back. I've petitioned in Beijing for seven years, and petitioners are illegally persecuted and oppressed here. This country's legal system is far too corrupt, I have 64 written verdicts in my hands now (and yet nothing has been done). What they are doing is swindling the people."
"Because of the PLAC, they can lock us up with no human rights, freedom or place to speak out. The Communist Party only knows how to rob its own people, and now, with the politicians infighting at higher levels, we are left to suffer below." 
Read the original Chinese article.
The Epoch Times publishes in 35 countries and in 20 languages. Subscribe to our e-newsletter.
Click www.ept.ms/ccp-crisis to read about the most recent developments in the ongoing crisis within the Chinese communist regime. In this special topic, we provide readers with the necessary context to understand the situation. Get the RSS feed. Who are the Major Players?