Peru's former president Alan Garcia died in a hospital in Lima on Wednesday, April 17, after shooting himself as police arrived at his house to arrest him in connection with a bribery probe, authorities said on Wednesday.
Garcia, who had repeatedly denied wrongdoing, was 69.
Members of his party announced his death to crowds gathered outside of hospital Casimiro Ulloa, where he suffered three cardiac arrests and underwent emergency surgery.
President Martin Vizcarra said on Twitter that he was "consternated" by Garcia's death, and sent his condolences to his family members.
Consternado por el fallecimiento del ex presidente Alan García. Envío mis condolencias a su familia y seres queridos.

— Martín Vizcarra (@MartinVizcarraC) April 17, 2019
Doctors say former Peruvian President Alan García died from a "massive cerebral hemorrhage from a gunshot and cardiorespiratory arrest."
A statement released by the José Casimiro Ulloa Hospital in the capital of Lima says Garcia died about three hours after arriving at the hospital for the bullet wound.
He was hospitalized for an "uncontrollable hemorrhage at the base of the skull" at 6:45 a.m. local time and entered surgery about thirty minutes later.
Authorities arrived at García's home early Wednesday to detain him in connection with a corruption probe, whereupon they say he shut himself in a bedroom and the sound of gunfire was heard.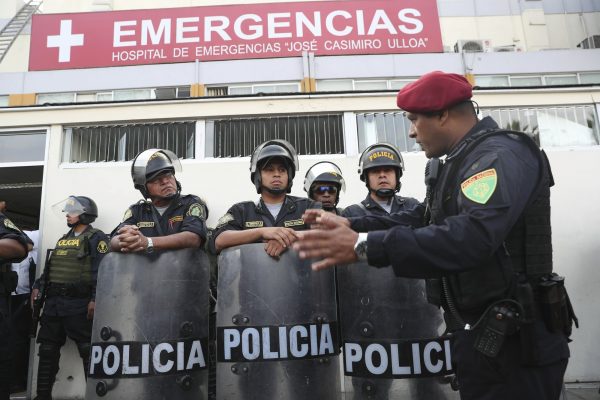 'Rampant Corruption'
García, 69, was a populist firebrand whose erratic first presidency in the 1980s was marked by hyperinflation, rampant corruption and the rise of the Shining Path guerrilla movement.
When he returned to power two decades later he ran a more conservative government, helping usher in a commodities-led investment boom in which Odebrecht played a major supporting role.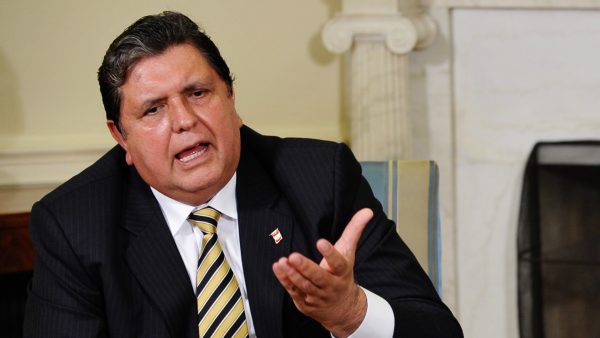 Garcia, a skilled orator who has led Peru's once-powerful Apra party for decades, governed as a nationalist from 1985 to 1990 before remaking himself as a free-market proponent and winning another five-year term in 2006.
Global Corruption Scandal
Odebrecht is accused of doling out nearly $800 million in bribes between 2001 and 2016 to get contracts from governments to build roads, bridges, dams and highways.
Authorities say Odebrecht officials shipped cash across the globe—from one shell bank account to the next—en route to politicians' pockets in a dozen countries, including Peru, Mexico, Venezuela, Colombia, Argentina, and Mozambique. Some of the bribes filtered through the United States.
The corruption scandal—one of the biggest in modern history—implicated several former Latin American presidents.
Last year, Peruvian President Pedro Pablo Kuczynski resigned one day before the congress voted on his impeachment. He continued to deny any wrongdoing in the Odebrecht scandal.
#UPDATE A Peruvian court has ordered the arrest of ex-president Pedro Pablo Kuczynski at the request of prosecutors investigating the giant #Odebrecht corruption scandal. https://t.co/8qTbrH81Cd

— AFP news agency (@AFP) April 10, 2019
Kucyznski was detained just last week as part of a money-laundering probe into his ties to the company.
Congressional allies of Kuczynski said he was also taken Tuesday night to a local clinic with high blood pressure.
Ecuador suspended Vice President Jorge Glas, who was later sentenced to six years in prison in December 2017 for receiving $13.5 million in bribes from Odebrecht.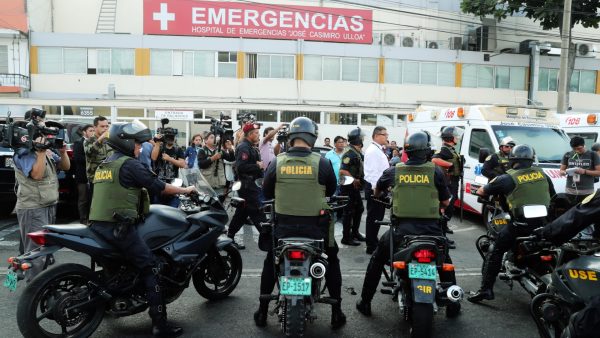 And former Brazilian president Luiz Inacio Lula da Silva is serving a 12-year sentence for corruption and money laundering, including allegedly allowing Odebrecht to pay for his family's vacation home.
A Peruvian judge last week ordered Kuczynski's detention for 10 days as he investigates some $782,000 in previously undisclosed payments from Brazilian construction giant Odebrecht more than a decade ago.
A hearing is scheduled to take place Wednesday to decide whether to increase his detention to three years.
The Associated Press and CNN Wire contributed to this report.